Kanye's New Startup Is Ridiculous (Update: And Fake)
Kanye West's ambitious DONDA Media launched its first product yesterday (assuming it's real), and it's a WhoIs data lookup engine. Huh?
Update: Fake! Oh well. From a guy who works with Kanye: "If a site existed it'd be obvious that it was real." Thanks, tipster. Giz has some more backstory.
Remember back in January when Kayne went on an impassioned 2-hour Twitter binge about how he was going to start a company called DONDA with a very confusing mission?
Sort of? I'll refresh your memory:




He wasn't joking about the "app guys", apparently.
DONDA Media launched yesterday and announced their first project: WhoDat.biz. Billing itself as the "Facebook of websites", WhoDat.biz is a highly stylized search tool to look up the "whois" data. WhoIs data is the public contact information for a website kept on file with the domain register.
Of course, WhoIs data isn't hard to access, and there are already plenty of other whois information lookup engines out there. WhoIs data isn't always particularly valuable or detailed, and it's also possible to make your WhoIs data private when registering a site.
For example, the WhoIs listing for DondaMedia.com tells us that it's registered through GoDaddy.com by a company called DONDA MEDIA and is located in the Empire State Building - no contact name or phone number.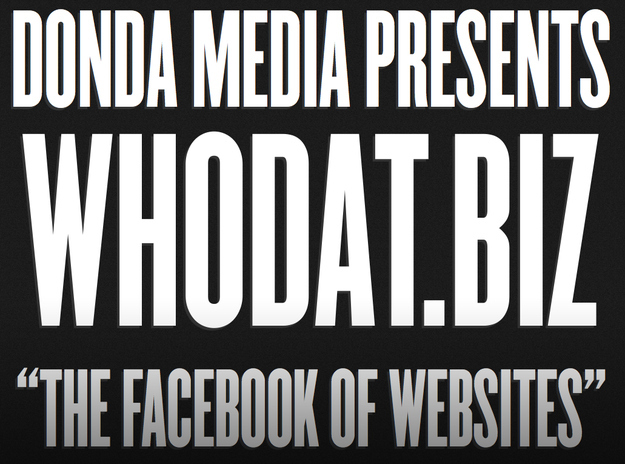 Ever wonder what it would be like to be able to find out who's behind your favorite websites? WHODAT does just that. Simply enter the web address of a website in the big-bar-below and discover the crew behind any website ON EARTH.
For being a search engine for easily available data, it's not even particularly good. When searching for BuzzFeed.com, it wasn't able to find the records, which are available on other WhoIs lookup sites.
When searching for Google.com's information, it pulled up information on multiple subdomains such as "GOOGLE.COM.ZZZZZ.GET.LAID.AT.WWW.SWINGINGCOMMUNITY.COM"
The site claims to still be in "Beta"; perhaps that's why it's so bad.
WhoData.biz isn't exactly what we'd expect to be the first tech offering from someone as visionary as Kanye West. In fact, this is so bad that we aren't completely sure the site isn't a hoax. But if it's real, he shouldn't quit his day job just yet.