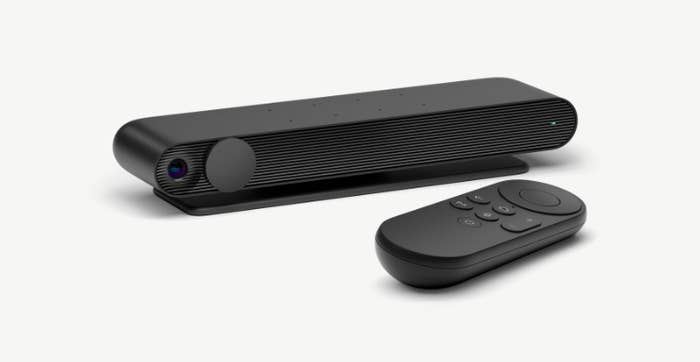 It is with a heavy heart that I must report that Facebook has, yet again, made a perfect hardware device that brings immense joy. I say this with sadness not because, as Facebook seems to believe, that as a member of the tech press I strive to only report bad news about Facebook. No, in fact I do nothing productive for society other than charge my phone, eat hot chip, and lie. What I'm mad about is that Portal TV is a great and wonderful device for chatting to friends and family, but no one I know will ever, ever buy one. And without someone else to use it with, it's useless.

Released today, Portal TV is a $149 device the size of a cable remote that hooks up to your TV and allows you to videochat through your TV. The features are roughly the same as the original Portal, but the big difference from the previous models is that instead of a giant device that sits on your countertop and just does Facebook videochatting, this is a smaller, cheaper device that sits on your TV, and hey, you already have a TV.
I know what you're thinking: Why?
But hear me out: Why not?
Videochatting is fun, but videochatting on a screen bigger than your tiny phone or laptop is even better. Portal TV's smart camera is extremely good and has a wide angle that can capture the entire living room so that two people can be on the chat without having to smash their heads together into frame. Even better than the countertop Portal, it allows you to sit on your couch in the living room and look at the TV screen to chat — such a far superior experience that it's ridiculous to think that we've ever accepted the hideous unflattering angles of FaceTime. We should be doing video calls on our huge flatscreen TVs all the time, and anything else is simply undignified.
The problem, of course, is that you won't get any of your friends to buy one and chat with you.
When Portal, a desktop videochatting device came out last year, the first question anyone asked was "why on Earth would anyone let a Facebook video camera device into their home?" Even though Portal is basically as private and secure as any other message you send through Messenger, the idea of inviting in this $199 Eye of Sauron device to watch you mill about your kitchen is something only a seriously stupid person would do.
Or a boomer. Which is whom Portal seemed designed for. Specifically, grandparents who want to videochat to their grandkids. Because who loves videochatting AND Facebook? Let's just say it's someone who also loves posting Minions memes. The device is designed for this exact use case: One of the features is a "storytime" mode where a grownup can read an AR-enhanced children's book to the other person. One of the new features is an expanded library of children's books to read, including ones from the popular Llama Llama and Pete the Cat series.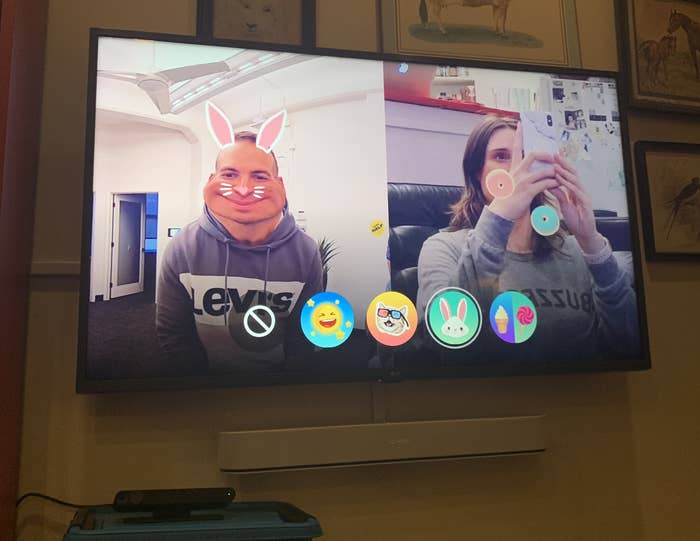 Look, it works. When I tested out the storytime feature making a call to a coworker who also had a Portal TV review unit, I read his toddler daughter a story through the Portal. She seemed slightly skeptical, but when it was over, she turned to her father and said, "Now can Grandpa do it?"

The only other significant difference in features with Portal TV is that you and someone with another Portal TV (not even just a Portal, has to be the TV version) can watch Facebook Watch or CBS All Access content at the same time. There's some fun stuff on Facebook Watch — BuzzFeed News has several shows on there! — but it's not exactly most people's preferred entertainment destination. Luckily, Facebook says that it will be adding Amazon Prime to the device before the end of the year.
When I tested out the original Portal this spring, I found something I had long been missing from digital communication and social media: pure fun. I set up two separate Portals in my office — one at my desk and one by the coffee machine — and waved to everyone who passed by. It was a brief moment of gleeful, stupid, fun to try out the different face filters with my coworkers and play around with the eerily good camera that can follow you as you move around the room. (Almost) everyone loved it (yes, there were a few complaints about setting up a spy machine in the office).
Sadly, I knew the fun would end, and since then, not a single person I know has bought a Portal. I brought home the unit that BuzzFeed purchased (Facebook sent a second review unit that is still in the office; Facebook also sent two review units for the Portal TV) and haven't taken it out of the box yet.
Facebook the social network is a success story of the network effect: You want to be on it instead of Myspace or Tumblr because that's where everyone you know is. The Portal is a failure of the network: It's useless if you don't have someone to use it with, and most likely, you don't.
Of all the things I miss about being in my twenties — the freedom, the metabolism — I miss living with roommates I liked and spending evenings or hungover weekend mornings watching trash TV with them and chatting and laughing. For a brief moment, I fantasized that my friends and I could watch TV "together" again, each from the comfort of our own living rooms after our kids went to bed. We could giggle over Vanderpump Rules or some other bad reality show, just like old times. But I also know that my friend is more likely to become a bartender at SUR than she is to buy a Portal TV.
CNET's review is headlined, "No one should buy the Facebook Portal TV." This is a reasonable and well-argued stance. Anyone who doesn't believe that they can trust Facebook's hardware device, or reward Facebook with their money, or even that it's the ethical choice to even maintain a Facebook account in 2019 has a very good point. I can't argue with that.
I just wish it weren't the case.