Welcome to our weekly column, "Is This an Ad?," in which we strap on our reportin' hat and aim to figure out what the heck is going on in the confusing world of celebrity social media endorsements. Because even though the FTC recently came out with rules on this, sometimes when celebrities post about a product or brand on social media, it's not immediately clear if they are being paid to post about it, got a freebie, just love it, or what.
THE CASE:
Remember, if you can, back to Super Bowl 2016. It was the Denver Broncos versus the Carolina Panthers, held in San Francisco. The halftime show was Coldplay featuring Bruno Mars and Beyoncé. You will probably not remember Coldplay, but you will remember this amazing moment where Beyoncé *almost* fell, but miraculously righted herself:
Beyoncé showed up in San Francisco a few days before the Super Bowl, presumably to rehearse the show, which involved some complicated elements (Chris Martin's tight Henleys, unusual set designs, lots of dancers, etc.). She clearly needed a nice place to stay while she was there. Some place nicer than just an anonymous hotel room...a comfortable place for her family to stay for a while.
On her Facebook, Beyonce posted this photo with the caption, "It was a Super weekend @Airbnb":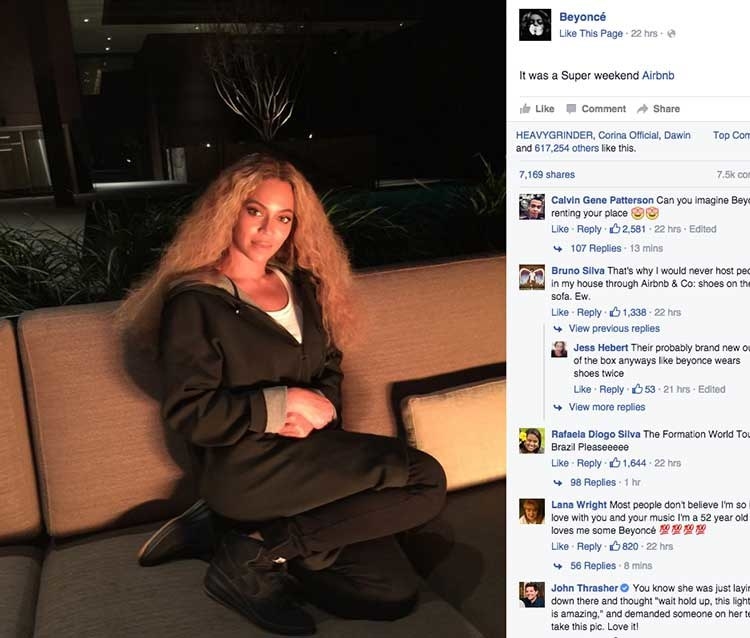 It was quickly reported that the particular Airbnb that Beyoncé was staying at was this one, which rents for $10,000 per night. The house is just outside San Francisco in the town right next to Mountain View, and it looks super nice.
THE EVIDENCE:
Beyoncé is too classy to shill for stuff on her social media, right? She's no Scott Disick, she's fucking Beyoncé. She's not posting crap like teeth-whitening lights or hair-growth gummies on Instagram. Why would she start now, with Airbnb?
Perhaps she just loved this particular rental, and wanted to shout it out. And isn't the term "Airbnb" kind of almost like Kleenex at this point — a generic term to describe "rental home"? So maybe it's not so weird she'd tag the company.
But do we think she paid for it? The place is 10 G's a night — something that basically ONLY a Beyoncé can afford. That's chump change to her, but it's still...a lot of money!
On the other hand, did the NFL pay for her accommodation as part of her performance fee for the Super Bowl? It's not unusual for travel and accommodation fees to be added onto a musician's performance fee. Or sometimes a large flat fee is offered, and any travel/hotel costs are built into that.
The halftime show is sponsored by Pepsi, a company that Beyoncé has done ads for and in 2012 made a $50 million deal with. Perhaps part of the deal is that Pepsi paid for her stay.
Or do we believe that Beyoncé isn't posting anything about any company for free? If she's tagging them, she's getting paid?
THE VERDICT:
It was a freebie! According to reps for Airbnb, Beyoncé was not paid to post about her stay. However, a source familiar with the situation told BuzzFeed News that her rental fee was comped by Airbnb (the host got paid).
"We're huge fans of Beyoncé and we're thrilled to see her Facebook post and hope she was crazy in love with her Airbnb listing," Airbnb wrote in a statement at the time. This, you'll notice, doesn't indicate whatsoever that Beyoncé wasn't a paying Airbnb customer — to me, this statement implies the opposite, that she is a paying customer.
The FTC has rules — lots of rules — about how bloggers or social media stars are supposed to disclose if they're getting paid to post about a product or company. But these are confusing, especially if it's not a paid ad but a free gift like a comped hotel room — something that celebs get all the time. The general rule of thumb, though, is that the average person should be able to tell if something is an ad or not.
I consider myself pretty knowledgeable on this kind of stuff, and I couldn't really tell. Bobby Finger, host of the Who? Weekly celebrity gossip podcast, wrote on Jezebel that he wasn't sure if it was an ad, either. If someone whose job is writing and podcasting about celebrity gossip can't tell if this was an ad or not, then how is the average person supposed to know? Especially when Airbnb PR's statement to the press at the time was so ambiguous. Airbnb did not respond to several requests for comment from BuzzFeed News, and when the Washington Post wrote about how the lack of clarity may be a violation of FTC advertising rules, Airbnb did not respond its request for comment on whether or not it was actually an ad.
Getting a comped hotel doesn't obviously feel the same as, say, a $50 million contract with Pepsi to do TV ads. So it's very possible Beyoncé probably didn't think of her post about Airbnb the same way she does about doing a TV ad for Pepsi.

But the FTC maybe does, based on its own rules. Last week, Bloomberg reported that the agency plans on cracking down on confusing celeb ads on social media. But how it plans on actually doing this isn't really clear, and Bloomberg talked to many people in the advertising industry who said that the rules themselves aren't even that clear.
The FTC's moves so far have been to dole out violations only to the brands or ad agencies, not the individuals. This means if the FTC were to decide that Beyoncé's post violated the rules, then it'd be Airbnb that was on the hook for the misdeed, not the singer. (The agency does not comment on individual cases to the press.) And even then, the FTC doesn't act on this often — in only a handful of cases so far has it gone after a company for social media violations (most recently Warner Bros. for having video game vloggers doing positive reviews without disclosure).
Would the FTC have preferred it if Beyoncé had written, "I was gifted a free vacation rental by Airbnb, but not paid to post about it"? Yes, I'm sure it would have liked that. But is it going to go after Beyoncé or Airbnb for not doing that? Who knows!
EPILOGUE:
A few months later, Justin Bieber stayed at that same Airbnb. While he Instagrammed photos from inside the house, he didn't give an Airbnb shoutout like Beyoncé did. Did he also get it for free? Who knows! Stay tuned for future installments of "Is This an Ad?".