An Interview With The Guy Who Hacked Whitney Cummings's Twitter
Whitney Cummings's Twitter was hacked this week. I wanted to know: were the hackers fans of her show?
Late Tuesday evening, Whitney Cummings's twitter account was hacked. The hackers, calling themselves "Clan Vv3" changed her photo to their logo, posted a few links to their site (which crashed), and posted a few obscene messages (see below, language NSFW). You know, typical hacker stuff. They actually wrote the phrase "hack the planet!"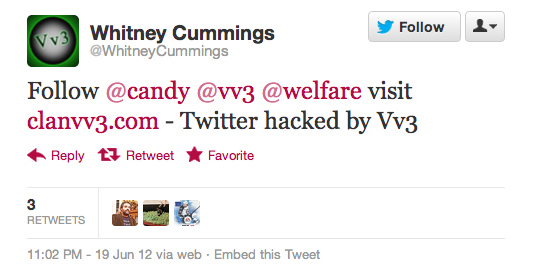 One of the hacked tweets (above) linked to the Clan Vv3 members' personal Twitter accounts.
I wanted to know more about how the Clan felt about the comely comedienne and her hit show, so I reached out to @welfare (his account is now changed to a different username) and asked him a few questions over Twitter direct message:
Buzzfeed: "Whitney" hasn't been well received critically, but has been a ratings hit. Do you think critics are out of touch?
Hacker: You can't judge until you have the facts. I don't do anything based on judgement, so I would figure they are.
Buzzfeed: Adam Carolla recently said he though women aren't funny. Do you think Whitney proves or disproves his point?
Hacker: Whitney disproves it. Although I have met funny women.
Buzzfeed: Zoe Lister-Jones, Whitney's sidekick on the show, is becoming a breakout star. Do you prefer redheads?
Hacker: I do not.
Buzzfeed: In an episode of the show, Whitney realizes that giving her boyfriend the silent treatment is really a reward not a punishment. Have you ever given someone the silent treatment?
Hacker: Constantly, get too many messages.
Buzzfeed: Which show do you prefer: "Whitney" or "Two Broke Girls"?
Hacker: In all honesty neither. But I guess if I had to pick Two Broke Girls.
Buzzfeed: Whitney Cummings or Kat Dennings - pick one
Hacker: Whitney Cummings.
Buzzfeed: Who is your favorite female comic?
Hacker: Diane Amos.
Buzzfeed: Are you looking forward to NBC's Thursday night comedy lineup this fall?
Hacker: Not really.
Diane Amos (a.k.a. the Pine-Sol lady)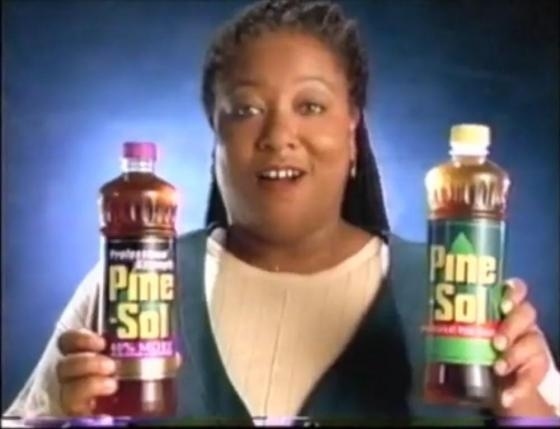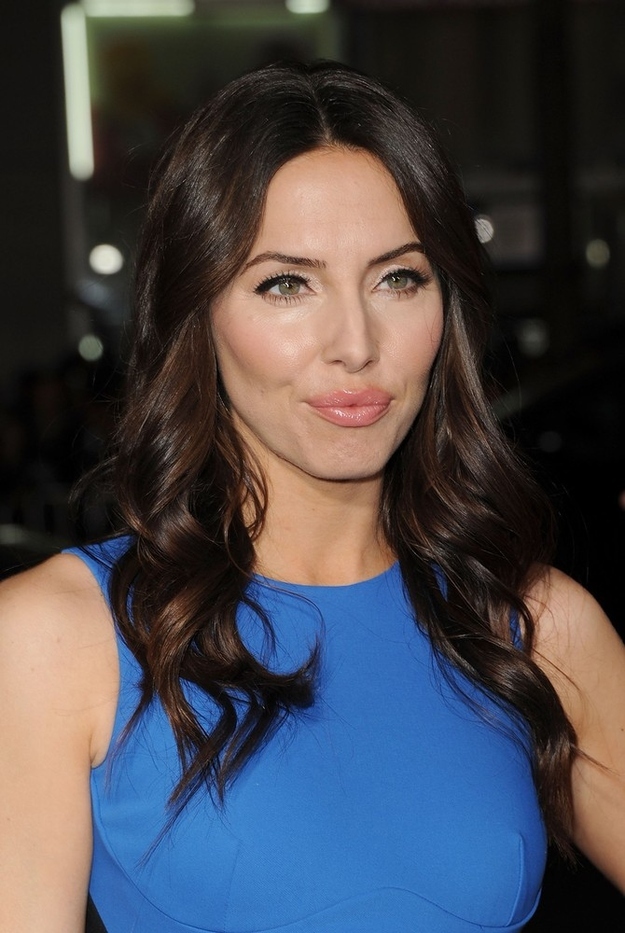 Some of the other hacked tweets: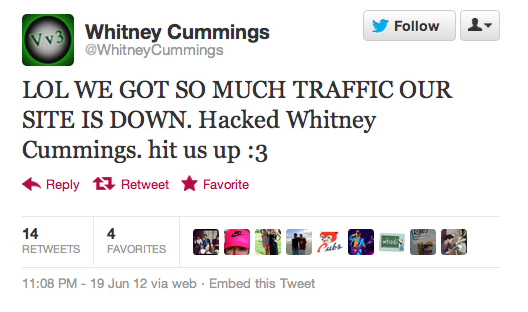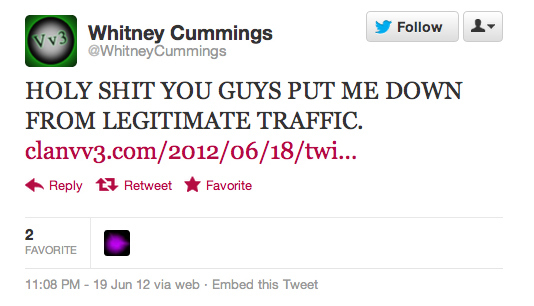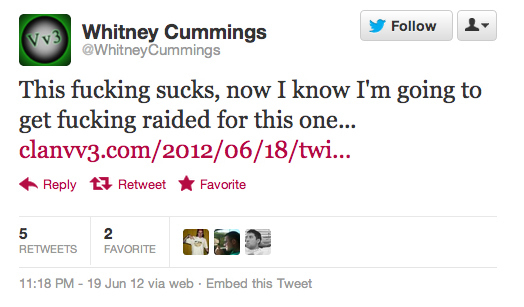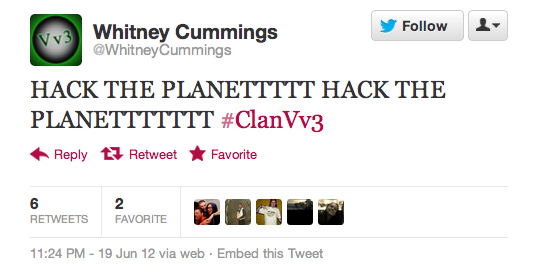 Whitney regained control of her account about an hour later: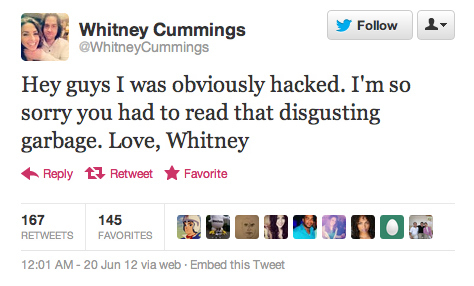 Katie Notopoulos is a senior editor for BuzzFeed News and is based in New York. Notopoulos writes about tech and internet culture and is cohost of the Internet Explorer podcast.

Contact Katie Notopoulos at katie@buzzfeed.com.

Got a confidential tip? Submit it here.