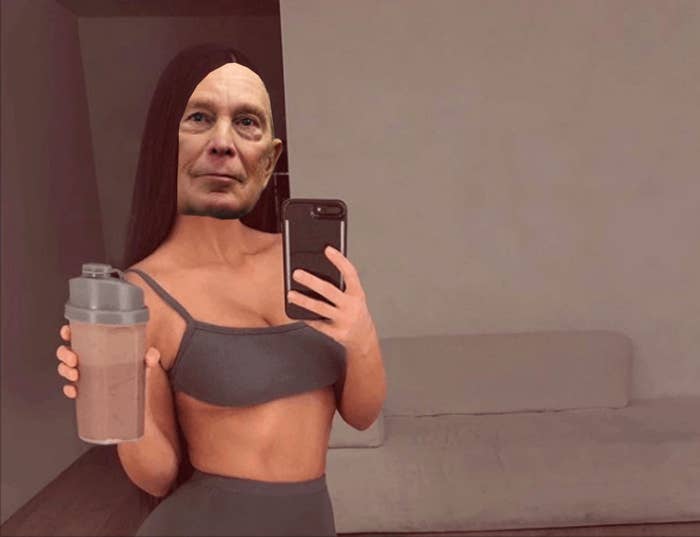 This week, Instagram meme accounts like @fuckjerry and @tank.sinatra posted sponsored ads for former New York mayor Michael Bloomberg's presidential campaign – the first campaign to use this sort of paid influencer marketing strategy. On Friday, Facebook told the Verge and BuzzFeed News that it would not be regulating these ads the same way it does political ads on Facebook and Instagram. For example, the ads won't be added to the Facebook Ad Library — the transparency tool that allows anyone to see how much money a politician, business, or group is spending on Facebook ads — unless the candidate or influencer were to pay Facebook to boost the post.
Facebook's political advertising policies, which fall into a gray area of federal regulations, have already come under intense scrutiny (they have decided not to fact-check political ads), and after foreign manipulation and inauthentic behavior in the 2016 US presidential election, it is still trying to convince the public that it's not going to fuck this up this time. But allowing political candidates to use influencer marketing on Instagram requires a lot of trust in the way that influencer marketing works — and that system has always been completely broken.
Influencer marketing relies on confusing the average user — that's what makes it effective. The clearest version is when an influencer puts #ad or #sponsored in the caption, which is very easy to miss, but there are a billion less obvious variations.
Sometimes an influencer will simply tag a brand in the photo (does this mean they were paid to post? Or given a free gift? Or just like the brand?). Sometimes they'll write flowery language about "partnering" with a brand or give out a discount code with their name on it. Or maybe they'll just say "thanks @BRAND." Or maybe nothing at all!!!
In theory, there ARE rules. The Federal Trade Commission, the government agency that regulates advertising, has guidelines for disclosing social media ads. The rules say that any material relationship to a brand must be disclosed. This means an influencer needs to say if they have been given a big wad of cash to do a post, but also if a makeup company sent them a free lipstick and they posted about it — even if the gift was unsolicited. It also needs to be disclosed if an influencer has a financial stake in a brand (DJ Khaled and Cîroc, for example), or even if they have a spouse or family member who does.
And there are very specific rules for how to disclose that relationship in an ad. It must say #ad or #sponsored (#sp doesn't cut it), and that disclosure must appear in the first three lines of an Instagram caption, before the caption text gets cut off in the feed.
But enforcement has been pretty hands-off. Over the years, the FTC has taken action against brands and advertising agencies, but never individuals putting up posts. The closest any influencer has gotten to being punished came in 2017 when, prompted by the advocacy group Truth in Advertising, the FTC sent polite "educational letters" to remind a handful of celebrities and influencers how to properly disclose an ad. When several of those celebrities like Amber Rose and Lindsay Lohan continued to do undisclosed Instagram ads, they got second, slightly more chastising letters asking them to tell the FTC whether or not the posts were ads. No influencer, not even a Kardashian, has ever faced official action or penalty by the FTC.

At the moment, there are no FEC rules in place specifically about Instagram influencers.
Making things more confusing, a spokesperson for the FTC told BuzzFeed News that the FTC isn't even in charge of regulating political ads done by Instagram influencers, even if they aren't properly disclosed. The FTC deals with commercial advertising, not political ads, which are regulated by the Federal Election Commission. The FEC, however, has never had to regulate Instagram influencer ads before. It has rules about how internet ads must be disclosed, but these were designed for more traditional online advertising models.
In December 2019, FEC Commissioner Ellen Weintraub issued an official statement lamenting the lack of updated and more specific rules around internet ads. "The Federal Election Commission last wrote internet communication disclaimer regulations several eons ago, in 2006, when political internet advertising was in its infancy," Weintraub wrote. "The Commission has since been unable to revamp its regulations to better tailor the disclaimer rules to today's far more significant and varied political internet advertising market." At the moment, there are no FEC rules in place specifically about Instagram influencers.
The real loser here is the average user, who is left with no idea how to tell what's an ad and what isn't.
Facebook has been incredibly slow to adapt. It took until 2017 (shortly after those FTC letters) for Instagram to test a built-in feature for influencers to disclose brand partnerships. This feature has rolled out more widely over the last two and a half years, but it's still only available to verified users. As microinfluencers — people with 10,000 to 100,000 followers — become more popular with marketers, the fact that the feature is only for blue checkmarks means it can't be a total solution.

And the FTC doesn't even think it's a good solution, either. In 2017, an FTC official said that the disclosure tools built in on Instagram and Facebook do not meet the regulator's guidelines for proper disclosure.
It's possible that Instagram could solve this at a product level. Instead of the tiny "paid partnership with" text that lives in the location area of a photo, it could make a big huge red "ADVERTISEMENT!" text, or a colored border, or to look similar to actual ads instead of regular feed posts.
Or they could boot off influencers who continually violate the rules, or even publicly post its own guidance about how to comply and be a good influencer-citizen (Instagram does have liaisons on staff who work with and give advice to big accounts and celebrities, but that's all done behind the scenes and that info is not available to everyone).
As confusing as the rules are, the real loser here is the average user, who is left with no idea how to tell what's an ad and what isn't.
I've been reporting on influencer ads on Instagram for years, and I'm a pretty savvy internet user who has a professional understanding of the basics of advertising and marketing — but I often can't tell whether a post is an ad. I do not believe for a second that the average person is able to know what's an ad 100% of the time on Instagram. Or even 50% of the time.
Influencer marketing thrives exactly because of this confusion: It's hoping you think Kim Kardashian actually loves Fit Tea drinks and genuinely recommends them. It's hoping you think a travel influencer actually loves that hotel room, or that a makeup artist really recommends this eyeliner.
It's hoping you think Mike Bloomberg is actually a funny, relatable guy who is able to make a joke about himself, and not that someone else was paid to write the jokes and someone was paid to post them (one of the meme accounts that was paid to post Bloomberg #spon is run by a non-news BuzzFeed employee).
Influencer marketing is still a total shitshow for the average Instagram user, who is constantly being deceived by influencers and brands, either on purpose or because the rules are too confusing. It's been going on for years this way, Facebook has done very little to solve the problem. Allowing political ads to flourish in this third-party bootleg ecosystem that has minimal regulation from the platform can only end in more confusion and a bigger disaster.