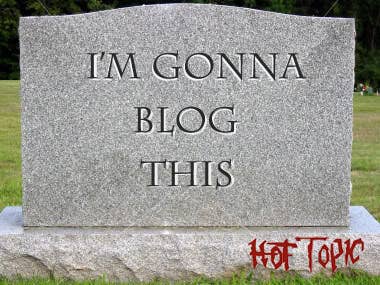 Facebook has offered "memorialization" for accounts of deceased people for a while, but it seems that the bar has been lowered for how they verify the person in question is actually expired. Ideally, how it works is a friend or relative of a deceased person fills out a form from the Facebook Help section that gives the name, email, and account name of the deceased person. It also asks if you're a friend, immediate family member, or other.
Lastly, it asks for proof that your friend is dead, but it will accept a link to an online obituary as sufficient proof. If your friend has a common enough name, just Google their name + "obituary" and you'll probably find a match.
Once memorialized, your buddy will be locked out of his or her account. R.I.P.!
(WARNING: Don't do this. It's at the very least a pain in the ass for your friends.)
Update: Why is it so easy to fake a friend's death? A Facebook spokeperson tells Buzzfeed, "we try to take all necessary precautions when processing user requests and provide an appeals process for any possible mistake we may make." It doesn't explain why there's no email confirmation or why an obituary for someone 50 years older than the alleged deceased was accepted as valid proof of his death.
1. To kill BuzzFeed's John Herrman, I just filled out the memorial request form: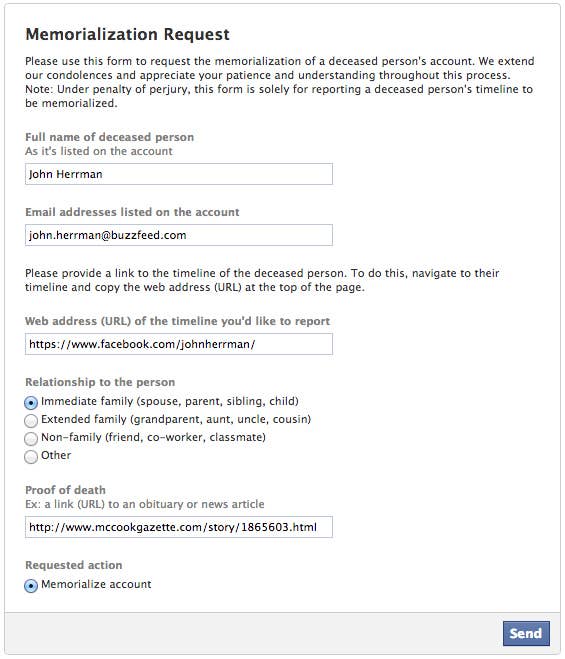 2. For the "proof of death", I found an obituary for a guy with a similar name (not even spelled the same!) who was 74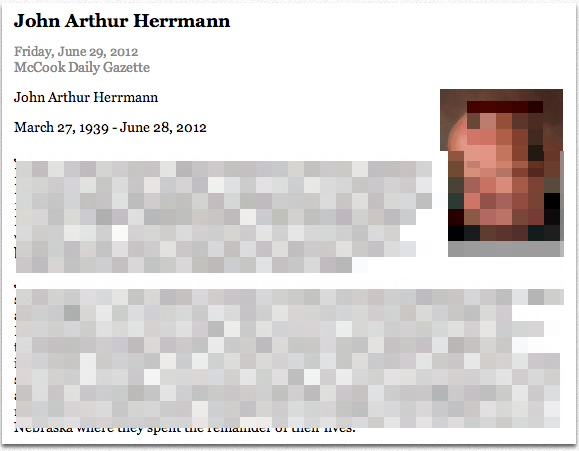 When the "dead" person tries to login to their account, this happens:

Getting the account back requires filling out a special form. It's not clear how long this takes. It's not instant: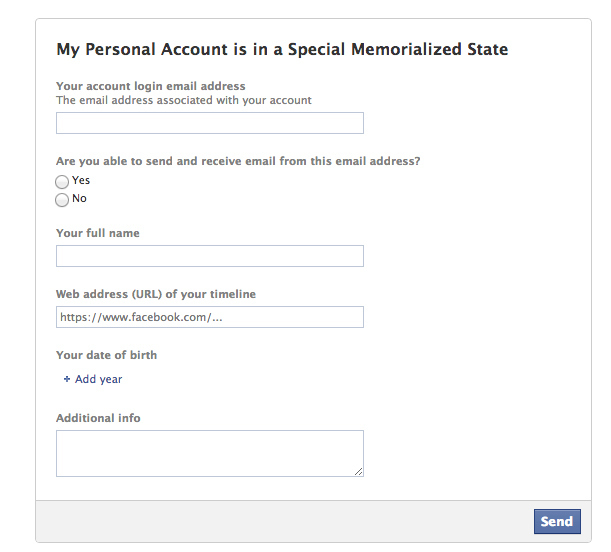 And when John filled it out, he got a form letter. The wrong one:

In other words, you can take someone offline by filling out a simple form, claiming to be family, and linking to an obit. Pretty bad!
Rusty Foster, who tipped us off on this issue, says he hasn't been able to get his account back for days:
Update: About an hour after filling out the form, John's account was reactivated. This is the email Facebook sent:
"It looks like your account was suspended by mistake. I'm so sorry for the inconvenience. You should now be able to log in. If you have any issues getting back into your account, please let me know."