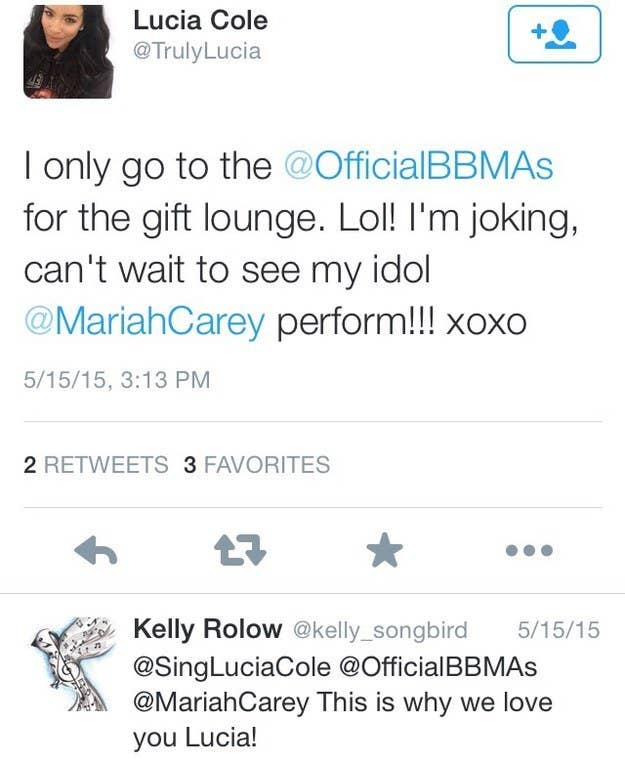 To a handful of music fans, Lucia Cole seemed like a promising up-and-coming R&B singer with a strong '90s-style voice. She had a popular Twitter account, a Wikipedia page, and songs on iTunes, Tidal, and Spotify. She was in talks to be in an upcoming Tyler Perry project, and had collaborated with Drake and Ariana Grande. Message boards were lighting up with a rumors about her personal life: She was dating NFL player Kenny Vacarro, who was cheating on his baby's mother with her, and she had dated Sony record executive Keith Naftaly, who was 27 years older than her.
There was only one problem: Lucia doesn't exist at all. And her songs on iTunes? They were all actually old Jessica Simpson tracks.
Lucia Cole had an album called Innocence on iTunes. Every song was actually a Jessica Simpson song with a slightly altered title.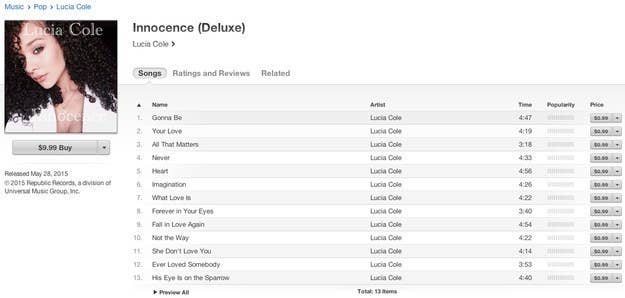 What makes the story of Lucia Cole as a "catfish" particularly interesting is who broke the story. It wasn't some sort of copyright protection software on iTunes or YouTube or music journalists who discovered that Lucia was fake. In fact, Lucia had managed to get a few interviews with the music press — on the sites Music Times and Bossip, a pop culture site that focuses mostly on black celebrities and musicians.
The two people who broke the story wide open were two male teenage pop culture junkies. The person to first crack the case was Leo Loera, a 19-year-old college freshman from Fresno, California. Leo is a die-hard Ariana Grande fan (her fans call themselves "Arianators," similar to Justin Bieber's Beliebers, or Lady Gaga's Little Monsters, or the Grateful Dead's Deadheads), and Lucia caught his attention when she tweeted that Ariana Grande would appear on her upcoming album.
"It was really interesting because I had never heard the name before, and I'm kind of a music head myself so usually I know a lot about up and coming artists, indie or not."
Leo got more suspicious when he looked at her Twitter. "Her bio said that she was a platinum singer-songwriter when she was barely coming out with a debut album, and that didn't really add up to me. And then I went on her Wikipedia and there were a lot of things on her page that made it seem like she wrote it herself."
He searched her on YouTube and listened to a few of her songs. At first, Leo liked what he heard — he loves vocalists with a big strong voice and a '90s vibe, like Mariah Carey and Celine Dion. But he couldn't shake the feeling that the voice sounded like another powerhouse female vocalist he liked: Jessica Simpson. Leo liked Jessica and was familiar with her voice, but didn't know her earlier album tracks (literally no one alive, except maybe Joe Simpson, remembers 1999 Jessica Simpson album cuts).
With a little YouTube searching, Leo found the Jessica Simpson song from Lucia's album. The song titles were slightly altered — Jessica's "Your Faith in Me" became Lucia's "Faith in Me." He checked the song lyrics online and saw they were an exact match. At this point, Leo was sure that Lucia had simply uploaded an entire Jessica Simpson album to iTunes and passed it off as her own.
He started DMing other Arianators and told them about his discovery. A large Ariana Grande fan account tweeted about it, and the jig was up. They started poking at Lucia on Twitter, asking her about Jessica to see what kind of reaction she'd have.
Ariana Grande fans started to provoke Lucia by asking her about Jessica Simpson: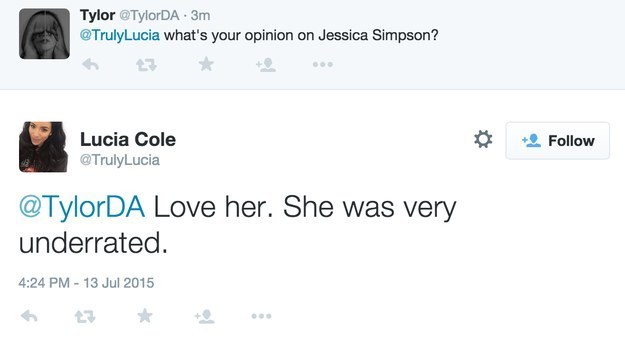 On a message board, someone noticed that the most recent photos of Lucia were actually photos of Reese Cromwell, a model and swimwear designer.
Reese told BuzzFeed, "I was told to consider it as flattery, but on the other hand it bothers me to the core that this person was misleading thousands of people... I just hope this person learns to see their worth as an individual."
This is Reese Cromwell, the model whose photos were used by "Lucia":
Leo's discovery spread from the Arianator Twitterverse to a Lady Gaga fan message board and the music/pop culture message board ATRL.net, and Lipstick Alley, a celebrity message board. At this point, the story was still mostly a disjointed series of tweets and message board postings.
What put all these pieces together into one coherent story was a Tumblr called Pop Culture Died in 2009. The Tumblr is very popular, and the general gist is that the best time in music and celebrity news was the moment when Lindsey Lohan, Paris Hilton, and Britney Spears all went clubbing together at Le Deux in L.A. back in 2009. Mostly, it posts GIFs and images from the mid- to late aughts. (We spoke to the author of the Tumblr, but he wishes to remain anonymous, because as he explained, "the story of a high school boy who knows enough about Jessica Simpson to expose someone for stealing her music is embarrassing for me, to be frank.") The author of PCDI2009 did a little research on his own, noting that most of Lucia's Twitter followers were bots. His telling of the story is incredibly witty — and impressively thorough for a high school student. His theory as to who would actually attempt to catfish as Jessica Simpson? Ashlee Simpson.
Soon, a few larger media outlets picked up the story. Jacob Ganz wrote about it for NPR's blog and confirmed with Republic Records that Lucia Cole was not an artist on their roster.
While Lucia's Twitter account had over 60,000 followers, it turned out they were almost all bots.

One of the things that made people believe Lucia was real for so long was that she was able to get interviews in the press. Janeé Boldon, mangaging editor of Bossip, which ran an interview with her, explains on the Internet Explorer podcast how Lucia was able to convince them that she was real.
"I wouldn't say there were no red flags," Janeé said. "We did vet her thoroughly — we fact-checked. She stated she had a previous contract with Sony RCA. We did speak with them and they didn't have any record of her. At that point we had already interviewed her, and I thought 'well, she has a nice story, it's a pulled-up-by-her-boot-straps, it's a positive story. She said she had a new deal with Universal, so we checked with them and they didn't get back to us by press time."
Although they had an eyebrow raised, Bossip decided to give her the benefit of the doubt, in part because of their editorial mission to hightlight new artists. "You never know who's going to be the next big thing and you always want to give the opportunity to someone who's new and is working really hard," Bolden explained. "She had a really interesting backstory, which caught our attention more than just the average 'hey, listen to my mixtape.'"
Shaquille O'Neal tweeted an endorsement of Lucia's music.
Once she was eventually exposed, Lucia deleted her Twitter after posting a long note that claimed she had created a previous account that she used to catfish the singer Trey Songz, and that Lucia was a creation designed to get Trey's attention again after he broke up with the first catfish account. (Trey Songz did not reply to requests for comment through his management.) She claimed she was going to commit suicide immediately after posting. However, several Lucia Cole fan accounts popped up just after she claimed to have died, tweeting their support for Lucia and against her "haters."
I wish I could tell you that we had a Catfish-style ending to this story where the person behind Lucia Cole had some truthful moment of tearful redemption. We were not able to find the real Lucia. We won't know his or her motivations for creating a fake persona on the internet. It's possible that Lucia was an attempt at a classic romance catfish, where the target was Trey Songz. But to create a person who was not just an attractive woman who might catch Trey's eye but a singer on the cusp of fame suggests that one person's love wasn't the sole target.
Someone wanted to know what it was like to be famous — what it might be like to be interviewed by the press and have adoring fans. Lucia Cole was catfishing the concept of celebrity.
Jacob Gantz wrote the NPR blog post referenced in this story. An earlier version of this post misstated his name.