Dating App Hinge Wants You To Poop Or Get Off The Pot
Use your matches or lose them.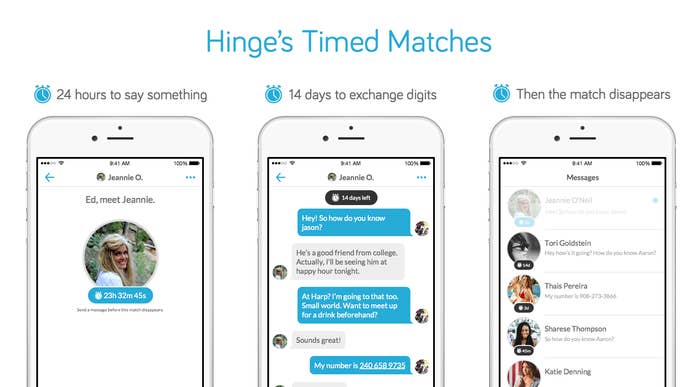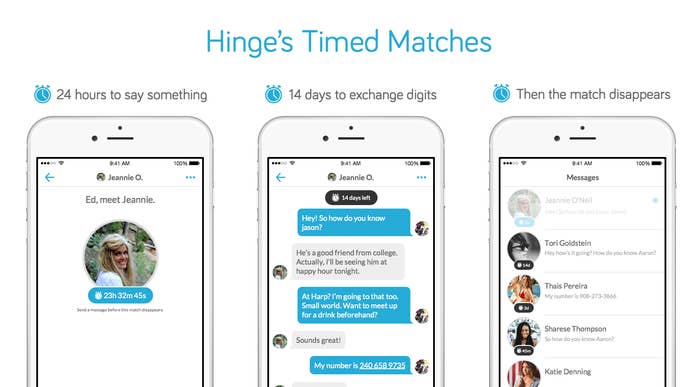 Hinge, the dating app that uses your Facebook network, wants people to nut up when it comes to messaging someone they've matched with. They're instituting a new rule: If no one messages each other within 24 hours of matching, the match disappears. And once you start messaging, you have 14 days to chat and exchange numbers and take the conversation off Hinge — after two weeks your match will disappear.
This change is similar to other dating apps that impose a time limit: Coffee Meets Bagel, Bumble, and The League. The idea is that it will encourage more meaningful interactions between people who actually are interested in meeting for a date, rather than just swiping "yes" on everyone and then waiting.
Before rolling out this new policy, Hinge tested it out in several cities, and found that a time limit increased the number of conversations and phone number exchange by 50%. Knowing that there's a time limit helps relieve awkward tension about how sends a message first.
Hinge recently looked at its own data and saw that people were most like to respond to messages sent within the first six hours of matching. The gender split was a little different though: After six hours, the likelihood of men replying dropped by 25%, for women it dropped only 5%. Basically, women were more willing to be OK with someone taking a long time to message them, whereas men preferred immediate messaging.
Anecdotally, when I told some co-workers at BuzzFeed about Hinge's change, they said they've found Hinge to be the "flakiest" of dating apps, where they got the lowest message-to-match ratio — they get lots of matches who never message them. Ideally, the time limit might help this flakiness. But let's be real: If no one is messaging you back it's probably because of your terrible personality, so just accept the fact that you're doomed to be forever alone.
Katie Notopoulos is a senior reporter for BuzzFeed News and is based in New York. Notopoulos writes about tech and internet culture and is cohost of the Internet Explorer podcast.

Contact Katie Notopoulos at katie@buzzfeed.com.

Got a confidential tip? Submit it here.