Here's How To Find Your African-American Family History Online
A guide to searching for your ancestors and finding your own personal history.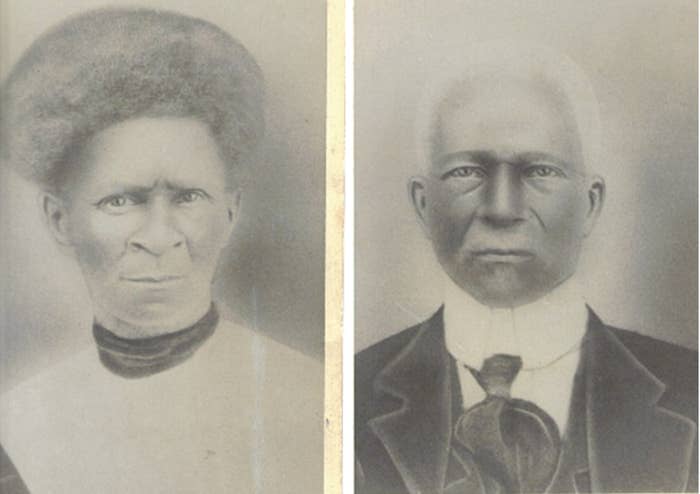 Finding your ancestors can be incredibly rewarding and an amazingly inspiring experience. The cool thing is that searching for your family tree online has never been easier — there's more digitized and scanned records than ever before, and more resources online to help you.
"One of the biggest misconceptions is that African-Americans can't find our history because of slavery," Kenyatta D. Berry, a professional genealogist who is one of the stars of PBS's Genealogy Roadshow, told BuzzFeed. The first national records to include former slaves after emancipation was the 1870 census; in 1860 and earlier, only whites and free blacks were counted on censuses. "In genealogy we call that the 1870 brick wall," said Berry, who specializes in African-American and slavery research. But it's possible to go back further.
"These stories of your ancestors affect who you are," Berry said. "You might be struggling with something day to day, at work or school, but when you realize this person before you survived slavery and so much hardship, it changes your perspective. It will inspire you to change your life. You have this story to share, everyone has a story. Your ancestors have gone through so much; just to learn that story makes it so worthwhile."
The following is a guide for searching for African-American family roots (although a lot of these tips can be applied to any family background).
Talk to your family.
This sounds obvious, right? I strongly recommend talking to them before you even start online — trust me, you won't get very far without their help. Most of us know the names and maybe the birthdays of some of our grandparents, but do you know the names, birthdays, and birth locations of your great-grandparents? All eight of them? Not likely. This is where your parents and grandparents can really help.
They can also tell you a lot more facts than just birthdates and names. "A lot of it is around oral history," explained Berry. "It's extremely important to interview elderly folks in your family. These stories are passed down in our families, and they're so so important. Talk to them about their families, their childhood. Where did they come from, why did they leave?"
Plus, do you know what old people love doing? Talking about their family. Asking your parents, grandparents, or even aunts and uncles to tell you about the old days is like Christmas morning to them. Then later, you can return the favor by showing them what you've found. Bam! Now you're the favorite grandchild.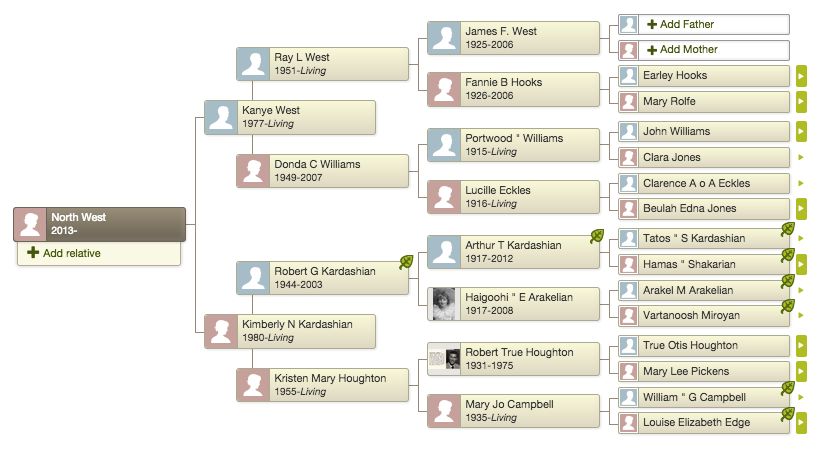 Use these sites to start building your family tree.
Ancestry: This is the most popular site and it's the easiest to use and search. A free account will let you start building a tree and searching records. However, you can only see certain U.S. records (just the 1940 and 1880 censuses, for example) with a free account, and it's pretty expensive ($30/month). Because it's the most popular site, you're most likely to bump into another user who is researching the same people, which is incredibly helpful.
My Heritage: This is kind of the Pepsi to Ancestry's Coke. Like Ancestry, it's free to start, but you have to pay if you build a tree more than 250 people, but it's only $6.95/mo for a premium account. It has fewer records to search (though you can search externally), and fewer other users. However, it's not a bad idea to join more than one site — you can download your tree as a big file and upload it all at once to another site.
WikiTree: Completely free (yay!), but it doesn't have built-in record searching. However, it's a good way to find other people searching. You can build a tree elsewhere and upload it to WikiTree to see if you find someone in common.
Search records online:
Family Search: This is the best free site to search for records. You can start building your tree for free on something like Ancestry, then use FamilySearch to search for the records for free.
Google: Surprisingly helpful if you are looking for someone with a slightly unusual name. Once you can find the county or town your ancestors lived in, try searching the town + person's name. You can often find weird old county histories on Google Books. If you're lucky, you might even find another site where some distant cousin is also researching. For people who died in the last 10 years, try searching their name + "obituary" — you can often find something online.
Newspapers.com: You can do a seven-day free trial and cancel if there's just one or two things you found that you want to see. "People often overlook newspapers," Berry said. "There were a lot of African-American newspapers that would report on the community or even mention if people were coming to visit."
Find a Grave: It looks janky as hell, but it's one of the most helpful sites you'll use — a massive volunteer-run collection of cemetery records. It was recently bought by Ancestry, so now you'll see Find A Grave results in Ancestry searches, but if you find a match it's worth it to go to the actual site. People will sometimes have added bios and obituaries. You can also then see the other people in a particular cemetery who have the same last name — a great way to find more relatives.
VitalRec: Although some birth, marriage, and death records have been digitized and available to find online, some have to be ordered from the state (typically more recent ones). You'll have to pay a small fee to get the record in the mail, but sometimes that one record is really what you need.
AfriGeneas: An immensely helpful guide to researching African-American roots.
The Freedmen's Savings Bank: This a government-backed bank for former slaves during Reconstruction. (It shut in 1874.) Its entries are particularly valuable for family research because people would write their family members' names on the deposit records. The records are searchable at FamilySearch.org.
Disclaimer: Of course, there's plenty of stuff you can only get at your local library or state archives. If you're getting serious, don't only rely on the online stuff!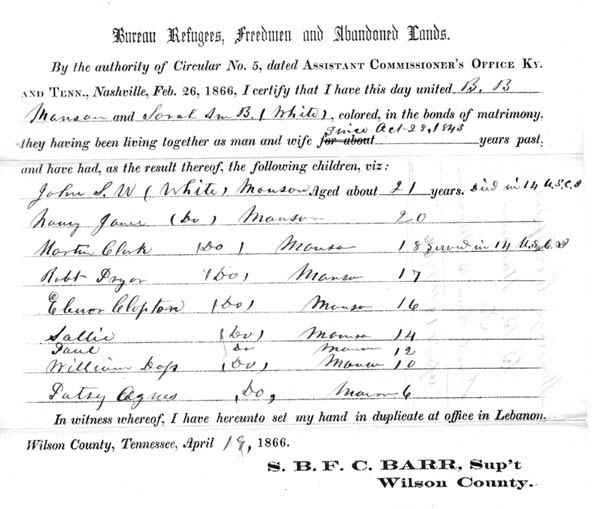 Search for slavery records.
Searching for records of people who were born into slavery can be difficult — slaves weren't listed on censuses by name, but you can go around these brick walls by looking for the white slave owners. "One of the unique things about researching former slaves is you need to follow both families," explained Kenyatta Berry. "Once you identify a slaveholding family, they're connected: You need to find their records as well."
One word of caution: Don't assume that former slaves have their owners' last name. This is not always the case. People took their mother's name, made up new names, or even took on generic names like Freeman after emancipation. Also, many freed slaves moved right after they were given their freedom to rejoin their family.
Keep in mind large historic events like The Great Migration (1916–1960), when blacks from the rural South moved away to cities in the North and West. If you've only ever known your family to be from somewhere like Chicago or California, you may well discover on a census record for someone a few generations back that they were born in the South.
Local historical context also helps. Even just looking up information on a town on Wikipedia can be helpful — especially as you go farther back and town or county names seem to shift. I've even found that looking up info on the history of slavery in different states was immensely helpful. For example, I learned that in North Carolina, most slave-owning farms had just a few slaves, unlike the large plantations in other states. This information turned out to be really helpful in trying to identify a slave-owning family.
Once you get back to the 1860s–70s, look out for belated marriage records right after the Civil War. Since slaves couldn't legally marry, couples who had been unofficially married for years finally were able to get real marriage certificates through the Freedmen's Bureau. This means you might see a legal marriage date for an older couple who already had several children.
The 1850 and 1860 Slave Schedules are searchable online. They list the slave owner's name, and then the age, sex, and color, but not the slave's name. However, with enough context, you can use them to find the people you're looking for.

A few tips for looking at old records online:
• Census records are going to be your best source of information. Censuses are taken every 10 years, but the most recent one that is released to the public is 1940. This means that you probably will need to get back to your grandparents to actually find them in the census.
• Sometimes adding in general information about relatives helps, or even educated guesses. Even if you don't know what city or state someone was born or died in, add the "United States." I like to add estimated birth years for people's parents if I don't know for sure, using an easy rule of thumb of guessing they were 30 when their child was born. Adding in just the state and an estimated birth year on Ancestry will generate automatic "hints" and help you search more.
• Use the information in each census. Each 10-year census has slightly different questions. The 1910 census shows how many children a woman gave birth to and how many are currently living — it can be really sobering to see how common it was for families to have lost a child in those days.
• The information varies slightly for each decade, but you can look for little clues. For example, some years it says where a person's parents were born, which is incredibly helpful especially as you get closer to the generation born just after emancipation, whose parents may have moved across state lines as soon as they were freed. "People would go to find their family members after emancipation," said Berry.
• When you're stuck, look for extra people in censuses who might help. The best gift is when you don't know a woman's maiden name, then you notice in a census with her husband that his mother-in-law is living there. Bam! You just figured out the wife's maiden name. Sometimes you'll notice people living right next to their other family.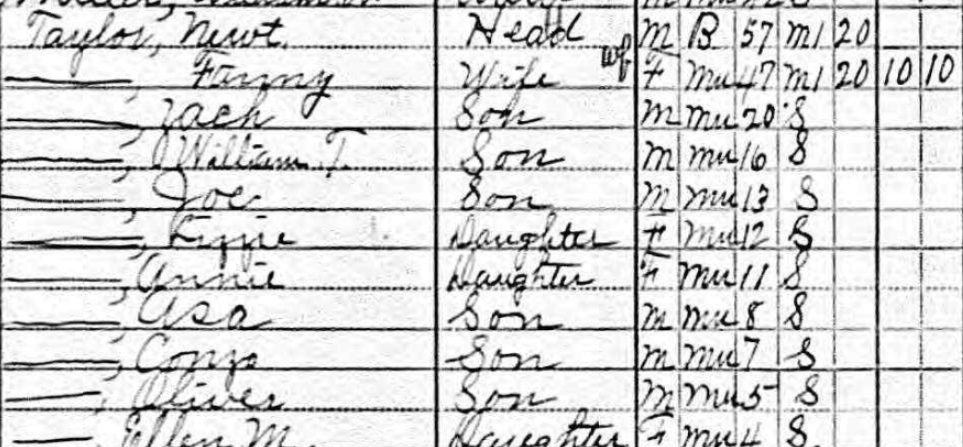 Use other people's research for help.
If you're using Ancestry.com, it's very likely that you'll eventually find someone doing similar research as you. Ancestry will give you a "hint" and suggest you can link up that person in your tree. Finding someone who is researching the same family is amazing — often they'll have already done a lot of the work for you, and you can piggyback on their research. Also, if they're from a different branch, they will have information about living cousins or other relatives you might have never known you had.
One warning: Before you start using someone else's information, you want to make sure they actually have good information. Peek at their tree and see if the relative you share is closely related to them (a good sign) or very distant. If they have 25 or less people in their tree, or each person doesn't have records sourced, consider that a red flag. They might have bad information in their tree (like finding the wrong John Smith), and you don't want to copy their dubious info.
You can always message someone and ask how they're related and if they're sure about the information. People like to talk (although to be honest, most people doing genealogy are old, retired people who are kind of bad at computers). But hey — you can make a cool old-person penpal!
Try a DNA test.
There's three main companies that do genealogy DNA testing.
AncestryDNA: $99 (they do frequent discounts for mailing list members; you can get it for $79 if you wait).
23andMe: This one gives you all sorts of medical information that's largely useless (like if you have the gene for brown eyes). However, it's considered by some blogs to be the most accurate for ethnic breakdowns.
Family DNA: $99 for the basic test, but they have other types of more expensive and extensive tests available. If you've already done the 23andMe or Ancestry test, you can transfer that test data for $39. It's a good deal if you want to try comparing tests.
Each of these companies has a slightly different method for determining ethnicity, and the results for the same person in each test can be slightly different.
A word of advice for DNA testing: Keep your expectations low. While the results can be illuminating, they can also be pretty vague. This is a new science, and it's not perfected. If you have the $$ and really want to go for it, it's worth a try.
I hope you'll give it all a try. If you have any questions, get stuck on something, or want to share your genealogy success story, feel free to drop me a line: katie@buzzfeed.com.
There is not a limit for how many people you can add to a tree with a free Ancestry.com account. A previous version of this post misstated the terms of the free accounts.
Katie Notopoulos is a senior reporter for BuzzFeed News and is based in New York. Notopoulos writes about tech and internet culture and is cohost of the Internet Explorer podcast.

Contact Katie Notopoulos at katie@buzzfeed.com.

Got a confidential tip? Submit it here.