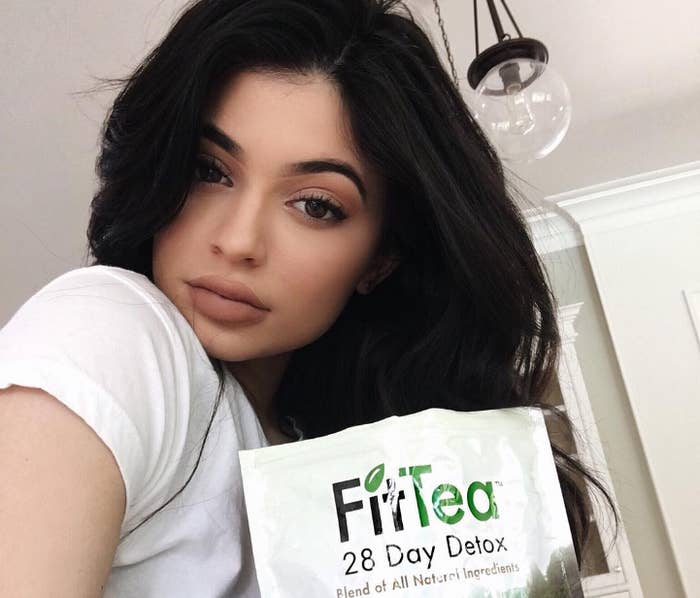 Last week, the nonprofit consumer advocacy group Truth in Advertising (TINA) sent a letter to the Kardashian/Jenner clan warning them about deceptive advertising on their social media.
Today, the organization officially filed a complaint with the Federal Trade Commission, saying that Kim Kardashian West and her sisters had failed to comply with FTC disclosure standards for paid ads.
The Kardashians are notorious for hawking teeth whiteners, diet teas, waist trainers, and other products on social media, usually without disclosing that these are ads by using a hashtag like #ad or #sponsored. TINA has compiled a database of the these ads.
Since last week's letter, the Kardashians have gone back and deleted a few old posts that were in violation, or updated them to say #ad at the beginning.
The FTC has rules on sponsored social media posts. The agency wants it to be clear to consumers if something is a paid endorsement — especially because, unlike traditional TV or magazine ads, sponsored social media can be a bit murky. According to the FTC's social media guidelines, "the question you need to ask is whether knowing about that gift or incentive would affect the weight or credibility your readers give to your recommendation. If it could, then it should be disclosed." The FTC also prefers that posters include their disclaimers at the beginning, not the end, of a post (which may be cut off by Instagram), and that they don't use abbreviations like #sp.

A recent post for vitamins now says #ad at the beginning:
TINA filing a complaint doesn't mean the FTC will actually do anything, and technically anyone can file an FTC complaint. TINA has a history of working with the FTC and has had some success getting the agency to act on complaints they've filed. TINA recently brought to the government's attention Vemma, an energy drink company that is now in a pending case with the FTC over being an alleged pyramid scheme.
"The Kardashian/Jenner family and the companies that have a commercial relationship with them have ignored this law for far too long, and it's time that they were held accountable," Bonnie Patten, executive director of TINA, said in their statement on the complaint.
A representative for TINA told BuzzFeed News that since sending the letter out, the organization has been working with a lawyer for the Kardashians, who had been cooperative. But as of today, lots of posts still hadn't been changed.
Interestingly, posts about smaller companies like SugarBearHair (a vitamin supplement) or Fit Tea were updated quickly. But bigger companies like Estée Lauder (for which Kendall Jenner is a spokesmodel) or Puma (for which Kylie Jenner is a spokesmodel) were more likely to resist being updated with something as gauche as "#ad." In one of Kendall's original posts, she tagged @EsteeLauder and hashtagged it #KJ4EL — something that a casual Kendall fan might not know signifies that she has a longstanding advertising relationship with the company. Kendall recently updated the photo with an additional hashtag, #EsteeModel.
Kendall's updated post now says #EsteeModel:
According to the complaint filed with the FTC, "The willingness of the Kardashians/Jenners to alter their Instagram posts endorsing companies such as SugarBearHair suggests they would also fix other similarly deceptive posts if permitted to do so by the other companies they endorse. As such, it is apparent that the issue is with the companies, who continue to flagrantly ignore the law."
In general, the FTC considers brands/companies to be on the hook for making social media ads clear, and they don't try to go after individual bloggers or social media personalities. For example, in a recent case involving Warner Bros. placing ads with video game vloggers, the agency fined Warner Bros., not the vloggers. But in the case of the Kardashians, who are running a huge business off of social media endorsements, it's possible the FTC could decide to make an example out of them to set a precedent.
Earlier this week, lawyers for the Kardashian/Jenner family told TINA in a statement that they planned to "work swiftly and diligently with our brand partners and TINA" to clear up confusing old posts.
CORRECTION
The shutdown of energy drink Vemma was only temporary and the company is operating again while its case is pending. An earlier version of this post misstated that the company was currently shut down.