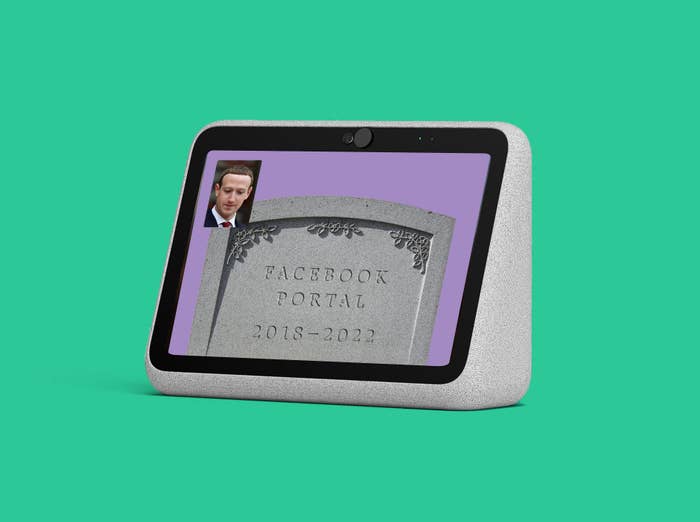 In November, Meta announced it would be discontinuing the Portal, its stand-alone video-chatting device. The decision came as Meta announced its first-ever mass layoffs amid a falling stock price and concern over its ambitions in the metaverse.
Over the years, BuzzFeed News' coverage of Meta and Facebook has been unflinchingly rigorous and at times adversarial. Our reviews of the Portal have also spoken the truth: This was a truly outstanding product. We loved it. I loved it. Rest in peace, Portal — you were a good little device.
The Portal was born into a harsh world. Released in fall 2018, the Cambridge Analytica pseudo-scandal — about Facebook's botched user-data handling and (in hindsight) overstated claims about its influence on the 2016 elections — was still fresh in the public's mind. It was also still fresh in the minds of the tech press that would be reviewing the devices. For many, the idea of allowing a Facebook gadget that was an always-on camera into your home was akin to sending your Pornhub history directly to the Kremlin.
Despite this, the Portal did sell well, Andrew Bosworth, CTO of Meta, told BuzzFeed News in an interview. (Meta declined to disclose exact sales figures, but Bosworth put the number of units sold in the "millions.") And crucially, Bosworth added, "This was a product that the people who bought it, fucking loved it." And it appealed to a different demographic than most gadgets: It sold far more with women and people over 40.
Ultimately, the decision to pull the plug came because executives didn't see a path to the Portal becoming a massive business (instead of just a nice business), and with shifting priorities at Meta, it didn't make the cut. "We're super sad about it," Bosworth said. "You know the saying, 'It's not prioritization unless it hurts'? This one hurts." (It's not a total loss though: Existing Portal devices will continue to work and receive support.)
Bosworth said that "the entire smart home category has underwhelmed expectations for a while now." He added, "I think if you go back to where we expected smart home to be as an industry when Portal entered the market versus where it is today, it's just not been nearly successful as we expected."
"We were maybe two days away from signing an agreement with Amazon."
BuzzFeed News can report that there was one missed opportunity for the Portal to live on. In summer 2020, Facebook was deep in talks with Amazon to license the Portal technology and platform to make a deal where the Portal tech (and its valuable Messenger contact lists) could be licensed to Amazon smart devices.
Amazon's Echo Show, a competitor to the Portal, is a stand-alone video-chatting device that is Alexa-enabled and features a smart camera and touchscreen. However, the Echo Show only allows you to video call people with either another Show or through the Alexa app on their phone, which… When was the last time someone called you through the Alexa app? With the Portal, you can call any of your friends via Messenger or WhatsApp.

"We were maybe two days away from signing an agreement with Amazon," Bosworth said. "But this is the middle of the pandemic, and so Portal sales are spiking — they're going kind of through the roof — and we don't have the resources to do both."

He added that Meta CEO Mark Zuckerberg "in particular felt really strongly" about not going through with the Amazon deal. "The pandemic was potentially a secular shift in how people engaged with services that would last after [the pandemic] receded," Bosworth said. "You're seeing a behavior in the marketplace that, Hey, actually the curve is bending here. Maybe it stays bent indefinitely."
But it didn't. Eventually, grandparents were able to see their grandkids again, and sales of the Portal slowed, even as Meta launched the Portal Go, a cordless version that is, in my opinion, a near-perfect device for kids. Having tested it out with my own family, I can confirm it is truly a far superior way to video chat between a 4-year-old and a 74-year-old — two cohorts notorious for angling the phone at their chins or foreheads during a typical FaceTime call.
Meta today is a company in a moment of existential change. Not just battered by a harsh macroeconomic climate that has affected the tech sector in general, but facing a huge threat from TikTok. There's a growing dissatisfaction among young people with Instagram and social media in general. Amid this shift, Meta is making a huge bet on metaverse and AR/VR gaming — something that will rely on its ability to build a profitable gadget business.
"We don't regret the time we spent on [the Portal]," Bosworth said. "We've actually tied a lot of the lessons we learned from it into our other devices, and it helped us a tremendous amount both personally and professionally during the pandemic. So we were glad to have done the Portal."
Bosworth said that one big takeaway from the Portal experience is that it's hard to compete at a major level on anything that is basically something you can just do on your phone. Which, true. I loved the Portal and recommended it to friends, but it did seem a little hard to explain why it was worth paying $100 for something that you can do slightly less well on the phone you already own.
"I feel like if we could have swung one more year to start to crack some of the work-from-home stuff — if the pandemic hadn't kind of disrupted all of our signals and we would've proceeded with this third-party software play — that could have been a better outcome," Bosworth said. "I have regrets about how we could have done differently in hindsight, but I will admit it would've been very hard to change those calls at the time that we made them."