If you're on Twitter...you've probably seen this ad by now.
So this morning, I wake up, suck down two iced coffees, rip a massive yet unsatisfying shit, check Twitter, and BAM! This ad for Beats by Dre featuring LeBron James and other NBA stars appears in my feed.
That's fine because like, I know all about sports, because I'm totally like, a cool girl, a guy's girl! Remember how I talked about poop before? Haha aren't I not like other girls at all? I can totally ~hang~ you know?
Anyway, so I didn't think much of it until.... the ad... it kept... following me....
On my way to the office, the ad had 6.2 million views. By the time I am writing this, three hours later, it had 12 million.
Then, my coworkers mention to each other they're all seeing The Ad...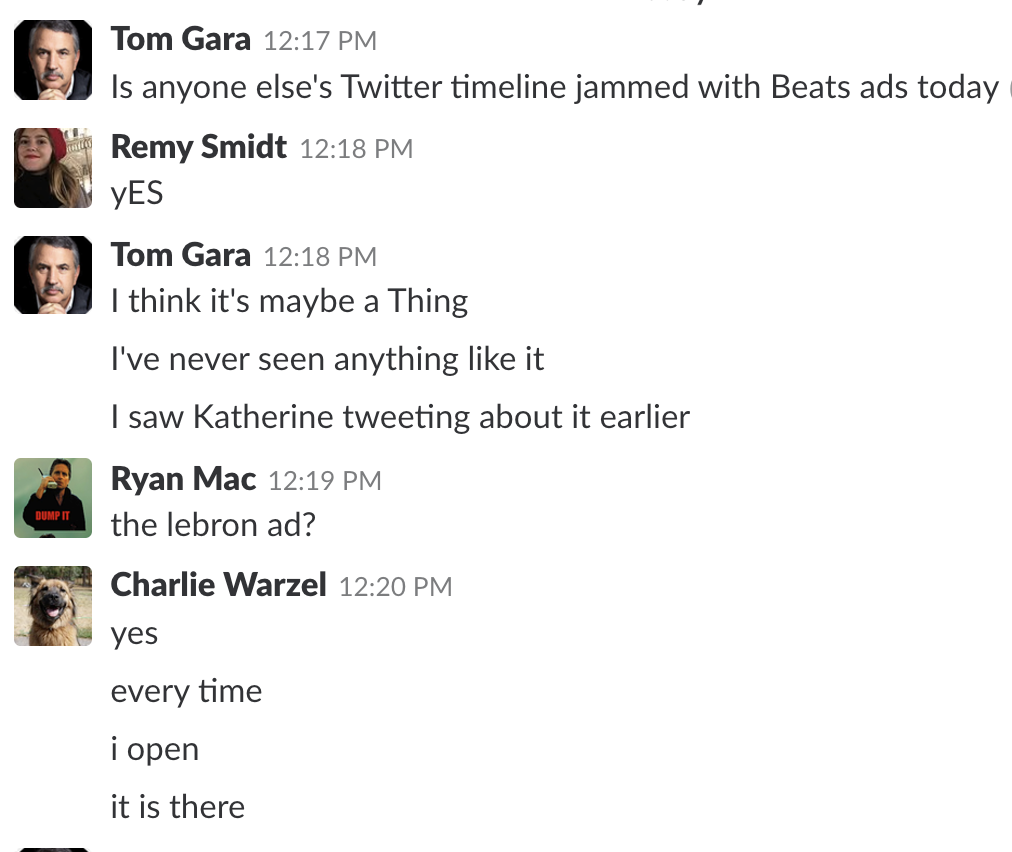 So I was curious: Was everyone else seeing it? It turns out... YES.
Apparently I could even "summon" it by just asking people about it.
I know what you're about to ask: "What did I just read?" "Was someone paid to write this crap?" "This is the stupidest thing I've ever read — it's just about an ad you saw on Twitter."
Well, what I'd say to you is: Defiance is turning obstacles into opportunities. Doubt into belief. The limits holding you back into the power pushing you forward. And on this court, nobody does it better. @KingJames @KDTrey5 @JHarden13 #MadeDefiant
Update: A Twitter spokesperson got back to BuzzFeed News with an explanation for why everyone kept seeing this ad: "We identified a minor serving issue that caused some people to see an ad more than they should. The issue was quickly resolved and ad serving will be back to normal soon." Beats did not immediately respond to a request for comment, but BuzzFeed News will update this story if it does.