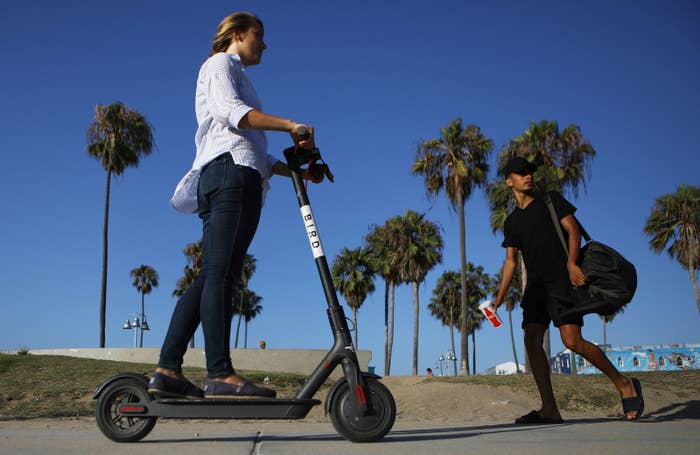 Earl Wilkinson never imagined his first ride on a Bird this summer would end with him flying over the handlebars of his motorized scooter and faceplanting into the sidewalk. The 52-year-old was gliding along the street, as instructed by the app, but after seeing other riders on the sidewalk, he tried to scoot up the sidewalk ramp — which is when he suddenly lost control. Wilkinson torpedoed forward, landing on his head, breaking his arm, knocking out his two front teeth, and smashing his glasses. He took an Uber to the emergency room; the next morning, he went to a dentist.

"I cringe thinking of the impact of my nose, face, teeth, mouth, and chin on the concrete — then tasting what I thought were salt grains. In fact, they were teeth remnants," Wilkinson said.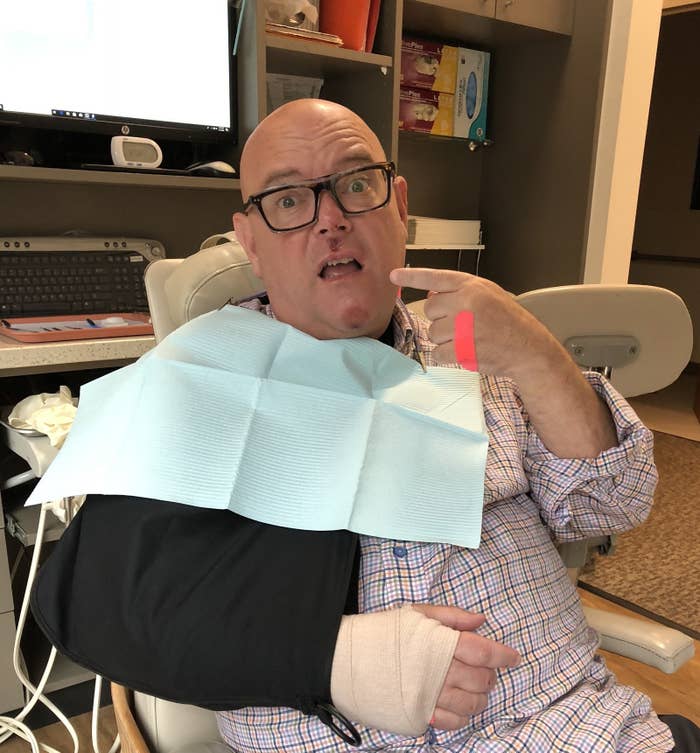 Other stories of gory e-scooter injuries — and worse — have been reported; one woman in Cleveland recently died after being hit by a car while on a scooter.
The dockless motorized scooter craze has been controversial as startups Bird and Lime have suddenly swept into more cities, without any regulation or approval from the local government. While much of the ire has been directed at how riders leave hundreds of the scooters strewn about sidewalks and streets like abandoned flotsam, there's another scourge: Emergency rooms are taking in lots of people with scooter injuries.
"We are seeing daily injuries from users of the motorized scooters," Dr. Wally Ghurabi, medical director of the Nethercutt Emergency Center at UCLA Medical Center in Santa Monica, California, told BuzzFeed News, "as well as some injuries to pedestrians who were hit by riders or tripped over scooters left on sidewalks." In nearby Venice, California, Venice Urgent Care confirmed they get "a lot" of people with scooter injuries.

"We are seeing daily injuries from users of the motorized scooters."
But the number of injuries is hard to quantify. Police in Dallas say just four people have called 911 for an electric scooter accident since Bird and Lime motorized rideshare scooters showed up in late June. The others, like Wilkinson, end up in the ER, although without a standard way to classify such injuries, it's unclear just how many.
Despite the lack of official data, doctors, city officials, and riders that BuzzFeed News spoke with all agreed: They just don't know how safe these things are.
Such information is now being sought as officials mull scooter regulations.
"Scooters have been off the street of San Francisco for a few months now, but you absolutely saw several people coming in to several of our centers subsequent to scooter injuries," said Brandon Hastings, chief operating officer of Golden Gate Urgent Care, which operates several locations in San Francisco. "Most of them involving the inability to stop quickly to avoid collision."
Some scooter victims are seeking legal representation. Personal injury attorney Catherine Lerer of the firm McGee Lerer in Santa Monica has taken on approximately 10 clients with scooter injuries such as a broken leg, a broken tooth, a torn rotator cuff, or a broken foot. Some of these involve a malfunction, like a wheel locking up or the handlebar stem collapsing, she claimed. One of her clients, a mechanic who works on repairing Birds, fell while testing a scooter that turned out to have no brakes, resulting in a broken collarbone and staples to the scalp.
Lerer also points out that there are vandals who purposely smash or break scooters because they're unpopular. "My big concern is Bird and Lime don't inspect them between rides," she said. Lime says they do daily inspections and maintenance; Bird said they also repair daily.
Several of Lerer's cases involve elderly people who tripped over parked scooters. While none of her clients have filed a lawsuit yet, she expects to ask for damages ranging between $25,000 and $250,000.
While motorized scooters are hailed by some as a fun, affordable, and environmentally friendly way to get around, many riders discover scooter-riding in traffic isn't as intuitive as they expected (accelerate with your right hand, brake with your left), and no one seems sure how to integrate them into cities' existing transportation infrastructures.
The tactic scooter companies like Bird and Lime have taken — flooding cities with the vehicles overnight, unauthorized — suddenly creates an army of rookie riders who, dangerously, don't quite fit into their cities' existing rules of getting around. By renting them out cheap and removing the bar of ownership, these companies give anyone with a smartphone the ability to get behind the wheel.
While Bird and Lime scooters are too fast for sidewalks, at a max speed of 15 mph, they are also slow for streets and bike lanes. There's also a learning curve for car drivers to get used to seeing them and for riders to learn how to control them. Not to mention that helmet usage among users is inconsistent.
"Safety is a top priority for Bird," CEO Travis VanderZanden said in a statement to BuzzFeed News. "The well-being of our riders is something we've worked to protect through concrete action, including: throttling the speed to a 15 mph maximum, requiring riders to upload a driver's license and confirm they are 18 or older, providing an in-app tutorial on how to ride a Bird and how to park it, and posting clear safety instructions on each Bird."
A spokesperson for Lime said, "We instruct riders to practice safe riding using helmets both through notices on the app and on the actual scooter. In order to unlock a Lime scooter for the first time, all riders must go through an in-app tutorial that includes helmet safety."
Still, both companies' user agreements warn that riding their scooters includes risk of injury, that the machines may malfunction, and that the rider agrees to accept full responsibility for this should anything happen. And while both Lime and Bird say in their user agreements that users should report injuries to the companies, neither provided data to BuzzFeed News about reports they had received.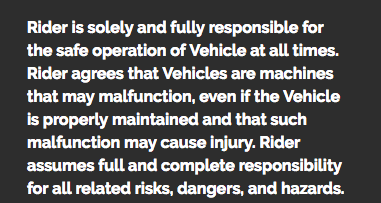 Despite these warnings, Dr. Ghurabi said that after scooters took off in popularity, "you'd see [injuries] once or twice a week at first, and now it's almost a daily occurrence."
Yet scooter injuries are not being tracked at emergency rooms or doctor's offices. Dr. Ronn Berrol, medical director of the Alta Bates Summit Emergency Department in Oakland, says his hospital is "for sure" seeing people come in with injuries from scooters, although the way hospitals and emergency rooms classify injuries — using codes for "mechanical fall" or "pedestrian fall," for instance — doesn't include scooter accidents yet.
"That's where we're lagging behind and underreporting this kind of stuff," said Berrol.
Officials are eager to get their hands on this information as they consider imposing new scooter regulations. In San Francisco, where the city has banned the scooters, health officials at are planning a way of tracking scooter injuries.
Megan Wier of the San Francisco Public Health Department told BuzzFeed News that her team is working with police and the Zuckerberg General Hospital and Trauma Center to create a way of tracking scooter accidents and injuries. The challenge is creating one uniform system. "Everyone just has their own perspective of the issue. Police have their own forms that they've been using," she said. "When people are coming to the hospital, that's different than an investigation on the scene of an accident. So hospital staff have different exposure." Their tracking system will start running in a few weeks.
Meanwhile on the East Coast, Jan Devereux, the vice mayor of Cambridge, Massachusetts, where scooters just showed up, told BuzzFeed News she's particularly worried about how scooters will fare on Massachusetts streets, which tend to get ripped up and perilously full of potholes from the ravages of cold winters and snowplows. Cambridge has banned the scooters until it can set a September council meeting to discuss regulation. "I don't think the injury risk is reason to ban scooters," Devereaux said. "Remember the craze for rollerblades? People wore knee, elbow and wrist pads! But I sure hope scooter enthusiasts will realize they have to be careful."
"I think there's blood on the hands of every city that allows them to operate — knowing how many riders and pedestrians are being injured — and fails to enforce the laws and fails to enforce helmets or riding on the sidewalk," said Lerer, the attorney.
Nearly a year after Bird scooters first hit Santa Monica, the city is starting a pilot program to limit and study the rideshare scooters. This week, Bird and Lime encouraged their riders to show up to City Hall to protest the proposal to limit the pilot program to just Uber's Jump scooters.
One ardent scooter fan told a BuzzFeed News reporter on the scene that even though he had gotten badly scraped (though not enough to go to an ER) after being hit by a texting driver, he still showed up in support of Bird and Lime, carrying his own homemade "Limes Aren't Lemons" sign.
Even Earl Wilkinson, after faceplanting, hasn't totally soured on the scooters. "Ask me to get on one now? Hell, no. I can still imagine the faceplant into the concrete sidewalk," he told BuzzFeed News. "Ask me in a month or six months."
William Alden contributed reporting to this story.

CORRECTION
Cambridge Vice Mayor Jan Devereux's name was misspelled in a previous version of this post.
CORRECTION
Brandon Hastings, the chief operating officer of Golden Gate Urgent Care, was misidentified in a previous version of this post.