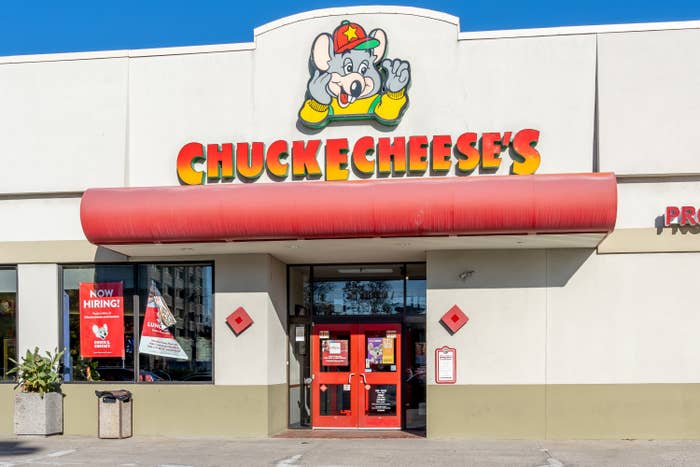 Until 2019, believe it or not, the US nuclear weapons program ran on 8-inch floppy disks. As of today, there are still quite a few technologies that rely on floppies: Boeing 747 jets. Part of the San Francisco public transit system. And — on a slightly less concerning, but no less amusing note — the performing animatronic creatures at Chuck E. Cheese restaurants.
In a recent viral TikTok, a Chuck E. Cheese employee shows off the winter 2023 floppy disk sent from corporate headquarters. The TikToker demonstrates how he loads the 3.5-inch disk into a large computer server in order to relay the data for the latest song-and-dance routine for the robotic animals.
This kind of retro tech has long captivated the internet. In 2008, a collector programmed the erstwhile ShowBiz Pizza Place chain's animatronic band, the Rock-afire Explosion, to sing current songs like "Love in This Club" by Usher. The result is something deep in the uncanny valley:
Today there is a robust adult fandom dedicated to Chuck E. Cheese, which was launched in 1977 and purchased by Showbiz Pizza's parent company in 1985. (The current corporate entity that owns Chuck E. Cheese has been known since 2020 as CEC Entertainment LLC.) Collectors build and restore their own animatronic sets at home. On eBay, there's a lot of vintage Chuck E. Cheese memorabilia, both toys and shirts, as well as stuff that only an employee could have obtained, including old costumes and parts of robots. One eBay seller, Kevin Fifer, told BuzzFeed News his large collection available for sale is a result of his longtime fandom. "It was the main birthday event of [my] choice for years," he said.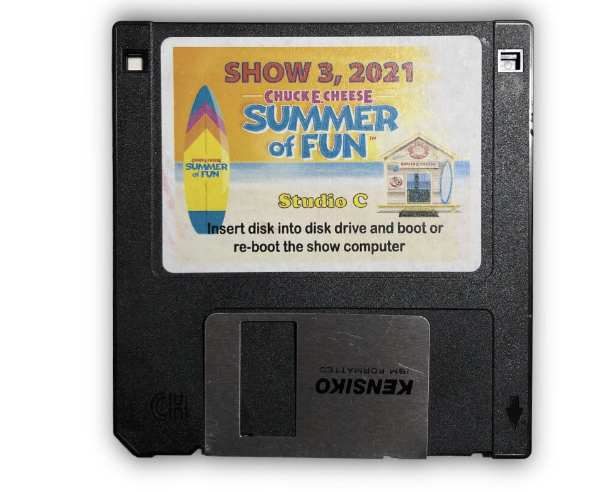 Of the over 600 Chuck E. Cheese locations worldwide, fewer than 50 restaurants still have the quarter-century–old "Studio C" layout of animatronics that uses these floppy disks. Other restaurants have a version of the show that uses contemporary tech, while some have no animatronics at all. (Ars Technica has a story about Chuck E. Cheese's floppy disk usage with a more detailed breakdown of all the paleotech.)
Eventually, Chuck E. Cheese plans to phase out animatronics altogether and focus on new screen-based entertainment (plus an even more retro approach: a live human in a mascot costume). The overhaul was first announced in 2017, but the restaurant renovations are an ongoing process, and it may be a year or two before the last of the animatronics are done away with.
Tom Persky is the owner of floppydisk.com, the biggest floppy disk purveyor still standing. His business has a few arms: You can buy blank disks through it or send in your old floppies to be transferred to more modern storage media. Persky also will program the disks for bulk order customers, and he confirmed to BuzzFeed News that Chuck E. Cheese was indeed a longtime client of his. He said he's sad that he'll be losing the company as a customer.
As for why the restaurant still uses floppy disks, Persky told BuzzFeed News that the floppy technology, while antiquated, is actually extremely reliable. "If you're looking for something very stable, really nonhackable — it's not internet-based, not network-based," Persky said. "It's quite elegant for what it does."
Chuck E. Cheese's press representatives confirmed the chain's use of floppy disks with BuzzFeed News. However, they were very cagey about what other information they were willing to share, and a few days later told us that the company would not participate in this story on the record.
However, an experienced Chuck E. Cheese employee, who asked to remain anonymous because he was not authorized to speak on behalf of the company, echoed Persky's sentiments.

"The floppies work surprisingly well. The animatronic, lighting, and show sync data are all in the floppy disks," the employee told BuzzFeed News. "I've seen a few of the newer Studio C Chuck E.'s run on flash drive/SD card combo. But usually newer setups cause issues with stuff, and it's easier to just keep the old stuff running."

Even after Chuck E. Cheese phases out floppies, they're likely to remain in use for some time in other domains — such as in medical devices. While the thought of this might make you nervous, Persky insisted it's a good thing. "Why don't you use USB? Well, let's say your life depends on it," he said. "If you have a choice between a USB drive or a floppy disk, pick the floppy disk every time.

"It's one thing if your animatronic bear doesn't smile on cue," he continued. "It's another if your medical device fails."
UPDATE
Updated with information about eBay seller Kevin Fifer.