Can You Figure Out The Deep Meaning Behind This Comic About Social Media?
Please help us figure this one out. Please.
Hello there, we are two professional technology journalists who focus on social platforms like Instagram and their impact on society. We swear, this is literally what we think about all day.
And yet, when we saw THIS image going mega-vi (that's mega-viral) on Twitter, we had NO FUCKING CLUE what it means.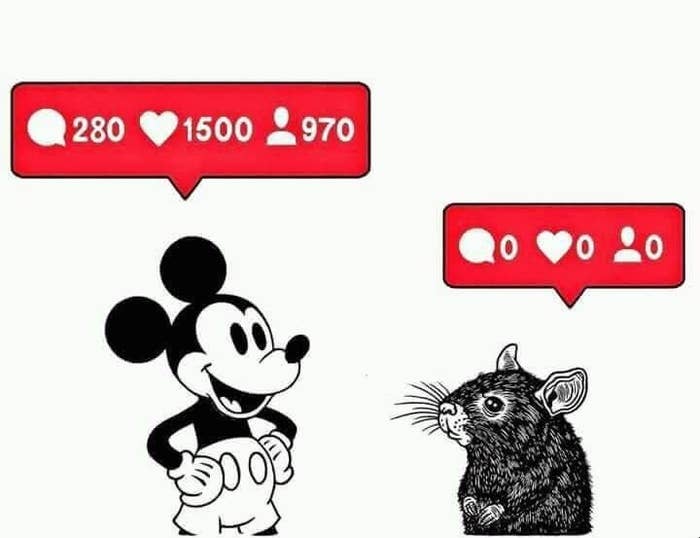 The person who posted the image to Twitter found it somewhere else, but look how many people saw his viral tweet! People loved this image! I DON'T GET IT!!!!!
We spent all day trying to figure out why it resonates (with some help from Twitter). Here are a few guesses. What do you think?
Oops. Something went wrong. Please try again later
Looks like we are having a problem on the server.
For the love of God, tell us what it means:
Mickey is famous, and our culture rewards vapid fame.

Years of advertising and media exposure win over authenticity.

Our society values brand names like Mickey over regular mice.

Instagram doesn't reflect our true selves; it's a glamorized distortion.

Mickey has been posting thirst traps.

It's satire: A meme trying really hard to be deep and not quite making sense.

The truth gets no love, but fake stuff people want to see gets plenty.

Original content never gets the credit.

This pertains only to rodent Instagram.

The regular mouse is problematic.

The red bubbles are actually conversation bubbles, and Mickey is conveying approval to the regular mouse, and the regular mouse is saying he disapproves of Mickey.

This meme is actually about North Korean nuclear escalation, and if you don't get it, you're stupid.

Nothing matters, we're all going to die.
Is it something else? Tell us in the comments below.