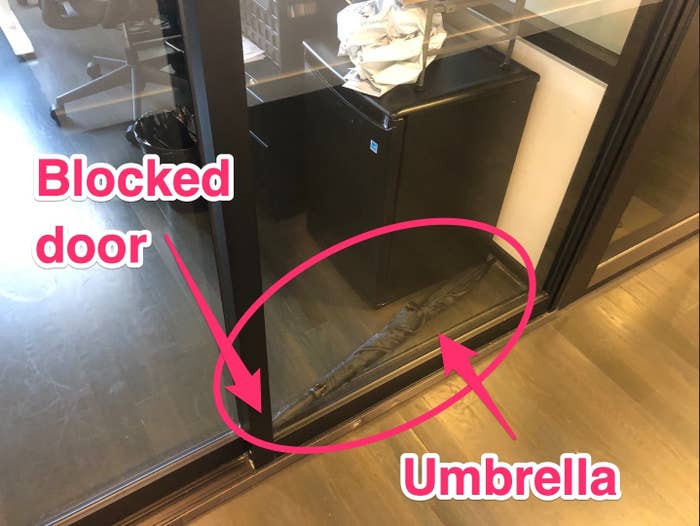 In tech, some days you are the titans of capitalism, plotting a world-changing course with your fresh ideas and disruptive vision. Other days, you're locked out of your WeWork office by an umbrella.
Monday morning was the latter for employees of a tech startup who showed up at work to a bizarre and frustrating surprise. Over the weekend, an umbrella left leaning against a wall had fallen over and blocked the sliding door of their WeWork space. It was impossible to get inside.
Mike, one of the employees who was locked out, agreed to speak to BuzzFeed News on the condition that we not use his last name or the name of his company to avoid the embarrassment of being known as the company foiled by an umbrella. He sent a photo of the umbrella-sealed WeWork office to his friend Neeraj K. Agrawal, whose tweet about the incident went viral.
"In a thousand years, you'd not be able to replicate this," Mike said. "The umbrella has turned our office into, essentially, an unmanned panic room with no way in."

It would be three days before Mike and his colleagues were able to enter their WeWork again. The situation seemed to be an elaborate metaphor for the ongoing clusterfuck that is the WeWork initial public offering.
"Casey, also in sales with me, was first to arrive [at the office], then me, Monday morning," Mike told BuzzFeed News. That's when they discovered the umbrella blocking the sliding door. "We were baffled. So were our WeWork community managers. Things like this don't normally affect the idyllic world of coworking. Normally it's an overly extroverted dog or someone microwaving fish that causes the drama."
Sure, just jiggle the handle, you say. Nope, didn't work. What about a wire coat hanger? Nope.
"Two of my coat hangers went down in the fight," Mike said. "It was a 'does not compute' moment, because the situation had absolutely no apparent solution. It wasn't like there was an answer — 'Go outside and crawl in the window.' The windows to the outside don't open, there are no gaps in the walls or other doors, and no wiggle room in the door panels. There was no crack to slide a coat hanger like a car thief in a movie. The whole room is, essentially, a geometric cube of glass with an umbrella tucked in an impossibly perfect position. I really appreciate everyone's ideas on Twitter, but we tried everything."
Finally, on Tuesday night a WeWork engineer drilled a hole in the ceiling above the door, snaked a wire down to the floor, and managed to move the umbrella. The door was finally free.
But Mike and his colleagues are still shell-shocked.
"During exile, four of us had to share a single MacBook and iPhone charger. It was actually pretty rough," he said. "Coworking life means you're not committed to a specific desk for a long time, but you still have your little things that make your space yours. All that was taken from us, behind the glass wall that used to be our door.
"Not to get too existential on it all, but it reinforced our appreciation for the little things in life. We take so much for granted."