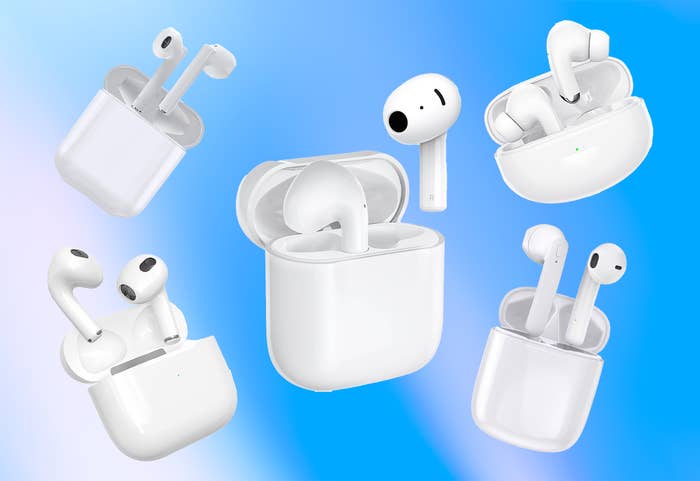 I lost my AirPods, and I simply refuse to pay to buy new ones. The latest third-generation AirPods — which are fantastic! I reviewed them! — start at $169. The older second-gen version is $120 (yes, there are sometimes deals online). These prices aren't ridiculous; after all, they're luxury products, and the price point is in line with other high-quality wireless headphones. 
However, I simply do not want to pay $169 for headphones. I would much prefer to pay way, way less. Say… $20, maybe $25? I don't think I need to explain myself here. I would like to keep more money in my pocket. This seems fairly reasonable.

And yes, I am perfectly willing to settle on quality. Apple AirPods have spatial audio with Dolby Atmos, and great functionality pairing and a long battery life. I am not expecting a $20 set to achieve all that, but I want something that is perfectly decent.

Luckily, Amazon has a dizzying array of cheap AirPod-looking wireless earbuds available. They have weird brand names you've never heard of, and the prices seem arbitrary (and often there's a coupon on Amazon, making them even more confusingly priced). I set out to test them to discover which one fits my needs: cheap, but still usable. 

I tested five different anonymous brand white earbuds, or, as I like to call them, ShitPods. 
My criteria for selecting which five of the many options were:

• It had to look like an AirPod. I skipped over colored or differently shaped earbuds that might have been fine.
• Price point under $25.
• Lots of reviews, and a good or high rating. (Yes, this can be gamed, but at least it's a start.)
• Free shipping and returns through Amazon Prime.
But first, two big disclaimers:
1) I mostly use headphones for listening to podcasts and audiobooks. Music quality is not my primary concern. If you are an audiophile or music is your passion, you should probably just pony up more cash for better headphones. I also use them for phone calls, so microphone quality — the person on the other end has to be able to hear me well — matters to me.

2) All of these were available on Amazon, but by the time I had tested them out for a month, two of the five's original listings had already disappeared. This is because Amazon's marketplace for cheap electronics is a funhouse of hypercapitalist accelerationism, as New York magazine's John Herrman illustrated in his recent piece "The Junkification of Amazon." There are weird fake brand names like "CXK" or "Raviad." Reviews are often deceiving or fake, the sellers are often not the manufacturer, and prices are constantly in flux. It's possible that if you read this a few months after it's published, the product links will have shifted yet again.
Also Acceptable Options: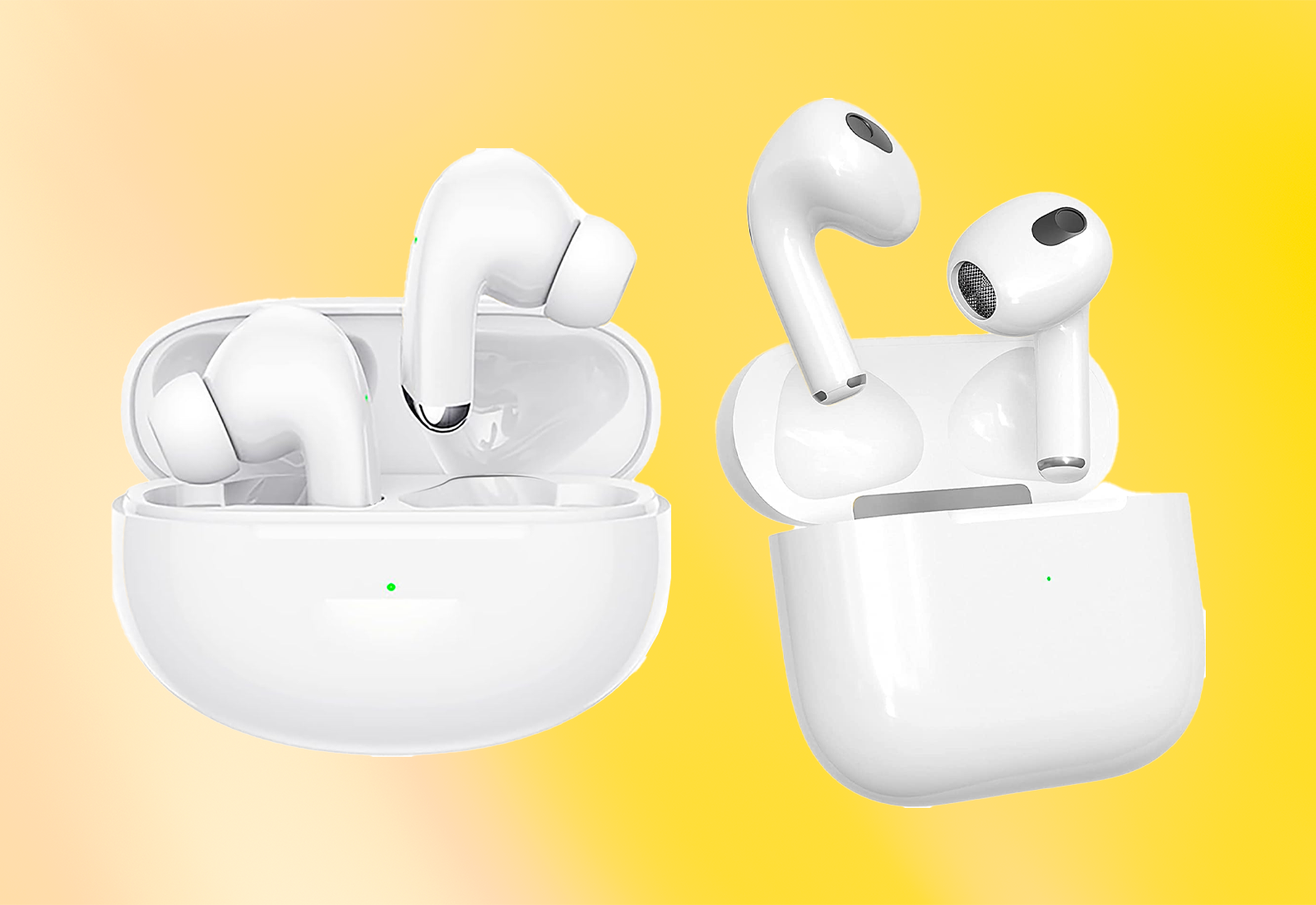 These have rubber tips, like the AirPod Pros, but none of the higher sound quality or noise cancellation. Personally, I don't like a rubber tip earbud — although it's comfortable in the ears, it makes all sorts of weird noises when you walk or if your hair brushes against it. You can kind of hear yourself breathing, which freaks me out. When you speak during a phone call, your own voice buzzes in your brain.
I also don't love that it's harder to hear any outside noise; for walking around or being in public, I feel like I need to have some ability to hear my surroundings for the sake of safety.
But you might be a rubber tip fan, in which case these might be OK for you. However, their phone call quality was especially bad. On a call with my editor, he was shocked by how bad it sounded on his end. The microphone is just plain crummy.
These knockoffs of third-gen AirPods had decent connection and sound, but not great microphone quality for phone calls. There was also something extra sketchy about them — the original Amazon listing is gone (the linked product is as similar as I can find), and the packaging was suspiciously devoid of any names or model numbers. When I connected to my phone, they came up in Bluetooth as just "AirPods." Suspicious!
Worst Options:
CXK iPX6 $25.99 (currently, there's an extra $10 off coupon)
These are a significant change in shape from real AirPods. The stems are bulkier and angular instead of smooth. They didn't stay in my ears very well, and they were extremely uncomfortable.
I tried a phone call with them and after it kept disconnecting on someone, I vowed never to try them again.
Avoid! These are shaped like the original AirPods, with the longer stems. The fact that they're mimicking the cheaper, outdated style is probably a bad sign off the bat.
These were the cheapest price point I could find, and they felt CHEAP. They were extremely lightweight, and the case felt flimsy. There were also some real connection problems — when I first set them up, they kept connecting and disconnecting every minute or so. Battery life was terrible; after just an hour they were at 50%.
This was a bummer to me: I really, really wanted these to be good. I wanted the cheapest option to be totally acceptable. But alas, you get what you pay for.