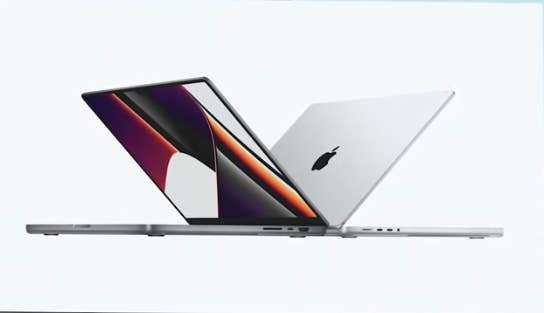 Today, Apple announced 14-inch and 16-inch MacBook Pros, and they are very, very powerful. These are a significant upgrade from the previous MacBook Pro and faster than any previous laptop from Apple.
The killer feature of the new Pro is the new M1 Pro or M1 Max chip. The M1 Pro, which is available in both the 14- and 16-inch, is 70% faster than the M1 chip that's in the newest MacBook Airs. One key feature is support for two external displays.
The M1 Max chip has up to four times faster performance than the regular M1. It's incredibly powerful and efficient — it delivers a high level of performance without using tons of power (meaning the fans get less of a workout). It can support three external displays plus a hi-def TV. This is a lot of displays. I'm not sure what you'd do with so many displays, but I absolutely support it (in my heart).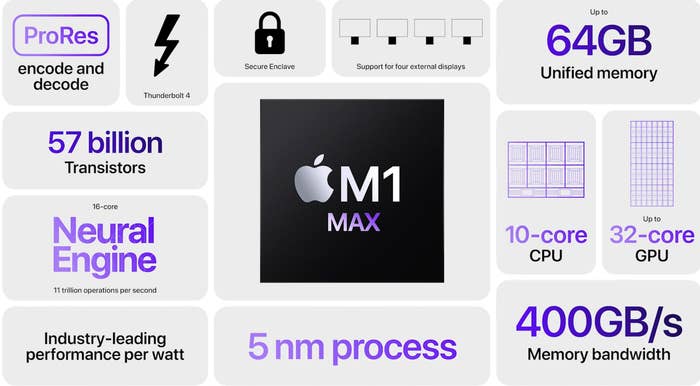 Blessedly, non-USB-C ports are back! After Apple had drastically reduced the number of holes in the Pros, the new ones will have an SD card slot and HDMI port, plus three total USB-C ports and a headphone jack, which are welcome returns. (I have a Pro with just the two USB-C ports, and it's a frequent hassle to arrange a dongle for everything I need to access it.) MagSafe charging is also back, which means you won't need to waste one of your USB-C ports on charging.
The Retina screen, always a point of pride for Apple, has been upgraded as well. On the 16-inch display, there are 7.7 million pixels, which is an unreasonable amount of pixels.

And Apple has added a 1080p camera, which is much much better than the older Pro and Air cameras. Rejoice, anyone who does a lot of Zoom meetings.
One thing that might break the heart of anyone who loves the smooth, perfect lines of an Apple device: the new "notch" in the display where the camera is, similar to the notch in the iPhone. Frustratingly, the notch and its camera won't have Face ID to unlock the computer.
The 14-inch version with the M1 Pro chip starts at $1,999, and with the M1 Max chip it starts at $2,899. The 16-inch M1 Pro version starts at $2,499, and the version with the M1 Max chip starts at $3,499.

New AirPods have a new design and better sound.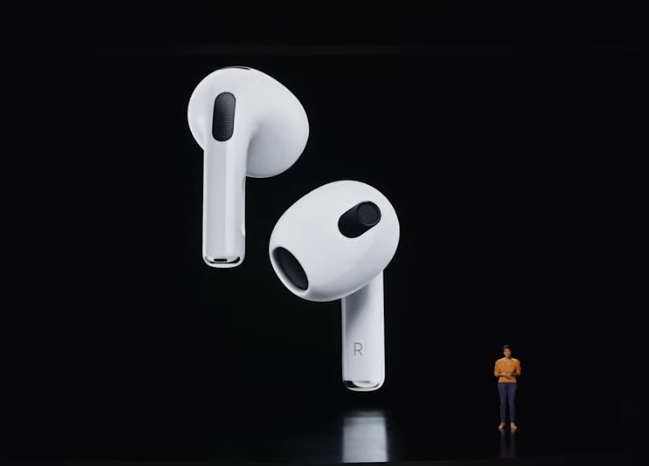 AirPods are not the hottest accessory of fall 2021, at least not according to glossy fashion magazines. They've noticed that celebrities like Lily-Rose Depp and Jennifer Lawrence have been wearing a specific retro look: white wired old-school headphones.
Undeterred, Apple has still designed all-new AirPods for the price of $179. The big feature here is spatial audio with Dolby Atmos. The 'Pods have the same adaptive EQ feature as the previous AirPod Pros. Take that, J. Law.
There's 5 more hours of battery life, for a total of 30 hours. The charging case also provides additional hours and can do wireless MagSafe charging.
Crucially, the new bad boys are sweat and water resistant, which is a welcome feature for extremely sweaty people. I wouldn't know about that.
Correction: The M1 Max chip is available in both the 14-inch (as an upgrade) and 16-inch laptops. Which models the chip is available in was misstated in a previous version of this post.