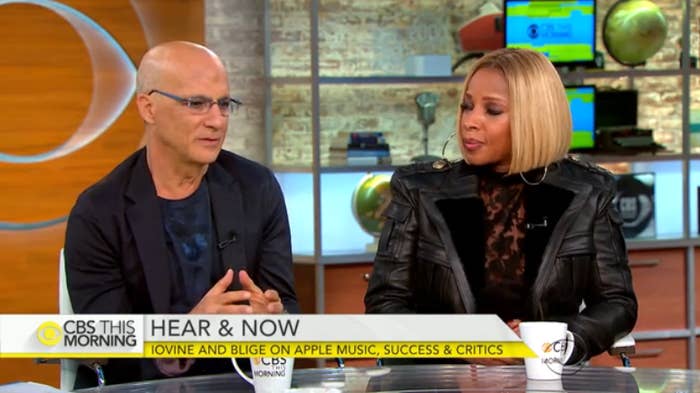 Apple Music head Jimmy Iovine has apologized for remarks made during a interview on Thursday in which he suggested finding music is difficult for "some women."
"We created Apple Music to make finding the right music easier for everyone — men and women, young and old," Iovine told BuzzFeed News. "Our new ad focuses on women, which is why I answered the way I did, but of course the same applies equally for men. I could have chosen my words better, and I apologize."
In an interview Thursday with CBS This Morning, Iovine discussed Apple's new commercial in which Kerry Washington, Taraji P. Henson, and Mary J. Blige make dinner while listening to Apple Music. "I always knew that women, some women, at times find it very difficult to find music," said Iovine, who has produced artists like Patti Smith, Steve Nicks and Lady Gaga. "And this helps make it easier with playlists, curated by real people, not by algorithms alone.
"I just thought of a problem," Iovine continued. "Girls are sitting around, talking about boys, right? Or complaining about boys, when they have their heart broken or whatever, and they need music for that, right? And they need music for that. So it's hard to find the right music. Not everyone has the right list or knows a DJ."
Blige, who presumably is quite adept at finding music she likes, appeared alongside Iovine for the interview.
Gayle King, a CBS This Morning co-host, defended Iovine in a tweet arguing his comments were taken out of context.
C'mon ppl! Plz listen to full @cbsthismorning intvu w/ #JimmyIovine. women&music comments totally taken out of context Not fair to him!

— Gayle King (@GayleKing) November 20, 2015
UPDATE
This article has been updated to include comment from Apple Music executive Jimmy Iovine.