Meet The Woman Who Wants To Hack Your Period
Hack The Flow is trying to end the stigma against menstruation.
A small group of women sat in a circle at NYU's Media & Game Center, nervously introduced themselves, and discussed the projects they intended to work on for the day. A woman in jeans and a puffy coat stood up and explained her idea for a uterus-themed video game. Next, a woman in a big scarf and pleated silk skirt explained that she had recently spent time in Malawi, where girls often miss school during their period and boys think that they're unclean; she told the group she was interested in looking how to raise awareness of menstruation among boys.
The occasion of all this was a "Hack the Flow", a hackathon with the goal of reducing the stigma around periods, and it had been organized by Lauren Towles as her final thesis project for a masters degree in integrated digital media at NYU's Tandon School of Engineering.

"My motivation for 'why periods?' was watching TV and seeing politicians talk about women's bodies and seeing they don't even understand how they work," she told BuzzFeed News, referring to Idaho state representative Vito Barbieri, who recently asked a doctor during a hearing if it was possible to view a woman's uterus if she swallowed a camera.
"I've studied user experience, and I wanted to that and apply it in a hackathon," said Towle, who was wearing a bright red blazer that she admitted selecting to match the theme of the event. "I didn't want to just work on or build one product – I felt I could reach more people by doing something with a community feel. And when I researched about breaking stigmas, it's more about raising awareness and having interactivity in a way of spreading a message."

47 people RSVP'd the the event, which Towles promoted over social media. "My advisor told me that if even one person showed up, it would be a success," she said. A total of 12 hackers showed up – 11 women and, slightly later, one man; most were students at NYU, Baruch, Columbia, and other local schools.

It turned out that the woman in the scarf who had been to Malawi, Yaera Chung, was part of a group of four women who were all in Columbia's masters of public administration program, and attending a hackathon was a class assignment. None of them had technical or coding expertise, but the hackathon's invitation welcomed anyone with ideas for art or design. Chung and her fellow Columbia students brainstormed along with some other women who were interested in the challenge of raising awareness among boys.
Chia-Ching Song, a computer science major at NYU, immediately teamed up with Elaine Burchman, the Lehman College computer science student who'd proposed the Uterus boxing game, to be called Utador, "like Luchador"; the two paired off mainly because they know the same coding language, Java. (They joked about how their chosen lingua franca is not exactly considered the coolest. "Someone told me that if all the coding languages were an office building, Java would be the bathroom," said Song.)
The sole man was Urs Evora, a senior in computer science at NYU, and the tutor of his teammate Michelle Lam, a freshman. Lam's childhood friend, Jane Chen, a computer science freshman at Macauley CCNY rounded out the team. "I was kind of disappointed there weren't more guys. I thought there'd be at least two more," Evora said.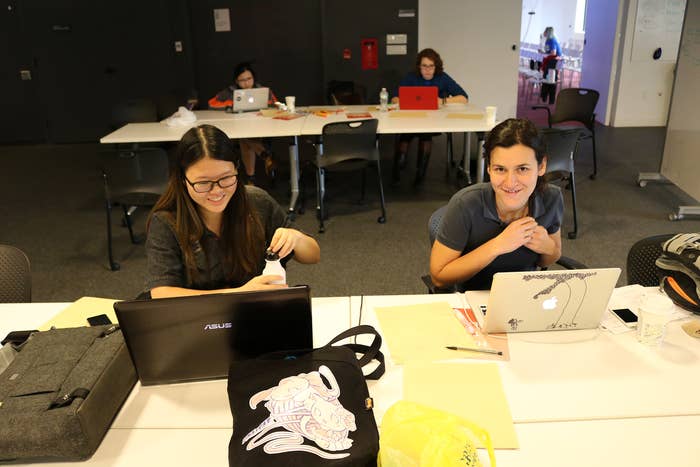 After a lunch of sandwiches, there was a short break for some entertainment. Sriya Sarkar, a fellow NYU student did a standup set about periods called the "Menstrual Show". Like white pants on your heaviest flow day, it was awkward.
In late afternoon, when the projects were well underway, Towles swung by to check on Burchman and Song. She showed them a video game called Tampon Run, an 8-bit-style game wherein where you throw tampons at your enemies rather than shooting guns. "They had way more time to work on it though," she told them encouragingly. "Yours will be way better!"
Although the idea of a uterus video game might be silly, Burchman said that there was more at stake with the game and the event at large. "The amount of women here ... is really amazing," she said.
Around 6pm, pizza arrived, and everyone dug in and happily chatted. Agter teh nervousness of the morning, the atmosphere had changed. Perhaps it was the natural lubricant of pizza, perhaps it was the age-old bond that occurs whenever a group of women get together and talk about periods.
Then, the teams presented their work:
Utador: the uterus video game made by Burchman and Song. They played a demo of the game they built, which was a huge crowd pleaser.
A group of four women – one of the Columbia grad students and three Baruch college undergrads came up with FEMGUR, which is loosely Imgur but for period-positive content. They put together a presentation with mockups of the kind of content that it might have, as well as potential site features like a section that encourages people to donate to charities that help women. However, the team didn't include any people with coding skills, so the whole plan for a website was just a concept.
Yeara Chung and her partner created a plan for a half-day lesson plan about menstruation to be taught in New York City public schools. Which seemed good-hearted, but didn't really provide for any plans about how one gets curriculum added to public schools, something that seems like it's not exactly the easiest thing.
Lastly, Urs Evora and his team came up with Track The Flow, a period tracker app that gives you pop-up notifications of "fun" facts and quotes about menstruation. Fun facts include things like "In 1946, Disney released The Story of Menstruation as an educational material for sex ed classes."
Towles explained that the original judge for the event had to drop out last minute due to a death in the family, so everyone could vote via a Google form for the winner. But first, the winners of the raffle for a free Diva cup would be announced. Yeara Chang was the winner, but she explained she already owned one, and gave it to her fellow Columbia classmate, Erica Britton who wanted it. Towles, Chang, and Britton all hugged each other.
Finally, the winner was declared: FEMGUR, the Imgur for periods concept. The four women accepted their prize bags.
I chatted with Elaine Burchman, the video game designer afterwards and told her that I voted for her team to win. "I voted for Femgur," she said. "I figured it wouldn't be good if everyone voted for themselves because then the team with the most people would just win. I guess they did anyway, though, which is fine."
Then everyone went off to take a group photo before heading their separate ways.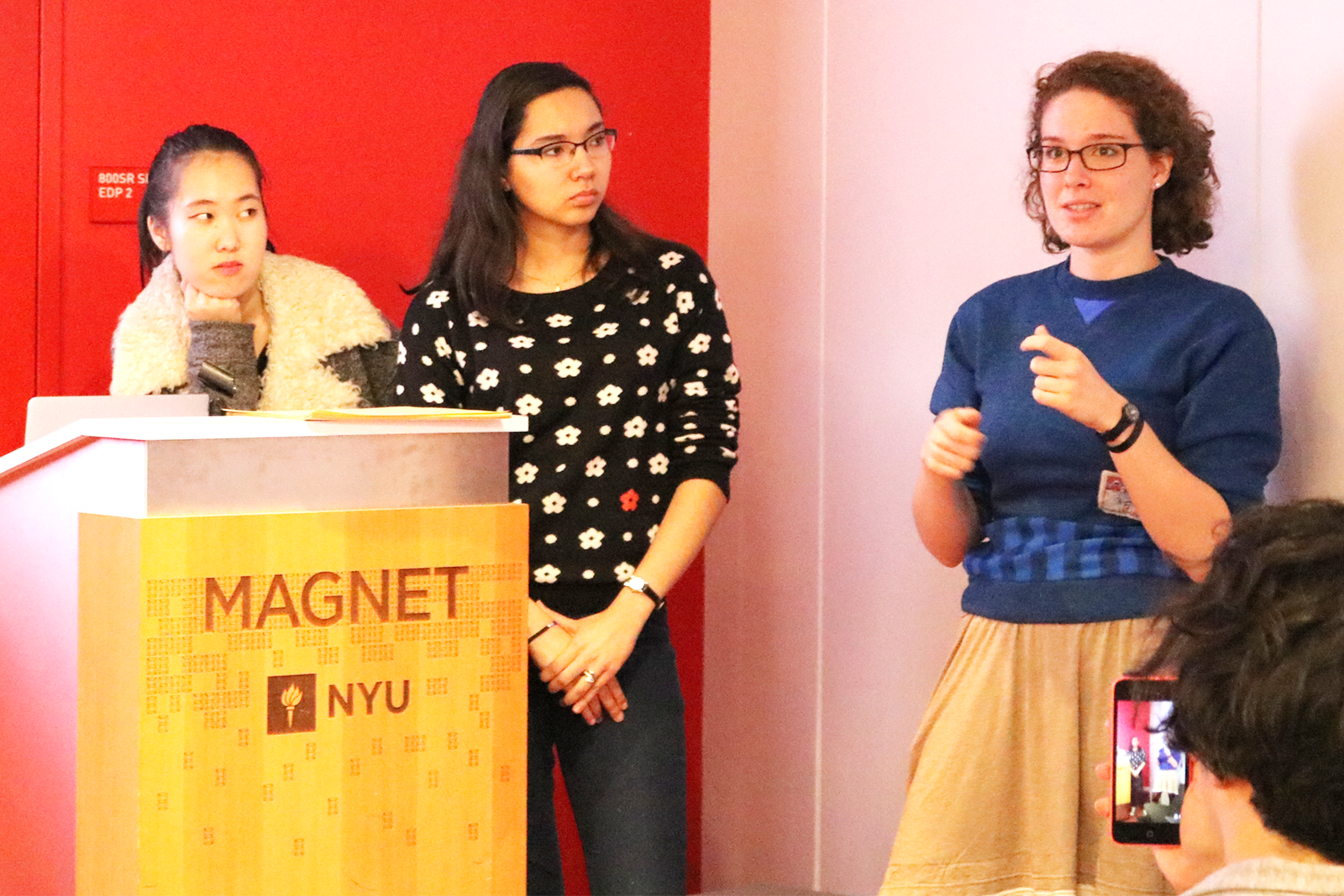 Katie Notopoulos is a senior reporter for BuzzFeed News and is based in New York. Notopoulos writes about tech and internet culture and is cohost of the Internet Explorer podcast.

Contact Katie Notopoulos at katie@buzzfeed.com.

Got a confidential tip? Submit it here.