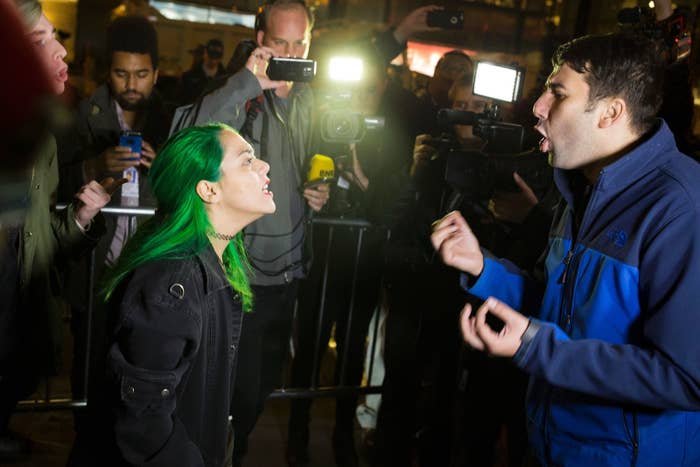 For months, President-elect Donald Trump and his campaign spoke of a "Silent Majority" who were afraid to publicly support Trump but who would vote him into the Oval Office. Election night's upset proved them right.
Now, emboldened by Trump's win, that "Silent Majority" is silent no longer — at least not on Facebook. Online, Trump supporters are revealing themselves to their friends, family, and co-workers, leading both Democrats and Republicans to vow to unfriend anyone who disagreed with their candidate of choice.
"I voted for Trump!" wrote one Rhode Island woman. "If you don't like me anymore because of it, then you were never really my friend. I'll help direct you to the unfriend button."
"I proudly voted for Trump," a man from California announced. "Unfriend me, call me racist, sexist, uneducated, simple minded, etc. my real friends know the truth and everyone else, I don't need you in my life. #sorryimnotsorry"
Some Hillary Clinton supporters wrote in Facebook posts that they were just as disinterested in staying virtually connected.
"I've been grabbed and harassed by strangers more times than I can count. If you voted for Trump then unfriend me now. You're NOT my friend," one woman wrote.
"If you voted for him: you are not my friend, you are not my family, you are not American," wrote a man who attached a photo of his birth mother, an immigrant from Guatemala. "And you are against not only me, you are against so many of my friends and what America stands for."
Carlos Moreno Jr., who is originally from Texas, told his Facebook friends to unfriend him if they voted for Trump because "We don't see America the same way." So far, he's lost 21 of them, he told BuzzFeed News.
"I am a nice person, but why should I be nice to these idiots who put us in jeopardy?" he said. "They need to wake up, and the only way they can wake up is if I say they are idiots, and that they are putting their selfishness before our country."
"I've been grabbed and harassed by strangers more times than I can count. If you voted for Trump then unfriend me now. "

Some Trump fans said they felt disrespected and hurt by loved ones who unfriended them due to their support for the winning candidate. Many argued the country needs "a sense of unity," as President Barack Obama said on Wednesday, and that unfriending based on differing viewpoints is no way to come together.
"It's funny that in so many cases people preach tolerance, mainly when it comes to their candidates or party, yet are quick to cast aspersions on others who think differently," said Dan Knight, who was unfriended by a former college classmate after she learned he supported Trump. "The opportunity to express yourself and have a difference of opinion without fear of recrimination is what makes this country great."
But others said it's simply self-preservation, given Trump's views on women and minorities.
Cristina Toff of Hoboken, New Jersey, told BuzzFeed News that she thought she had already purged her Facebook friends of Trump supporters. Toff's father, who died earlier this year, was an immigrant who depended on social services when he was sick, she said, which made her feel "personally offended and attacked" by Trump supporters.

But when Toff wrote "Please unfriend me if you support Trump" on Election Day, at least one person did just that, writing that Toff's request was "just as intolerant as you were persuaded to believe Trump is."
Toff said she was surprised but not upset that the woman, a friend from college, unfriended her.
"If you want to stand for everything I think is morally vulgar," she said, "then please identify yourself and get out of my life."