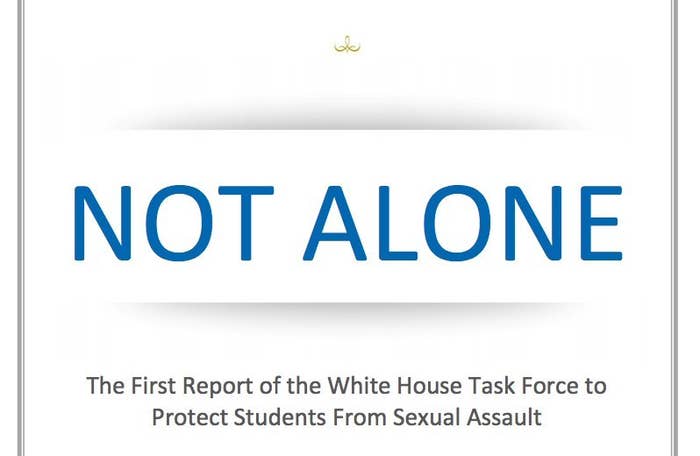 The Obama administration will take a number of steps to combat campus sexual assault, including requiring student body surveys, coordinating enforcement efforts, and pressing colleges and universities as well as the federal government to make reporting more transparent, according to a report released Monday night.
The White House posted the preliminary report of the Task Force to Protect Students from Sexual Assault, chaired by Vice President Joe Biden, to its website Monday night. It will be formally unveiled at an event Tuesday.
President Obama appointed the coalition in January, giving it 90 days to recommend improvements colleges should make. At that time he told sexual assault survivors, "You are not alone. We have your back. I have your back."
Some victim's rights advocates who had a chance to read the report said a number of the initiatives were significant steps in the right direction.
S. Daniel Carter, director of nonprofit campus safety initiative 32 NCSI, said he was enthusiastic about the the administration's insistence on transparency and coordination between the various federal departments that enforce gender equity law Title IX and the Clery Act, which requires schools that receive federal funding to report annual statistics on crime.
Another highlight is the call for mandatory evidence-based campus climate surveys, said Laura Dunn, founder of SurvJustice and a sexual assault survivor who lobbied to enact the Campus SaVE Act in 2013.
However, Dunn said she is disappointed by what she feels is weak language regarding voluntary resolution agreements — the agreements schools often make with the Office for Civil Rights after federal investigations into how they handle sexual misconduct — and interim measures, like changing housing or class schedules, for sexual assault survivors.
Providing schools with incentives to comply with federal law instead of holding them accountable by imposing sanctions is not enough, she said.
"There's still only a carrot without the stick, and schools know that," Dunn said. "Schools will keep pleading ignorance and saying they need more funding and more training while survivors continue to suffer."
Below are some highlights from the report.
The creation of NotAlone.gov:
"The government is committed to making our enforcement efforts more transparent — and getting students and schools more resources to help bring an end to this violence. As part of this effort, we will post enforcement data on our new website — NotAlone.gov — and give students a roadmap for filing a complaint if they think their school has not lived up to its obligations. Among many other things on the website, sexual assault survivors can also locate an array of services by typing in their zip codes, learn about their legal rights, see which colleges have had enforcement actions taken against them, get 'plain English' definitions of some complicated legal terms and concepts; and find their states' privacy laws. Schools and advocates can access federal guidance, learn about relevant legislation, and review the best available evidence and research. We invite everyone to take a look."
Campus climate surveys:
"The first step in solving a problem is to name it and know the extent of it — and a campus climate survey is the best way to do that. We are providing schools with a toolkit to conduct a survey — and we urge schools to show they're serious about the problem by conducting the survey next year. The Justice Department, too, will partner with Rutgers University's Center on Violence Against Women and Children to pilot, evaluate and further refine the survey — and at the end of this trial period, we will explore legislative or administrative options to require schools to conduct a survey in 2016."
Confidentiality guidelines:
"...Victims who want their school to fully investigate an incident must be taken seriously — and know where to report. But for those who aren't quite ready, they need to have — and know about — places to go for confidential advice and support.
New guidance from the Department of Education also makes clear that on-campus counselors and advocates — like those who work or volunteer in sexual assault centers, victim advocacy offices, women's and health centers, as well as licensed and pastoral counselors — can talk to a survivor in confidence. In recent years, some schools have indicated that some of these counselors and advocates cannot maintain confidentiality. This new guidance clarifies that they can."
Guidance document on students' rights and schools' obligations under Title IX.
"Today, the Department of Education's Office for Civil Rights (OCR) is releasing a 52-point guidance document that answers many frequently asked questions about a student's rights, and a school's obligations, under Title IX. Among many other topics, the new guidance clarifies that Title IX protects all students, regardless of their sexual orientation or gender identity, immigration status, or whether they have a disability. It also makes clear that students who report sexual violence have a right to expect their school to take steps to protect and support them, including while a school investigation is pending. The guidance also clarifies that recent amendments to the Clery Act do not alter a school's responsibility under Title IX to respond to and prevent sexual violence."
A men-centric PSA starring President Obama:
Via White House
"To help enlist men as allies, we are releasing a Public Service Announcement
featuring President Obama, Vice President Biden, and celebrity actors. The
message of the PSA is simple: if she doesn't consent — or can't consent — it's a
crime. And if you see it happening, help her, don't blame her, speak up. We
particularly urge men's groups, Greek organizations, coaches, alumni
associations, school officials and other leaders to use the PSA to start campus
conversations about sexual assault."
Federal coordination:
"The Department of Education is also clarifying how key federal laws intersect. In addition to Title IX and the Clery Act, the Family Educational Rights and Privacy Act (FERPA), which protects the privacy of student education records, can also come into play in campus sexual violence investigations. In response to requests for guidance, the Department of Education has created a chart outlining a school's reporting obligations under Title IX and the Clery Act, and how each intersects with FERPA. The chart shows that although the requirements of Title IX and the Clery Act may differ in some ways, they don't conflict.
The Departments of Education and Justice have entered into an agreement clarifying each agency's role vis-à-vis Title IX. OCR and the Justice Department's Civil Rights Division (CRT) both enforce Title IX. To increase coordination and strengthen enforcement, the agencies have entered into a formal memorandum of understanding.
The Department of Education offices responsible for Title IX and Clery Act enforcement have also entered into an agreement clarifying their respective roles. As noted, the Federal Student Aid (FSA) office is responsible for Clery Act compliance, whereas OCR enforces Title IX. Sometimes, their efforts overlap. To clarify their roles and increase efficiency, FSA and OCR have formalized an agreement to ensure more efficient and effective handling of complaints and to facilitate information sharing."