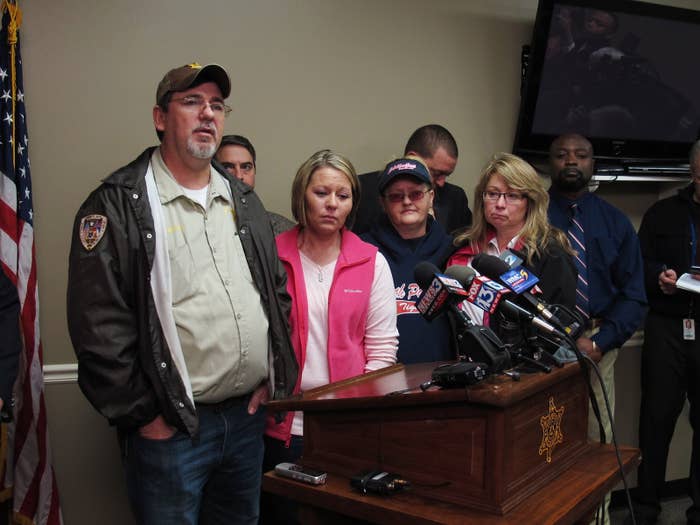 On Tuesday, authorities charged a suspect with the grisly murder of Jessica Chambers, the 19-year-old Mississippian who was mysteriously burned alive in December 2014.
But the internet sleuths who have obsessed over Chambers' case since her death — at times harassing her family members, friends, and anyone else they considered "suspicious" in Chambers' hometown of Courtland, population 512 — still aren't satisfied.
The suspect, 27-year-old Quinton Verdell Tellis, was indicted on capital murder charges by a special grand jury after an investigation that involved the FBI and the Mississippi Bureau of Investigation. District Attorney John Champion said in a press conference Wednesday that authorities had interviewed more than 150 people and sifted through over 20,000 phone records before nabbing Tellis, who grew up in Courtland and was friends with Chambers. (Some local news outlets reported that the two had dated shortly before Chambers' death.)
Champion said Wednesday that while Tellis was a gang member, Chambers' murder was not gang-related or drug-related "by any stretch of the imagination." Champion said authorities would not charge anyone else and that investigators had long believed Chambers' murderer had acted alone. Ben Chambers, Jessica's father, said at the press conference that his daughter "was at peace now."
The zealous online detectives — many of whom have never been to Courtland — are not. They refuse to accept government investigators' conclusions, instead insisting that Chambers' murder was related to larger issues with gangs and drugs, and that multiple people were involved in her killing.
Over the last year they have declared dozens of locals — from Chambers' parents to people who barely knew the teenager — to be suspects. But Tellis's name was never among them.
"DA Champion is a LIAR," one doubter wrote in a Facebook group after the press conference. "No way this suspect acted alone!" wrote a woman who submitted seven detailed questions for group members "to ponder." "This was 100% a gang murder, a targeted killing," wrote another commenter. "I don't believe a word of this drivel until i understand motive, how he received the gas and how he got away," wrote yet another.
As BuzzFeed News reported last year, people from all over the country regularly swap tips, share rumors, and bicker with each other about Chambers's murder on Facebook groups. If locals engage, they are repeatedly forced to defend their innocence to people they've never met; if they don't, they appear even guiltier.
The number of committed web sleuths has declined in the months since Chambers' death. Last summer, the "Jessica Chambers Mystery" Facebook group had more than 3,000 likes. It was shut down after what members described as vicious "infighting" and splintered into smaller factions with names like "Jessica Chambers Mystery 2" "Exposing The Jessica Chambers Mystery 2" and "Jessica Chambers Mystery 2 - backup page."
The latter, with 250 likes, is now one of the most active. Its moderator — a longtime Chambers case devotee — said he didn't believe Champion "for a second" that the murder wasn't gang-related. He also still believes the family of Jessica's ex-boyfriend, Bryan Rudd, is involved — even though investigators have said publicly that Bryan was never a suspect to begin with.

The moderator, who would only speak anonymously, said he had never been to Courtland and "had no desire to go there," even though he had spent the past year feverishly obsessed with Jessica's case.
"I've probably put in as many hours in as some of the investigators over the past year," he said, adding that although he was "really burned out" on the case, the indictment would not stop him from continuing to investigate. He and his group's members are already asking questions and posting new theories on his page that largely ignore DA Champion's statement — to the dismay of Bryan's mother, Theresa Rudd.
"They're relentless," Rudd told BuzzFeed News. "You just ask yourself, Why? If you've never met these people, and they've never met you, what makes them so hellbent on destroying you?"
Rudd is happy about the indictment, she said, but she doesn't think it will stop the Facebook sleuths from continuing to harass her family.
"They are upset that [Champion] said Jessica's murder wasn't related to gangs and drug dealers, because they wanted this to be a hate crime from the beginning," she said. (The Rudds are black, and Chambers was white.) "They refuse to sit back and let the police do their jobs."
Some group members did apologize for blaming Chambers' mother, Lisa Daughtery. In October, Daugherty told a local Fox affiliate that she was still being harassed by strangers on the internet who thought she had killed her daughter.
"My apologies to Lisa for any accusations I may have made against her please find in your heart to forgive," Sheryl Walls posted on one of the pages. "Well for all the people who accused her family and talked bad about them God help you!!!" Donna Whitfield Maupin wrote.
But most commenters seemed more excited that there was finally a long-awaited update in a case which, for many, is more compelling than any true crime Netflix series or reality TV show.
Karen Dworkin, another longtime poster from out of state who had accused and attacked Chambers' mother in the past, admitted to BuzzFeed News that she had never come across Trellis as a suspect. She hopes the prosecutors' evidence is solid, she said. Either way, she can't wait to see what happens.

"I hope that when it does come to trial they carry on TV or at least video tape it for us to see," she said. "Otherwise I plan on watching it in person."