Lara McLeod never wanted to report her rape. In those first few hours, the 19-year-old was barely able to put what had happened to her into words. Joaquin Rams, Lara's older sister's fiancé, had forced Lara to have sex with him, she said — just two weeks after Lara's sister, Hera, had given birth to Joaquin's baby.
Joaquin warned Lara not to tell anyone, she said, because it would ruin her family's life. Lara feared that was true, but she broke down and told her parents the next day. They rushed out the door in a panic to pick up Hera and the baby. All Lara wanted to do after that was go back to sleep.
Instead, later that evening, she got a call from a police officer in Prince William County, Virginia, the suburb of Washington, D.C., where Joaquin and Hera lived. He wanted to know whether what Lara had told her parents was true. When Lara said it was, the officer told her that she needed to come to the station immediately for a formal interview.
After a cursory investigation of the claim they compelled her to file, the police abruptly concluded Lara was lying about being raped and arrested her. Hera was charged with obstructing justice for aiding Lara's alleged deceit, and had to spend her savings on legal fees to get them dismissed. Lara's charges were eventually expunged, but not before her reputation was destroyed. She says she still has severe panic attacks whenever she sees a police officer.
But the worst was yet to come.
In the ensuing battle for custody over Prince, Hera and Joaquin's infant son, it emerged that not only had Joaquin lied about his name, employment history, and age — he was a decade older than he had claimed — but he had also once been a suspect in his ex-girlfriend's shooting death and a person of interest in his mother's death, too, although he was never successfully charged in either case. He had been accused of child abuse by his other son, although never convicted, and ran an amateur porn site.
But thanks to the charges against Hera and Lara, Joaquin was able to portray himself as a comparatively fit parent — and the victim of a smear job. The judge granted Joaquin unsupervised visits. Three months later, EMTs found Prince unconscious on the floor of Joaquin's house. The 15-month-old died the next day. Months later, Joaquin was charged with murder.
Joaquin, who has been in jail without bail ever since, adamantly denies any wrongdoing in the deaths of his son, ex-girlfriend, and mother, and denies he raped Lara. His upcoming trial, in which the prosecutors are seeking the death penalty, has attracted plenty of media attention. But the mishandling of Lara's rape allegations — the night that started it all — has never been reported until now, and authorities still refuse to explain why they were so quick to press charges against the sisters.
Internal documents and recordings of private meetings obtained by BuzzFeed News, none of which have previously been made public, show how grievously the police botched their investigation from start to finish, allowing their beliefs about sexual assault to influence the way they pursued the case.
In a private meeting with the McLeods, the chief of police admitted the department bungled aspects of the investigation, calling parts "improper," "sloppy," and "shortcutted," saying he was "disappointed" that the detectives "didn't pursue every possible means to either support the allegations or the conclusions that they were reaching or disprove them." But he stressed that women do lie about rape, so it was important for officers not to be too credulous — and that it was only his "personal opinion" that police shouldn't have pressed charges.
"It is not uncommon for people to make false, malicious, salacious allegations of sexual assault," he said. "That does happen."
Lara is stuck putting the pieces of her life back together. Now 23, she still has no clue why the police told her to report a crime, then arrested her for doing so. She only knows one thing for sure, she says: No one should ever report a rape to the police.
"The night I was raped, I said I wanted to be left alone," Lara told BuzzFeed News in August. "People say rape is serious and you should report it, but look what happened to me: I reported my rape, and they told me it never happened."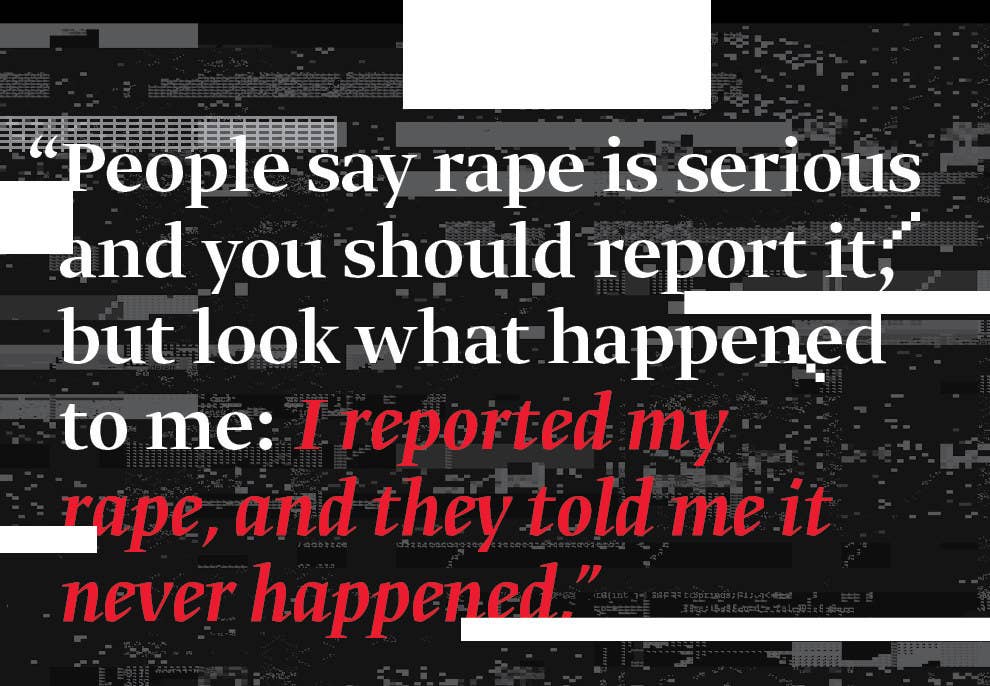 Before Hera met Joaquin in February 2010, the McLeods were a tight-knit, fortunate family. Both sisters attended private boarding schools and elite colleges. Lara, who is 11 years younger than Hera, studied opera and journalism in college before moving to the West Coast, where she works at a tech company. After Hera graduated, she worked for Teach for America and competed on the reality TV show The Amazing Race with her father before moving to Washington, D.C., where she's worked the kind of high-powered consulting jobs that earn six figures and require a security clearance. Hera didn't have much time for romance, so she tried online dating, where she met Joaquin.
The judge who presided over Hera and Joaquin's custody battle was struck by the differences between the two. "What attracted the two of you together on the internet, god knows," he said. Hera's family was equally baffled. Joaquin was a goateed musician who didn't have a steady job or any discernible talent. But he won Hera over by talking about how much he loved his 10-year-old son, whom he had raised as a single dad ever since what he claimed was the child's mother's tragic accident. He spoke confidently about his aspiring music career and often said he was on the phone with R&B stars or meeting with business partners. He had a recording studio in his four-bedroom house, drove a Mercedes-Benz SUV, and bought expensive electronics.
Hera is the first to admit she didn't try too hard to poke through the holes in his story. She was 29, and Joaquin, who told her he was 26, was her first serious boyfriend after years of travel and adventure. He "spoke with such conviction," she said, "that it seemed impossible that the things he told me weren't true."
The fantasy began to unravel a few months after they started dating, when Hera became pregnant. Hera knew it was risky to have a baby with a man she barely knew, but she had a steady salary and had always wanted kids. That rationale, combined with her Catholic upbringing, convinced her to go for it, she said.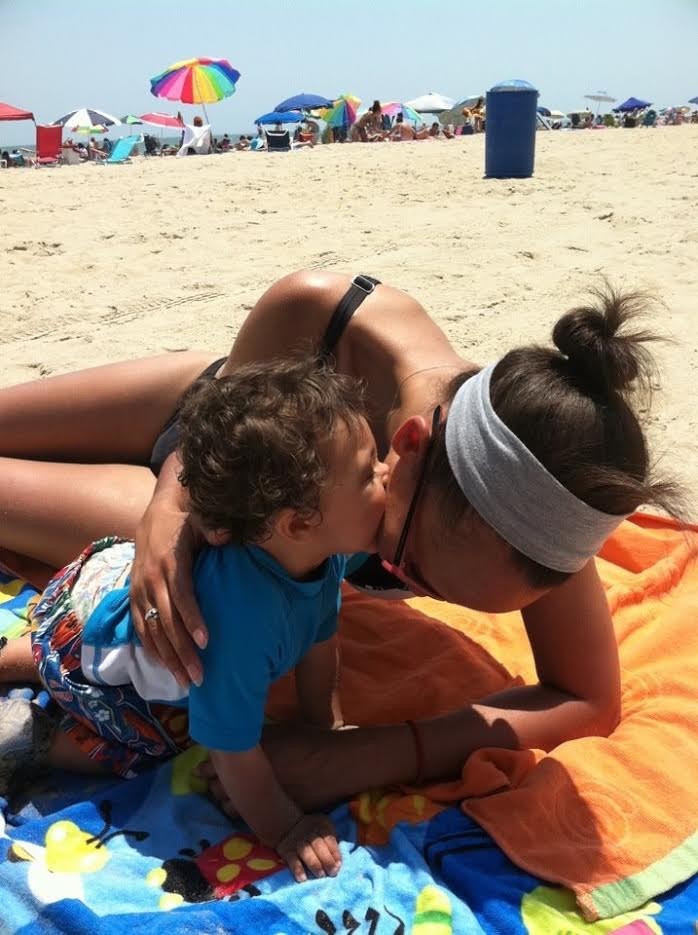 Suddenly, Joaquin had no money and expected Hera to pay for everything, she said. He stopped eating and showering and made comments about how he should kill himself so Hera could collect life insurance. In December 2010, Joaquin was charged with domestic abuse on a juvenile after his son told a school counselor that Joaquin had punched and kicked him, according to a visitation evaluation report. Joaquin told Hera that his son was overreacting to a spanking. Hera, determined to keep her newly formed family together, convinced herself that Joaquin, who was never convicted of the charges, was telling the truth and experiencing depression. She started attending counseling sessions with him.
"I felt trapped," she said, "but I wanted my son to have a father."
Lara and Hera had always been close, but the two grew apart when Hera started dating Joaquin and Lara went off to college. That's why Lara agreed to go to a Lil Wayne concert with Joaquin on July 16, 2011, two weeks after the baby was born. Lara didn't like Lil Wayne any more than she liked Joaquin. But he was family now.
It was the summer after Lara's freshman year, and she was living at home at her parents' house in Gaithersburg, Maryland, about 40 miles away from Joaquin's place in Manassas, Virginia. The night of the concert, Hera and the baby spent the night at the McLeods' in case Joaquin and Lara stayed out late — he had told Lara he would take her backstage and to an afterparty. On the way to the show, Joaquin asked Lara if she was willing to do whatever it took to succeed in the music industry. She wasn't sure what he meant, she told the police.
Later on, Lara said, instead of taking her backstage, Joaquin brought her back home to explain: She could either have sex with him, right then and there, or he would take her to a party where she would be gang-raped by a group of men.
Lara later told the police that she tearfully argued with Joaquin into the early morning. When she protested that her sister had just given birth to Joaquin's baby, he claimed he and Hera had agreed that Joaquin could sleep with Lara that night, the police report states. Lara even tried saying she had her period — that always discouraged pushy guys at college — but Joaquin was relentless. Earlier in the night, he had shown Lara the gun he had on him, she told police. Later, he put her phone in the trunk, and she didn't know anyone in the area to ask for help, she said. As the night went on, Lara began to realize there was no escape. Joaquin led her into the basement.
The rape itself was an "out-of-body experience," Lara said. Either her sister had put her in a position to be raped by Joaquin, Lara thought, or she had just destroyed Hera's new family. Afterwards, Joaquin dropped her off at a subway station, gave her a hug, and told her not to fight him so hard next time, she says.
When Lara told her parents what had happened the next day, Hera knew immediately that her sister was telling the truth.
"I wanted so badly to believe that he was who he said he was," Hera said. "But then it was like someone finally threw a big bucket of water on me and I woke up screaming. I realized I didn't know this person at all. I just saw a monster."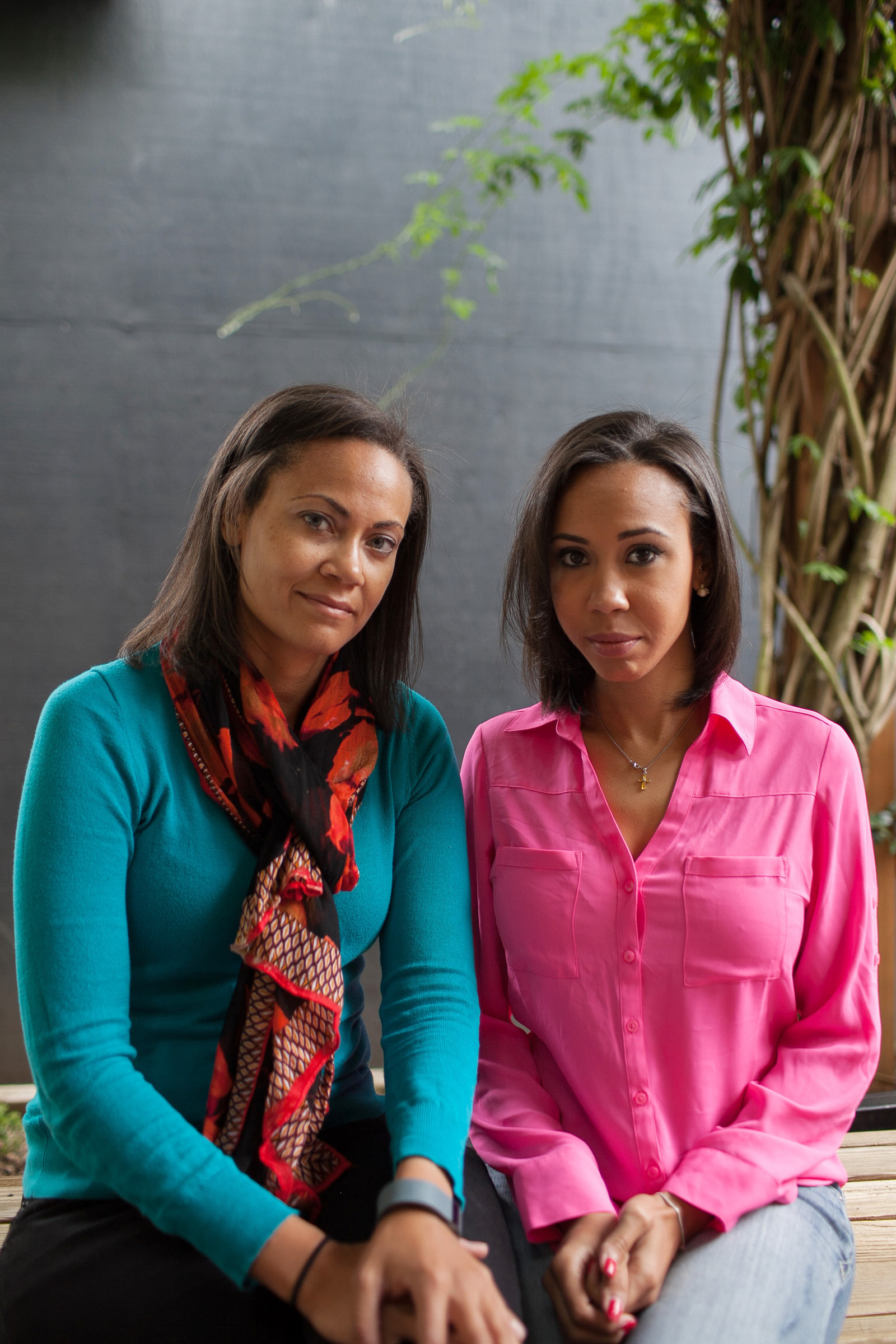 After Hera's parents picked her and the baby up, she called the police — not to report the incident, but to ask for an escort, so she could go back to the house and get the baby's things. When the officer entered, Joaquin, who later said in court that he was "confused" as to why the officers were there, started yelling that he had never touched Lara. Suddenly, the officer later said in court, the routine escort request "became an investigation for an alleged rape."
Another police officer, Detective Bradford Cavender, called Lara to confirm the allegations were true, then told her she needed to come down to the station for an interview. Lara didn't want to go — it was late, and she was groggy and shell-shocked — but she still wasn't worried. It didn't occur to her that even "if you were innocent, someone might not believe you," she said.
The police report notes Lara's reluctance to report her rape multiple times. Cavender, who interviewed Lara when she got to the station, wrote in the report that Lara said "she never wanted to call the police." When he asked what Lara wanted from the investigation, she said she just wanted Joaquin to "leave my family alone.'"
Virginia law defines rape as sexual intercourse that is accomplished against one's will, not just by force but by "threat or intimidation." Even so, Lara didn't say she was "raped" in her account, according to the partially censored police report obtained by BuzzFeed News, but instead made statements such as "He was having unconsensual sex with me and it was painful." It was the police that first used the word — and then used it against Lara later.
Cavender appeared skeptical of Lara's claims from the start. He repeatedly questioned her as to why she didn't try to escape, even though Lara told him she was afraid of Joaquin's gun, and that he warned her she would "fuck my family life up" if she didn't comply. Cavender asked Lara why she didn't keep her arms down when he tried to take her shirt off, even though she told him over and over again that she didn't struggle because she was "terrified." Lara used the word "catatonic" to describe her mental state by the time she yielded to Joaquin after hours of arguing. "Despite being in a catatonic state she remembered that he led her by the arm into the house through the garage entrance," Cavender noted.
Police sent her to get a rape kit and then met with Joaquin and his lawyer.
Joaquin initially told police he "did not touch" Lara, he later admitted in court. Now, he'd changed his story. They had sex, but it was consensual, he said. (Later, in court, he would also say it wasn't the first time.) And he had proof, he told the police and later said in court: a video he had secretly recorded using a camcorder Hera had left their house with a few hours before.
The police were seemingly unconcerned that Joaquin had videotaped a 19-year-old having sex without her knowledge, which is a crime in Virginia. Instead, they summoned Hera back to the station and demanded to see her camera. After a few minutes of confusion she took it out of her purse and handed it over.
The police scrolled through the camcorder's contents but didn't see the video. Joaquin told them he might be able to retrieve it, so they allowed him to take the camcorder — evidence in an alleged sexual assault — to his attorney's office, where, with the help of an "IT guy," the video appeared. Police would later admit in court that they had no idea what Joaquin did — whether he used a computer program, or backup software, or inserted a different memory card — just that he "knew how to use the camera a lot better than any of us would be able to."
Cavender described the tape in his police report. Both Joaquin and Lara were onscreen, he wrote. He heard Joaquin say, "Look, think about how things are gonna be, once we can get over this," and, later, "Don't be shy, we're gonna get this over with." But Cavender was more interested in Lara's movements. She had already told the police that she didn't try to leave the basement during the sex itself, but she had said she cried, told Joaquin he was hurting her, and said "no" repeatedly, according to the report. Cavender wrote that he could not hear Lara crying out as she had said, and that the video contradicted her chronological account. He concluded that she was an "active participant in the sexual intercourse" because she did "not appear to be struggling" in the video Joaquin had provided, and "at no point during the sexual intercourse did Lara ever tell him to 'stop.'"
Many neurobiological studies show that rape and trauma victims have fragmented memories of assaults. Our brains often react to life-threatening situations by shutting down, which is why victims can't always provide a linear account, experts say. Cavender didn't appear to consider that a factor. But if he was concerned about the seeming discrepancies between Lara's account and the video, there were any number of paths he could have pursued.
Cavender could have sought out the security footage from the 7-Eleven where Lara told him that Joaquin had taken her while they were arguing about whether she'd sleep with him. Cavender could have reviewed Lara's medical records or run Joaquin's name to see if he had ever come to the attention of local authorities before. The police record does not indicate that the detective did any of those things, however. Because by the time Cavender finished reviewing the videotape, Joaquin was no longer the one under suspicion. Lara was.
He asked Lara to come back to the station two days later. Unaware that she was under investigation, she showed up without a lawyer.
Cavender and another detective, Kimberly Norton, interrogated Lara. Was there a possibility Lara had ever had sex with Joaquin before, or that she slept with him that night in hopes of meeting people in the music industry? If someone had been watching, would there have been any doubt in their mind that she was raped? Lara said no, Cavender wrote.
They asked Lara if there were inconsistencies in her testimony; she said if there were, she didn't mean them. It was hard for her to remember exactly what had happened, she said, since she had been so distraught. But she couldn't understand why the police were fixated on the sex instead of the three hours before, especially since she had admitted that her case wasn't a "stranger rape" case.
Cavender noted that Lara said, "At the point where he had sex with me, yeah at that point I was a willing participant because I wanted to get it over with." But Lara wouldn't "admit" that she had wanted to sleep with Joaquin, which made the detectives upset. They told her that Joaquin didn't deserve this, she says.
"I gave Lara one last opportunity to tell me the truth and to admit if it was consensual sex and she again denied that it was consensual," Cavender wrote in his report. He finally told her he had a tape of the two of them having sex and asked if Lara wanted to watch it.
Lara started panicking. No, she didn't want to watch a secret video of her recent sexual assault. That's when the police told her it was time to teach her a lesson, she said.
"Despite being contradicted on almost every part of her story from the first interview, Lara refused to admit that she lied about reporting the rape," Cavender wrote. "She continued to assert that she was a [sic] unwilling participant."
Lara and Hera still haven't seen the video. Joaquin's prosecutors have the camcorder now, and have said they may use other footage on it as evidence in the upcoming trial. Hera believes Joaquin doctored the recording — as it later came out in court, he had the know-how. Even if he didn't edit it, "the tape represents one moment in time in which he had control over her," she said. "He knew when to turn it on and turn it off." (Joaquin's lawyer, Daniel Morrissette, told BuzzFeed News that the recording "shows that Ms. McLeod's participation was consensual," although he would not say if he had actually seen the video himself.)
The police charged Lara with making a false report to law enforcement. Assistant District Attorney Claiborne Richardson signed off on the charges and told the police to also charge Hera with obstruction of justice for deleting the video, according to the police report. Two women with perfectly clean criminal records — who had never wanted to report the rape in the first place — ended up charged with crimes.
Lara says she wasn't even read her rights before she was handcuffed and marched out of the station. She thought her mom would be waiting at the end of the road. Instead, they frisked her, told her to take out her piercings and let down her hair, and carted her off to jail.
"I don't know what I did!" Lara recalled saying over and over. "They said, 'Don't play dumb, you know what you did.'" She spent the next few hours sobbing behind bars. As soon as they let her out, she started apologizing.
"The police told me I had to apologize," Lara said. "So I kept saying, 'I'm sorry, I'm sorry, I'm sorry.'"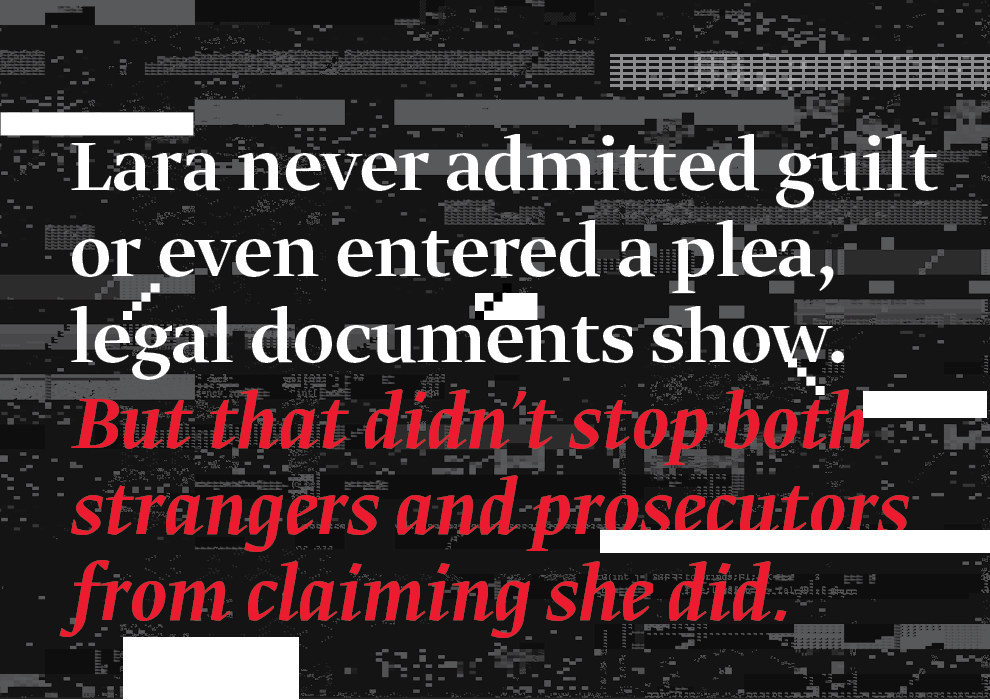 Making a false report to a police officer is a misdemeanor offense in 42 states and a felony in eight. These laws exist because filing a false report can have serious consequences for the accused. An innocent person might be arrested, booked, and subjected to a forensic examination and public scrutiny. Sometimes police spend extensive time and resources investigating a false claim — in those cases, they might seek restitution.
But given that the majority of sexual assaults are not reported to the police, there's reason to tread carefully when it comes to those reports, experts say. Because sexual assault is such a deeply personal violation, victims are less likely to report the crime. They're also less likely to go to the police because they are so often unbelieved: The possibility of being ridiculed, doubted, shamed, or even thrown in jail dissuades many from coming forward.
Sexual assault allegations may be deemed false just because a victim is uncooperative, police have doubts about her credibility — often because she's a sex worker, poor, or a minority — if drugs and alcohol are involved, if the victim has mental health issues, or simply if there's not enough evidence. In other words, just because a police officer determines a report is false doesn't mean it is, which is why there are no consistent studies on the rate of false rape allegations, although the most widely accepted research puts it in the range of 8–10%.
Still, the prospect of false rape claims seems to loom large in police perception, which may be one of the reasons only 7% of sexual assault reports lead to arrest and just 3% lead to prosecution, according to the Rape, Abuse & Incest National Network.
"One of the biggest problems in rape investigations is that police think women lie," said Lisa Avalos, a University of Arkansas law professor who researches the prosecution of false rape claims. "When police think that, they typically fail to thoroughly investigate their rape complaints, thus doing a disservice to those victims as well as to the community as a whole, because a predator remains at large."
The International Association of Chiefs of Police (IACP) says rape claims must be fully investigated before false reporting charges are considered, and it directs police to be open-minded and sympathetic when interviewing victims and not to judge a victim's credibility by her reaction to the rape. Some states have developed their own best practices, such as the Oregon Attorney General's Sexual Assault Task Force, which instructs officers not to arrest women for making false reports if the reporter was compelled to make the report, or if the report did not result in harm to the accused or in the use of significant agency resources.
But both federal and local investigations across the country have found that police often fail to follow these guidelines, instead letting deep-seated stereotypes about sexual assault — that women often lie — influence their decisions. A 2012 federal investigation into how Missoula, Montana, handled sexual assault complaints found that the police, prosecutors, and local university all responded inadequately and failed to take sexual violence seriously. In 2013, Human Rights Watch published a report on police mishandling of sexual assault cases in Washington, D.C. Although the district said it had policies in place to prevent mishandling of sexual assault cases, the report found the department often failed to investigate complaints and discouraged victims from reporting their assaults, in some cases even threatening to charge them with false reporting.
There are no comprehensive studies on how often women are mistakenly charged with false reporting of sexual assault, but high-profile cases from Wisconsin to Washington state have frightening similarities: Victims were pressured to recant reports and prosecuted for lying, then vindicated years later, when their rapists were caught by other authorities after raping more women.
Women wrongly charged with false reporting have won big: Pennsylvanian Sara Reedy landed a $1.5 million settlement from the police in 2012 after enduring a similar ordeal. But it costs money and energy to fight back against police and prosecutors. Rape victims often just don't have it in them.
"My rape was awful," Lara said. "But the way the police handled it was even worse."
Lara spent the rest of the summer of 2011 in bed, reading and hiding from the world. She quit her job working at a summer camp. She flinched every time a family member touched her. A lawyer advised her not to fight the charges in court and helped her work out an agreement where she had her charges expunged in exchange for community service.
Lara never admitted guilt or even entered a plea, legal documents show. But that didn't stop both strangers and prosecutors from claiming she did.
Just two weeks after her arrest, a burner email account sent emails to Lara's ex-boyfriend and sorority sisters claiming that she had been charged with filing a false rape report and that the police had determined no rape occurred. The email included a link to an article on a website that posts false rape claims that mentioned her parents' home address. Other websites reposted the charges alongside Lara's mugshot. Lara said she lost friends her sophomore year of college over the allegations and had trouble finding a job the following summer.
Even worse, the authorities were spreading false information. Assistant DA Richardson, who had signed off on the charges against both sisters, wrote in a January 2012 email to the mother of Joaquin's ex-girlfriend, obtained by BuzzFeed News, that Lara had pleaded guilty and had "already received a partial sentence," both of which were untrue. He said that Hera had "gained access to a crime scene under false pretenses and removed evidence" that "determined that the allegations of rape brought by Ms. McLeod's sister were untrue," and wrote that the sisters' efforts "to manipulate this office and to ignore their actions will not occur." (Richardson did not respond to requests for comment.)
In reality, the charges against Hera were dismissed in May 2012 in about an hour and a half, with the judge calling Joaquin's testimony "incredible." But it cost Hera $50,000 in legal fees, she said.
Hera's lawyer argued during the short trial that Joaquin was deliberately trying to use the situation to his advantage in their ongoing custody dispute. "If he can show, when he goes back to this review hearing, that Ms. McLeod was convicted of a crime and show that she is a bad person, it will enhance his argument that he should have more custody," he said.
Although Hera's case was dismissed, that's exactly what happened.
By then, Prince was almost a year old. During the custody proceedings, the Washingtonian reported, a police officer testified that Joaquin was a suspect in the 2003 shooting death of an ex-girlfriend named Shawn Mason. A different ex-girlfriend testified that Joaquin had asked her if she knew anyone who could carry the murder out. A social worker said Joaquin had been charged with domestic abuse of his older son. Hera discovered the music career was a lie: Joaquin's only current means of support appeared to be his older son's Social Security benefits and his mother's life insurance, which he collected after her death, ruled a suicide, in 2008. She also learned that Joaquin was mistakenly under the impression that he was the beneficiary of Shawn's life insurance policy, according to a report by a social worker who interviewed him as part of a 2004 custody proceeding for his older son. Additionally, she found out that Joaquin ran a pornography website on the side.
Judge Michael J. Algeo was concerned about the porn and other aspects of Joaquin's lifestyle, but dismissed the ex-girlfriend's testimony — she had also said Joaquin was abusive — because Joaquin had taken photos of her before and she "likes to get undressed and go on websites." Joaquin admitted that it was unwise to have had sex with Lara, but portrayed himself as the guileless victim of a conspiracy by the two sisters — one who lied about the rape and the other who tried to hide the exculpatory video. "I mean, the fact that I could have served eight to 10, 15 years of my life for something that [Hera] had done, that really concerns me, because the fact is that she had evidence in her possession and she chose to delete it," Joaquin said in court that March.
Judge Alego gave Hera sole custody, but eventually granted Joaquin the right to unsupervised visits despite Hera's insistence that he was a danger to their young child. On the fourth unsupervised visit, she got a call that Prince had been taken to the hospital in a coma.
EMTs had found him cold and wet, with a bruise on his forehead and dried blood in his nose, according to the Washingtonian. Hospital officials had even notified Child Protective Services, noting "obvious unexplainable injuries," the Washington Post reported. An autopsy found "fluid in the sinuses, airways, lungs and intestines" and "small bruises and abrasions on the face and upper chest and back."
He died the next day, at 15 months old.
Police and prosecutors charged Joaquin with murder the following January, alleging he drowned Prince to collect more than $500,000 from three life insurance policies they say he obtained before his death. (Joaquin has said that he was just trying to help his son, who had been suffering from febrile seizures.) He was later indicted by a grand jury on a charge of capital murder. They have encountered some setbacks: Last fall, Virginia's chief medical examiner reversed the initial ruling of drowning to "no known cause of death," and a judge denied the request to connect it to the deaths of his mother and ex-girlfriend, ruling that "a propensity" to commit crimes is not admissible to prove guilt in one specific case. Prosecutors are still seeking the death penalty, and the trial date is set for January 2016.
Lara was never allowed to see her medical records from the night she went to the hospital for her rape kit, although she remembers a nurse telling her her injuries were consistent with sexual assault. When Lara requested them recently, the hospital told her she would have to ask the police. When she requested them from the police, she was told her records were exempt from the Freedom of Information Act, since they were associated with a criminal case, even though it was now closed.
Two members of the Manassas city police force, which investigated Joaquin's ex-girlfriend's and mother's deaths, would not comment on the upcoming case. One retired detective said he believed Joaquin was "guilty of three murders."
Manassas Sgt. Christine Perry said she had "met and spoken with many people" who Joaquin hurt "either physically, mentally, emotionally, or financially."
"How he continued to come out on top and be able to play the victim himself still astonishes me," she said.
The McLeods demanded that the Prince William County Police Department conduct an investigation into how it handled Lara's rape allegation. In fall 2013, Police Chief Steve Hudson invited the family in to discuss the results. Lara didn't want to attend the meeting, but she wrote a letter to the police detailing what their actions had cost her.
She spent her college years having flashbacks, isolating herself, and crying in her room, she wrote. She had lost friends from the nasty articles. She lost her faith in the justice system. And her baby nephew was gone forever.
"I'm not really sure how your police force can fix anything two years later," she wrote. "I'm not looking for monetary compensation, and an apology just isn't enough…you not only ruined my life, but you ruined my family's life. It took me two years to finally get some of myself back, and I assure you that I will never be the self-confident, bright eyed girl I once was."
The family had specific requests: Train officers on how to properly respond to sexual assault. Discipline the detectives that charged the sisters. Make a public statement, so someone who googles Lara — a potential employer, say — would not see the outlandish charges.
"A few of your concerns, I think, have been corroborated," Chief Hudson told Hera in the meeting, a recording of which was obtained by BuzzFeed News. He admitted that the decision to allow Joaquin to recover the video was "improper" and "violates our policies on handling evidence." Hudson said the police report was "sloppy" and he thought some aspects of the investigation had been "shortcutted."
"I think fatigue played a part in this," he said, "and not a good part."
Hudson admitted that the detectives had "reached a conclusion and didn't pursue it further" and that, "in hindsight," he would "prefer that the charges not have been made."
"One of the shortcomings in this case is the fact that they didn't do further investigation on the specific charge against you," he said to Hera. "To leap to the conclusion that you needed to be charged at the time you did I thought was cut short."
But he said there was nothing "technically improper" with the charges brought against Hera and Lara, as it was the detectives' "judgment call." And, he said, even if the police hadn't charged them, Joaquin still wouldn't have been arrested for rape. When Hera asked whether it was common for the department to charge women with falsely reporting rape, Chief Hudson said that he didn't know if he would "call it an aberration." The department deals with about 9 or 10 charges of false reporting a year out of 80–100 reports, he said.
As for the idea that his officers needed further instruction on handling sexual assault cases, he said their training was already "cutting edge." He said they would address some issues internally but could not elaborate on what or how.
"Is there nothing your department can do to say 'we made some mistakes and we're fixing them?'" Hera asked.
"I would certainly think that it would be possible for me to say, in this investigation we uncovered some concerns about the methods used in the investigation that we are addressing administratively and internally," Chief Hudson said, but he would have to ask their attorneys. "That's probably about as far as I'd be able to go." He couldn't say Hera and Lara should never have been charged at all, because that was just his "personal opinion," he said.
Later, Hera says, the department told her they could not make any public statement at all.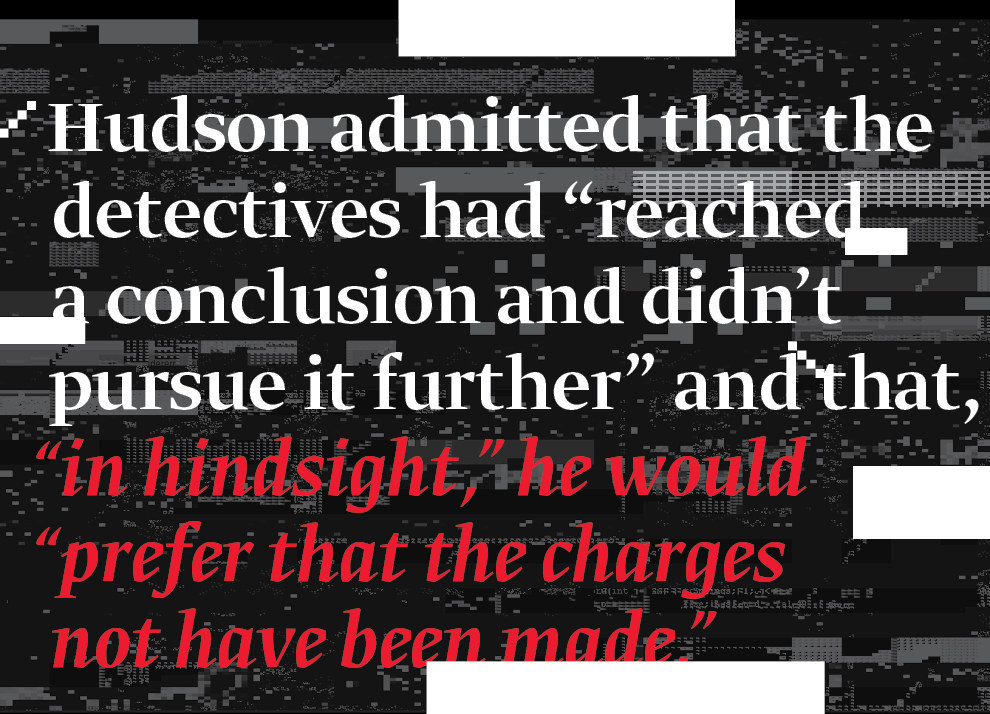 When Human Rights Watch faulted the D.C. police for how they handled sexual assault cases, the report included recommendations for police departments nationwide. Departments should hold officers accountable if they do not document or investigate cases, create an effective complaint procedure for victims or observers of improper treatment, respond seriously and transparently to those complaints, and submit to outside oversight.
The Prince William County police told the McLeods they couldn't say whether they would make those or any similar changes. But, it appears, they haven't even tried one simple fix: keeping data on how often they arrest women for falsely reporting rape.
In July, Prince William Detective Samuel Walker said it's standard protocol to arrest people for falsely reporting rape because the department tries "to deter false allegations," but "only if they can determine that the person is at fault." However, he said, the department does not track how often it arrests people for falsely reporting sexual assault to a police officer, making it impossible to know how big — or how small — the problem actually is. Walker also said the department would be unable to provide BuzzFeed News with data detailing the number of women who report sexual assault per year to the Prince William police, or with a clear breakdown of how many of those reports are deemed "unfounded" and why.
Cavender, Norton, and Hudson did not respond to BuzzFeed News' requests for comment. Prince William Police spokesperson Sergeant Kim Chinn said BuzzFeed News' assertions were "erroneous" and that the case had been "investigated internally and criminally, and then reviewed again in response to your inquiry." She said she could not comment further due to legal constraints.
Paul B. Ebert, commonwealth's attorney for Prince William County, said his office could not "confirm or deny" any allegations related to Lara as there were no records involving her.
Assistant DA Richardson has since come under fire for allegedly instructing police to take photos of a minor's erect penis for evidence in a "sexting" case.

Hera hasn't spoken to Joaquin since the day her parents told her he raped her sister. But every year on Prince's birthday, she sends a letter to the authorities who she holds just as responsible for his death. This year, she included a photo of Prince with his two front teeth in, smiling and sitting on a red truck — with his birth and death dates printed above.
"On July 1st, 2015, I would have turned four," the card said. "May you always remember how the decisions you make impact the lives of innocent people. I will never forget you. I pray you will never forget about me."
This year, Kimberly Norton, one of the two officers who charged the McLeod sisters, put the card in a new envelope and mailed it back to Hera unopened. She rewrote her return address in block letters. Not Detective Norton, as Hera had written, but "SGT K. NORTON." She had been promoted. So had Detective Cavender.