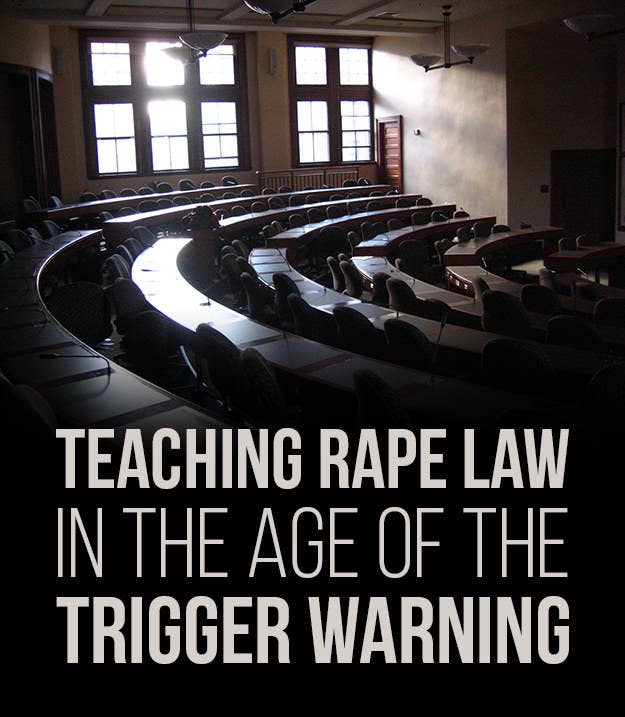 It was "rape week," which is what law students across the country jokingly call the section of introductory criminal law class that covers sexual violence. Julia, a public defender who was then at George Washington University Law School, watched as her professor asked a male law student to answer questions from the perspective of a female rape victim.
Her classmates burst into laughter. Julia and her friends looked at one another uncomfortably.
Universities are struggling to handle sexual assault correctly, but law schools are also agonizing over how to talk about it as more students express frustration with how rape law is taught. Although some law students are asking for "trigger warnings" (a phrase that warns others of potentially distressing material), a ban on exam questions about rape, and questioning whether "rape law" should even be a part of first-year criminal law at all, most current and former law students who spoke to BuzzFeed News said they do want to learn rape law. They just want to learn it well. And they believe that professors who would rather toughen up first-year students than listen to their valid concerns are making it harder to close the pervasive gender gaps in law school grades, prestigious student organizations, and post-graduate life.
"You're in a Harvard Law classroom, which is supposed to be this advanced, high-minded environment, and when we got to rape, the conversation totally devolved into bullshit," one Harvard Law graduate said. "I don't need to pay Harvard tuition to hear men be dumbasses."
Criminal law is a required class, so even students who want to practice tax law or litigate intellectual property cases must participate in "rape week." It also means that professors who aren't necessarily experts in the field sometimes teach it. For many students, that's where the problems start.
Some hate when professors insist on using the Socratic method, a common law school teaching practice in which students are cold-called and mercilessly questioned, because a rape survivor might have to argue an accused rapist's case. Others don't understand why professors engage with students who make insensitive remarks about victims such as "What if she looked older than 12?" or "Is it still rape if it wasn't consensual but he really thought it was?" instead of shutting them down. Some law students even told BuzzFeed News that they chose to skip their "rape week" classes completely rather than seethe in silence.
At the same time, criminal law professors at schools across the country told BuzzFeed News that they are concerned about what they perceive to be a troubling trend among students who would rather protect themselves than engage with complex issues.
"What's new is the suggestion that the teaching of rape doctrine and its flaws in a serious way, open to contending views, makes some students feel 'unsafe,' and because they feel 'unsafe,' there must be something deeply wrong — immoral and perhaps even illegal — going on," said Yale Law School professor Jed Rubenfeld. He said he's been asked (and has declined) to give trigger warnings and announce phone numbers of sexual assault hotlines before teaching rape, although he does ask students to be especially conscious of their classmates and refrains from cold-calling on students when rape is being discussed.
"This is a sad and profoundly anti-intellectual point of view, and it's spreading," he said. "Every topic taught in criminal law is a terrible reality." Professors who don't teach the class in a serious way, "subjecting both the doctrine and the criticisms of it to searching logical and moral scrutiny," are "failing the most basic principles of intellectual honesty and academic rigor."
But what happens when female law students vehemently disagree?
"I am not afraid to study rape law," said Cari Simon, a Harvard Law graduate and former president of the college's Women's Law Association who now defends survivors of sexual violence at colleges and fraternities. "Of course I understand the import of studying rape in law school. That I expect rape to be taught with the understanding that 1 in 5 women are assaulted while in college, and therefore there are very likely survivors sharing the law school classroom does not mean I am afraid. It means I care."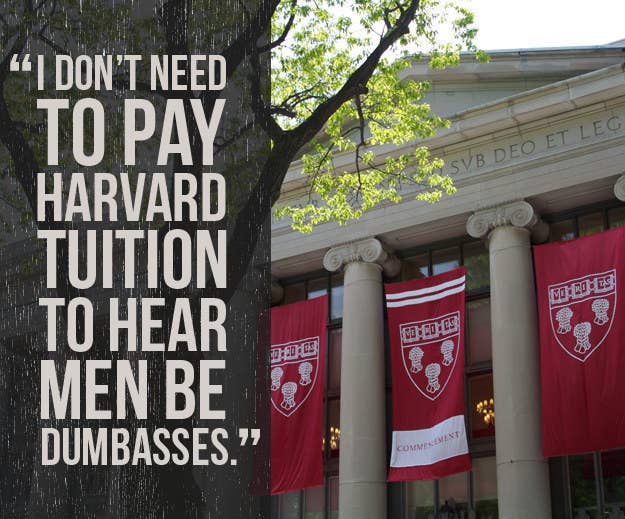 Law professors decide what crimes to cover in criminal law class, and until the last few decades, rape wasn't often one of them. As Harvard Law professor Jeannie Suk wrote in a recent New Yorker article, rape law wasn't "considered important or suited to the rational pedagogy of law-school classrooms" until the mid 1980s. Rape law itself was outdated too: Women were required to "resist to the utmost" and their personal sexual histories were questioned in trial. Feminist reforms changed both the still-evolving law and the law school curriculum.
"There was a point in time where women were excused from not just rape but any disturbing legal topic because it was too traumatic," said University of Colorado Law professor Aya Gruber, who said she's noticed a "rapid and profound shift" in the way her students think about rape pedagogy over the past few years.
"Several of my contemporaries do not teach rape because it is too fraught, but I find this to be an almost sexist position," she said. "My question is always the extent to which we as teachers are protecting women in a world which oppresses them, and the extent to which we as people in power are reaffirming and reinforcing the messages that keep women in that position."
Most law students told BuzzFeed News that they do want to learn rape law, but they want to learn it in a space where it's understood that rape is somewhat exceptional: As far as brutal crimes go, there won't be any murder victims sitting in class, but statistically, there will likely be survivors of sexual assault.
Rape law isn't the only legal field where this battle is being fought; UCLA Law School students recently complained about an exam question on Ferguson, Missouri. But some students see the debate over how rape law should be taught as part of a broader problem with sexism on law school campuses.
At Harvard, for example, men and women entering the law school have comparable LSAT scores and undergraduate grades. But women "participate less and perform worse than their male counterparts over the course of their three years at the Law School," according to a three-part Harvard Crimson series on gender disparity issues at the Law School. The series pointed out that fewer than a fifth of all Harvard professors and assistant professors of law are women and women only comprise 21.6% of lawyers who are general counsels to Fortune 500 companies, among other dismal gender statistics.
Given studies that suggest that there are ways to close the law school gender gap, such as reducing class size and avoiding the Socratic method, some students feel that professors who, as one student put it, "fetishize their discomfort" are missing out on an opportunity to level the playing field.
"All we are saying is that the statistics suggest that women in the room (and some men) have had personal experiences with that kind of violence, and since law school is no longer aimed solely at rich white men, we have to recognize who is in the classroom," said Stephanie Davidson, an attorney who represents victims of domestic violence and former president of the Harvard Women's Law Association.
Over the past few years, more women's associations have started sending out memos and writing tip sheets for professors in addition to holding student-only support groups to discuss strategies for participating in classroom debate, and students have begun to conduct surveys as to how, in one law student's words, the classroom "contributes to the rape culture at the law school."
It's impossible to summarize the desires of every law student. But based on student surveys and recommendations from women's organizations, along with BuzzFeed News interviews with more than a dozen current and former law students, demands run the gamut. Some students have asked professors to refrain from using the Socratic method, include sexual assault statistics and feminist analysis in their curriculum, debunk rape myths ("Boys will be boys"), and shut down sexist comments. Others requests are more extreme.
"I understand feminists fought for this," said one current Harvard Law student who had to leave the room during the section on rape law. "But I just don't think the benefit of being taught rape in criminal law justifies what I think are the many harmful effects."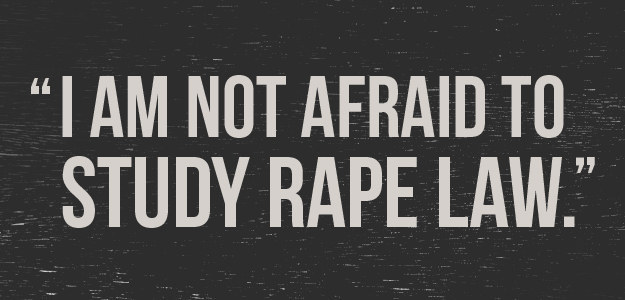 That student said she felt her discomfort was personal. But others want to share their perspectives more widely. A few days before "rape week" at one top law school in the Western U.S., the dean's office emailed an anonymous letter to the entire first-year class. The writer, a second-year law student, wanted to warn the first-years that sexual assault was often harder to discuss in class than, say, murder or racial profiling.
"Some level of discomfort is unavoidable when talking about horrible crimes," she wrote. "But some things go beyond discomfort."
As a sexual assault survivor, she wrote, there were days where she had to leave the classroom because she felt "paralyzed" by her memories. She urged survivors in the class to seek help if they needed, offered suggestions — it would be helpful if students used "trigger warnings" before going into graphic detail during discussions, for example— and asked all students to be patient and kind.
"We are not trying to make anyone feel guilty with our emotions or keep people from engaging in the subject," she wrote. "There are simply times that we have trouble separating the concept or the case from personal experience. There are times when we can't fully put up the mental shield that separates an abstract discussion from painful memories."
One criminal law professor at the college was so upset that she told the administration she would rather not teach rape law at all than be forced to teach it in a manner based on one student's "deeply held personal feelings."
The professor, who would only speak anonymously, has decades of experience studying rape law and said she planned to discuss everything from the effects of trauma to campus rape activism. Instead, she spent class time reassuring students that she would not treat rape differently than other sensitive subjects. Some of her students were thankful for the email, she said, but others were confused since it came out of nowhere and was endorsed by the school. One distraught student told the professor that she was a rape survivor and now had no idea if she would be able to handle whatever was coming next.
"I understand the reality of women's discomfort with learning rape law, but I don't want to send the message that rape is more fraught than other serious crimes because it deals with women's sexuality," the professor said. "We owe it to women not to be exceptionalists when it comes to teaching rape law."
Some professors told BuzzFeed News that they had no problem incorporating their students' concerns.
Brooklyn Law professor Bennett Capers said he begins his section on rape law by reminding students that it's a particularly sensitive subject and providing them with sexual assault statistics.
"On the first day, a lot of students are reluctant to engage on the subject, but by the second, we have some of the most rewarding conversation I've had all semester," he said. Capers also tells his students that rape law is a particularly fascinating area because it's currently evolving. "They can push the law in new directions as they become lawyers," he said.
Deborah Tuerkheimer, a former sex crimes prosecutor and professor at Northwestern Law School, said she believes it's up to the professor to manage the class well. She's never had any problems.
"I think students can make comments that have the potential to be deeply upsetting, but that can be navigated," she said.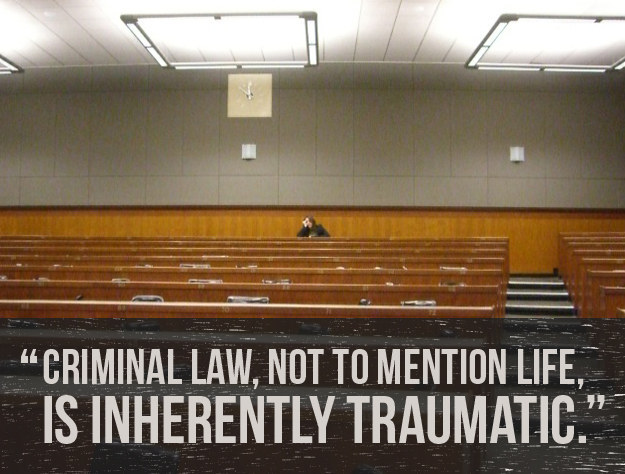 Other professors aren't as quick to bend to students' requests for sensitivity. Professor Suk told BuzzFeed News that she wrote her New Yorker piece because she was hearing about more students who objected to or absented themselves from the classroom discussion on rape law than ever before.
"I wanted to reflect on why, just at a time when sexual assault, particularly on campus, is getting so much attention, we might see a shrinking away from classroom discussion of these topics," she told BuzzFeed News. Suk said she thinks the shift is indicative of a new form of "social suffering" as classroom experience that goes beyond the pain of individual victims of sexual violence.
"The social designation of topics and forms of discussion as 'traumatic' has real consequences for classroom intellectual exploration," she said.
Suk also said that she felt compelled to write the piece after hearing from an increasing number of professors who, while sympathetic to victims in general, were "increasingly wondering if teaching the subject was not worth the distress and discomfort."
Northeastern University Law professor Daniel Medwed recently resumed teaching rape law this year after a two-year hiatus.
"I know about the importance of the topic but I also knew that it caused me as a straight white male a dose of stress to teach it," he told BuzzFeed News. Medwed said he thought it was "noble" for students to speak up about their emotional trauma instead of suffering in silence and felt confident in his ability to "straddle the sensitivity/indulgence line" after his break, although he shares some of Suk's concerns.
"Criminal law, not to mention life, is inherently traumatic," he said.
Many law students are struggling to balance the same objectives — but they're certain there's a way to accommodate rape survivors without avoiding hard questions.
On law school campuses, where weakness is frowned upon, it's braver to speak up than stay quiet, said recent Harvard Law School graduate Sarah Jeong.
"Has oversensitivity about rape really been conjured out of thin air?" she asked. "Or are students finally finding their voices?"
This post has been updated to clarify the specificity of Professor Suk's position on accommodating student requests.