This story contains a description of sexual assault.

Over spring break in April 2015, 13-year-old G. stopped eating and sleeping. She started having panic attacks and complained of excruciating pain. When G.'s friends and mother asked what was wrong, G. refused to tell them. Then, later that month, the video started to spread.
A boy in G.'s eighth-grade class at Spring Creek Community School, a public middle school in Brooklyn, had filmed himself penetrating G.'s mouth and anus. G. said she had been raped. The boy claimed the sex was consensual. To G.'s horror, the video he secretly filmed of her was shared all over Brooklyn.
"It was the most awful thing," said G., who is identified by her middle initial to protect her privacy. "It was bad enough that everyone knew what happened. But knowing that they had seen the video was that much worse."
G. insisted she didn't want to have sex with her classmate. But other kids told G. it was her fault for not putting up enough of a fight. "They said I allowed it to happen to me," G. said. "But I had no idea what I was supposed to do."
No school principal wants to deal with such a catastrophe. But under the federal gender equity law Title IX, schools that receive federal funding have to thoroughly investigate all claims of sexual harassment and assault. Above all, schools must ensure that students aren't denied their right to an education on the basis of sex.
When G. reported her rape, Spring Creek's response denied her that very right, according to a federal complaint G.'s attorney filed against the New York City Department of Education in November 2015.
The first school administrator G. confided in didn't report the incident, the complaint states, while another asked her why she hadn't fought the boy off. Then, the principal sent G. home — indefinitely — while the school tried to get a handle on the situation.
Administrators didn't refer G. to counseling or legal services. They didn't forward her homework. They didn't follow up at all. After a four-day investigation, the principal told G.'s mother that she had arranged a "safety transfer" for G. to another school, as there was nothing more Spring Creek could do.
In fact, there was no transfer in place, according to the complaint. G.'s mother had to navigate the complicated transfer process herself. It took nearly a month before G. was able to enroll at another school — and that was only with the help of attorney Carrie Goldberg, a lawyer who specializes in sexual consent litigation.
A spokesperson for the NYC Department of Education said there were "inaccuracies" in the Title IX complaint, which is currently being investigated by the federal government's Office for Civil Rights. She would not comment further on the record.
In an interview at home, G. said she's still recovering from the incident — and she's still confused about why she was punished for telling the truth.
"Everyone was blaming things on me," G. said. "It was so much pressure. I couldn't take it. At times I felt like giving up on my life."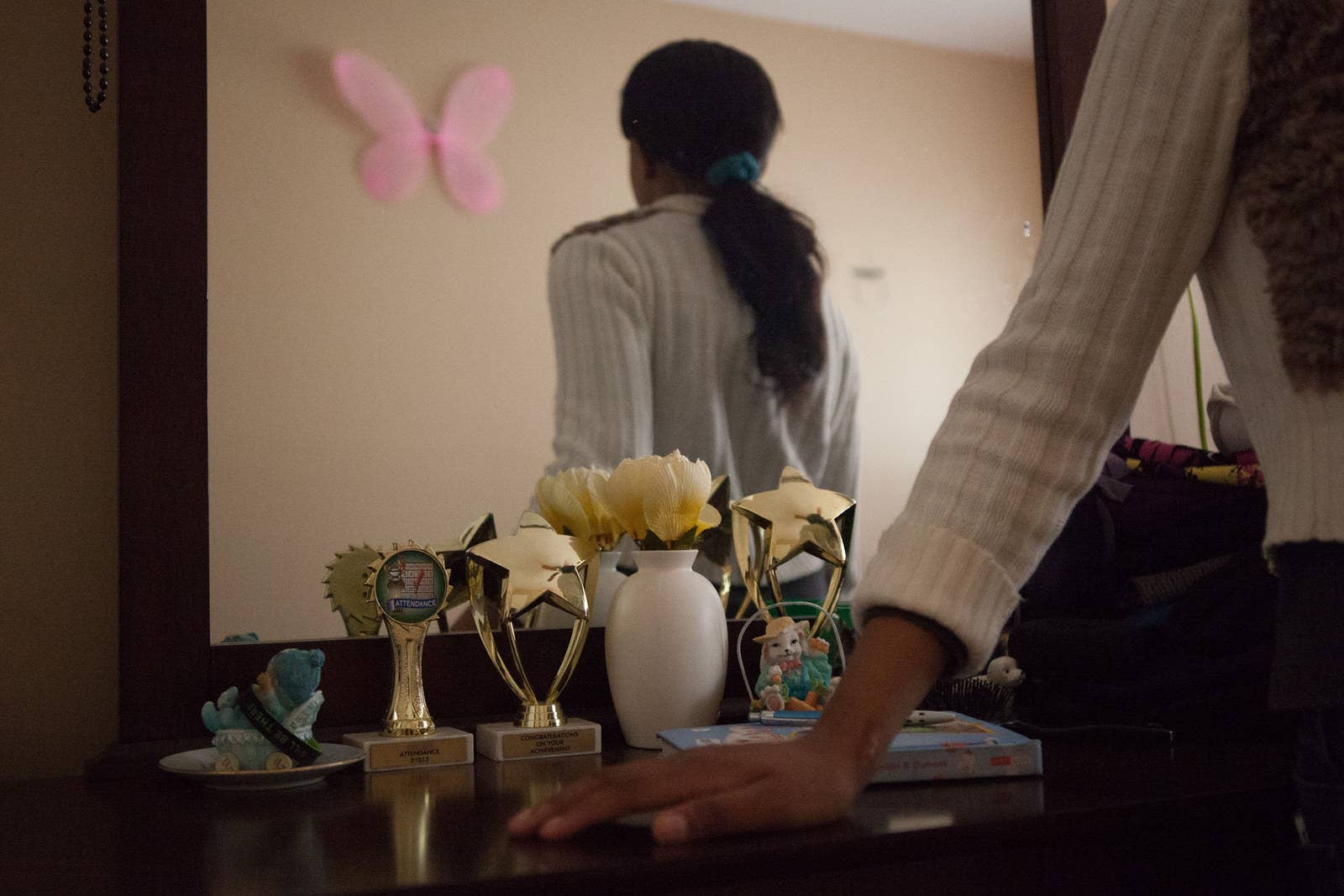 College students have filed hundreds of Title IX complaints in recent years. The anti–campus sexual assault movement has gone so mainstream that, in February, 50 survivors joined Lady Gaga onstage at the Oscars to perform her theme song to the campus rape documentary The Hunting Ground.
Kids in elementary, middle, and high school are protected by Title IX too. But they receive a fraction of that attention — even though they face much greater barriers to reporting and are more vulnerable than college students.
It's not for lack of guidance. In 1999, the Supreme Court upheld that school districts can be held liable for damages in student sexual harassment cases under Title IX. The Department of Education periodically sends letters to schools about their responsibilities under the statute and has made key resolution agreements with elementary and secondary school districts all over the country.
Under those guidelines, schools have to thoroughly investigate all claims of sexual harassment and assault — even if the police are already investigating, and even if students don't come forward themselves. Schools are supposed to ensure that the campus is not a "hostile" sexual environment, inform students and their families about Title IX grievance procedures (such as who to file a complaint with, or what to do if you're retaliated against for reporting), and designate a special Title IX coordinator to ensure they're following the rules.
In recent years, an increasing number of college activists have held their administrations accountable for failing to uphold the statute. In 2013, 32 Title IX complaints of sexual violence were filed against colleges and universities. The next year, there were 105; in 2015, there were 164. Far fewer complaints were filed against elementary and secondary schools: 31 in 2013, 22 the following year, and 65 the next.
As of Feb. 3, 2016, there were 81 sexual violence cases open for investigation (as opposed to complaints filed) at 73 elementary and secondary schools, including two at the NYC Department of Education, one of which is G.'s. At the university level, there were over 200.
It takes courage and some know-how for a college student to publicly identify as a rape survivor and advocate for herself. There are a few notable exceptions, but for most minors — especially kids from low-income families who attend struggling public schools — it's next to impossible.
G. had never had sex before the April afternoon she said she was raped. She had never taken a comprehensive sex education class. She's Haitian-American, and studies show girls of color already face significant barriers to educational success. Like most kids her age, G. wasn't comfortable talking about sex with her mother. That's why she was too scared to tell her what had happened.
"I knew something was wrong with my daughter," said G.'s mother. French Creole is her first language, but the school did not provide her with a competent translator during their meetings, according to the complaint. "I could feel her pain in my body. I hurt, too."
Given these common hurdles, advocacy is much more complicated at the K-12 level, "which means administrators really need to be leaders in order to address the issue," said Sandra Park, senior attorney with the ACLU Women's Rights Project. "School districts are much further behind than universities in terms of understanding the dynamics of sexual violence and harassment."
K-12 schools also have a more difficult time resolving complaints between minors who both have the legal right to an education (as opposed to college students). But there's no excuse for noncompliance, said Catherine E. Lhamon, assistant secretary for civil rights at the Department of Education.
"For schools to still be unclear about legal violations and their students' rights is an actual travesty," said Lhamon.
According to G.'s Title IX complaint, the incident took place near campus, while she was waiting for the school bus. It describes how the boy secretly videotaped himself penetrating G. and shared the video online — both crimes in New York. (His parents declined to comment.) G. was taunted by classmates both online and at school, where students used their cell phones to shove the video in G.'s face.
Two weeks after her assault, G.'s friends helped her tell a school staff member what had happened, according to the complaint. He asked her if the sex was consensual, but when she said it wasn't, he did not report it to other administrators or police, despite state mandatory reporting laws.
Later that month, G. reported the rape and the video to the principal. The principal called the police and G.'s mother, then told G. to leave school while they got the situation under control. Her presence would just "make things worse," the principal said, according to the complaint.
Police and school administrators interpreted the video segment as consensual sex, according to the complaint.
The police dissuaded G.'s mother from pressing charges and asked G. why she hadn't fought the boy — as did a school resource officer, who later told police that G. and the boy she said raped her were friends. That was not only untrue, according to the complaint, but a "bizarre" suggestion "that a prior friendship negated the occurrence of a sexual assault."
G. had no idea that the boy had filmed a video, or that it was posted online. But the school was more interested in accusing G. of dishonesty than treating those actions as crimes, the complaint alleges, "as if consensual sex would have made the nonconsensual capture and circulation of the video excusable." The school destroyed evidence that made later criminal investigations impossible, the complaint claims.
The NYC Department of Education, which has only one Title IX coordinator for around 1.1 million students, said the district's schools each have protocols in place to address incidents that are reported. But G. was never informed of her rights under Title IX. She was never contacted by the school's Title IX coordinator, or even informed that one existed at all.
Spring Creek did not respond to a request for comment.
Four days after G. was sent home, she still hadn't heard from the school. Without an appointment, she and her mother went to school to meet with the principal. That's when they learned the investigation was over. The situation was unfortunate, the principal said, but there was nothing else the school could do. The principal had arranged for G. to be transferred elsewhere. It would be best for G. to stay home until it was processed, she said, according to the complaint.
It was only with the help of her lawyer that G. and her mother discovered that the principal was wrong: No safety transfer had been submitted.
G. "was de facto suspended for being a victim," said her attorney, Carrie Goldberg. "That's how it works: If you don't feel safe, you're the one who has to leave."
Now G. is preparing for legal action, said Goldberg. G.'s case is one of four K-12 Title IX lawsuits across the country that Goldberg is working on, three of which are already under federal investigation.
"Title IX is one cause of action, but there's a greater standard of care required when you are dealing with underage kids," Goldberg said. "Schools shouldn't just be afraid of losing federal funding. They should also be afraid of lawsuits, and about jeopardizing the safety and wellbeing of their students."
Sexual assault at the middle and high school level is gaining more attention. In California, sex education for grades 7-12 is now mandatory, and health classes must teach affirmative consent. National groups such as Safe BAE and Stop Sexual Assault in Schools help young students advocate for themselves.
But no organization or deeper understanding of consent would have prevented G. from getting sent home from school for nearly a month. Without a dedicated lawyer and a strong-willed parent, she could have stayed there even longer.
G. is happy at her new school, she said, but she still doesn't feel comfortable around boys. She still has flashbacks of that April afternoon. She still worries that everyone thinks what happened was her fault. After all, that's how Spring Creek made her feel.
"Things have gotten better, but what happened is still such an impact on my life," G. said. "Sometimes I still feel like giving up."