On Nov. 19, 2011, Robert Champion stood at the front of his marching band's bus and prepared himself for pain. Then 26, Champion already commanded respect as an esteemed drum major in Florida A&M University's world-famous "Marching 100," which has performed for presidents, at the Super Bowl, in Coca-Cola commercials, and with Kanye West at the Grammys.
But in order to earn his bandmates' admiration, Champion had to "cross" Bus C, a hazing ritual in which he had to try to reach the back of the percussionists' bus while his bandmates hit, kicked, and pummeled him with drumsticks. An hour after he made it through, Champion died of blunt-force trauma.
At the time, FAMU was the largest HBCU in the country, and the Marching 100 was often described as the best marching band in the world. Champion's death was a severe blow to its reputation. Enrollment dropped nearly a quarter from 2011 to 2014, knocking the Tallahassee, Florida, school down to third place, and is still on the decline. The band was suspended for two years and now has half the members it did when Champion marched. FAMU risked losing its accreditation, the university president and marching band director were both forced out, and 15 former members of the band were criminally charged, with the student accused of organizing the hazing receiving a six-year prison term.
There has been at least one hazing-related death on a college campus each year since 1969, according to Hank Nuwer, a Franklin College professor who has written several books on hazing and tracks related deaths — the first was reported in 1838 — on his website. There are plenty of theories about why students haze and are willing to be hazed, but there are no official statistics on hazing-related deaths in the U.S., and there's even less information about the experiences of black students. The 2008 National Study of Student Hazing, which is the most comprehensive national study to date, didn't include HBCUs, and only 3% of its more than 11,000 participants identified as black.
But scientists can't collect consequential data unless student groups are willing to expose — and let go of — clandestine rituals that, for many, serve as essential touchstones in their development. Could Champion's death be a tipping point? Four years later, FAMU still hopes so.
In 2013, FAMU hired Bryan F. Smith to serve as a full-time "anti-hazing czar," as one local paper dubbed him. He was tasked with establishing an effective complaint process and overseeing other overdue initiatives, such as hiring a compliance officer for the band; implementing new training, academic, and physical requirements for student organizations; teaming up with local law enforcement; and hosting town hall forums.
FAMU also gave two psychology professors — Jermaine Robertson, Ph.D., and DeAnna Burney, Ph.D. — two-year $25,000 grants to study hazing on campus. They say it's the first time scientists have researched hazing in-house at a historically black university. Soon, they hope to take the unprecedented but preliminary research they've conducted around the nation.
Smith wants to fill the empirical gaps in existing research to end hazing at HBCUs, given that disciplinary intervention, state laws, threatening lawsuits, and brutal deaths haven't helped. "You have to face reality if you want to implement change," he said. "With some of the history at FAMU, we thought it would be good to lead the way."
Not everyone believes the school's motives and methodologies are pure. Last month, Champion's parents settled their lawsuit against the university for $1.1 million and an apology, but before then, the school had argued that Champion's own "imprudent, avoidable" actions were responsible for his death. Pam and Robert Champion Sr. had not previously heard of the in-house hazing research initiative, they said, but were concerned about FAMU's ability to deliver an objective report, since school administrators were well-aware that hazing was a persistent problem in the marching band for decades before their son was murdered.
"We're not confident that they can come up with credible research, given that they don't have a track record of telling the truth," said Pam Champion, who launched her own anti-hazing organization, the Robert D. Champion Drum Major for Change Foundation, in 2012. They're not sure data on racial or cultural differences — which is what the FAMU researchers are focusing on — will matter so much, either.
"While FAMU may be looking at it from a black-and-white standpoint, hazing is American," said Chad E. Franklin, one of the foundation's co-founders. "We don't want people thinking that hazing is endemic to people of color. Violence itself is bigger than that."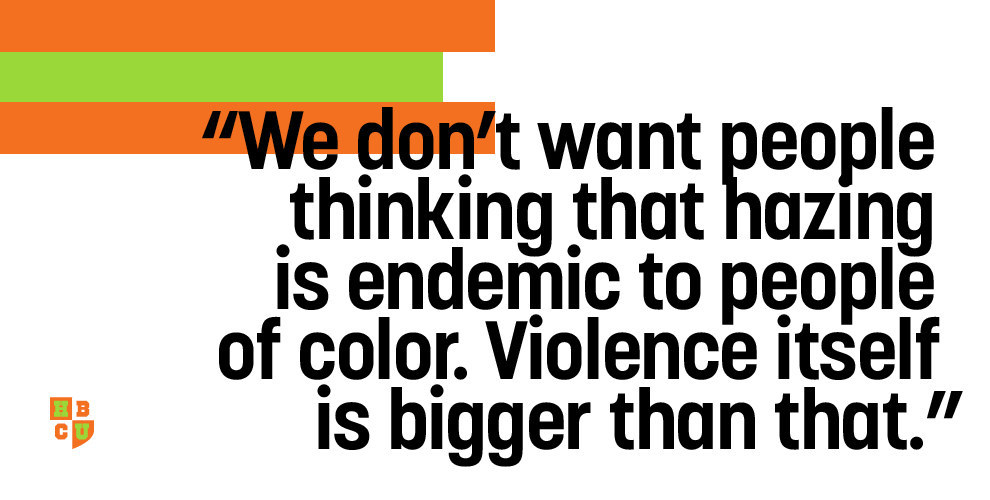 Both scholars and former students have long argued that hazing at HBCUs and in black groups at predominantly white institutions (PWIs) manifests differently than it does in white groups. They say that black members are much more likely to participate in — and die from — physically violent hazing than they are to conduct gross-out pranks, binge-drink, or participate in rites involving sexual assault. Hazing has also spread from fraternities to other black organizations on campus, they say, which is how Champion ended up being hazed by his marching band.

There are straightforward theories for some of these differences: Binge-drinking may be less of an issue at HBCUs because student groups don't always have the funds to buy kegs or the space to throw parties. But some experts say the underlying issues are influenced by the psychological effects of racism as well as long-held black traditions distinct from those of white Greek organizations.
In 1906, black students at Cornell University created their own fraternity, Alpha Phi Alpha, after being barred from white ones. Eight more Black Greek Letter Organizations (BGLOs), which now make up the National Pan-Hellenic Council, were founded over the next 60 years, referred to as the "Divine Nine." BGLOs offered students lifelong friendships and professional connections, along with scholarships and community service programs. Role models like Martin Luther King Jr., Jesse Jackson, Toni Morrison, Maya Angelou, and Thurgood Marshall were all members who embodied values the groups championed: brotherhood and sisterhood, scholarship and service.
BGLOs also picked up the abusive hazing practices found in many white fraternities. In the 1920s, Howard University's newspaper started reporting on the campus's "Hell Week" for pledges, and a fraternity member at Lincoln University described hazing that left wounds as raw as "fresh beef steak" in a 1928 school newspaper article. At Lincoln, "the paddling of pledges could be heard through the dormitories," wrote Walter Kimbrough, the president of Dillard University in New Orleans, in Black Greek 101: The Culture, Customs, and Challenges of Black Fraternities and Sororities.
Black and white Greek organizations alike grew more concerned with hazing by the end of the 20th century. In 1989, 18-year-old Joel Harris died after pledging a Morehouse fraternity and subjecting himself to a custom known as "thunder and lightning," where a pledge is repeatedly punched in the chest and then the face. He wasn't the first BGLO member to die from hazing, but his death convinced the National Pan-Hellenic Council to ban not only hazing but all forms of "pledging" in lieu of a short "member intake process." The zero-tolerance policy only made students resentful and drove hazing underground, experts say.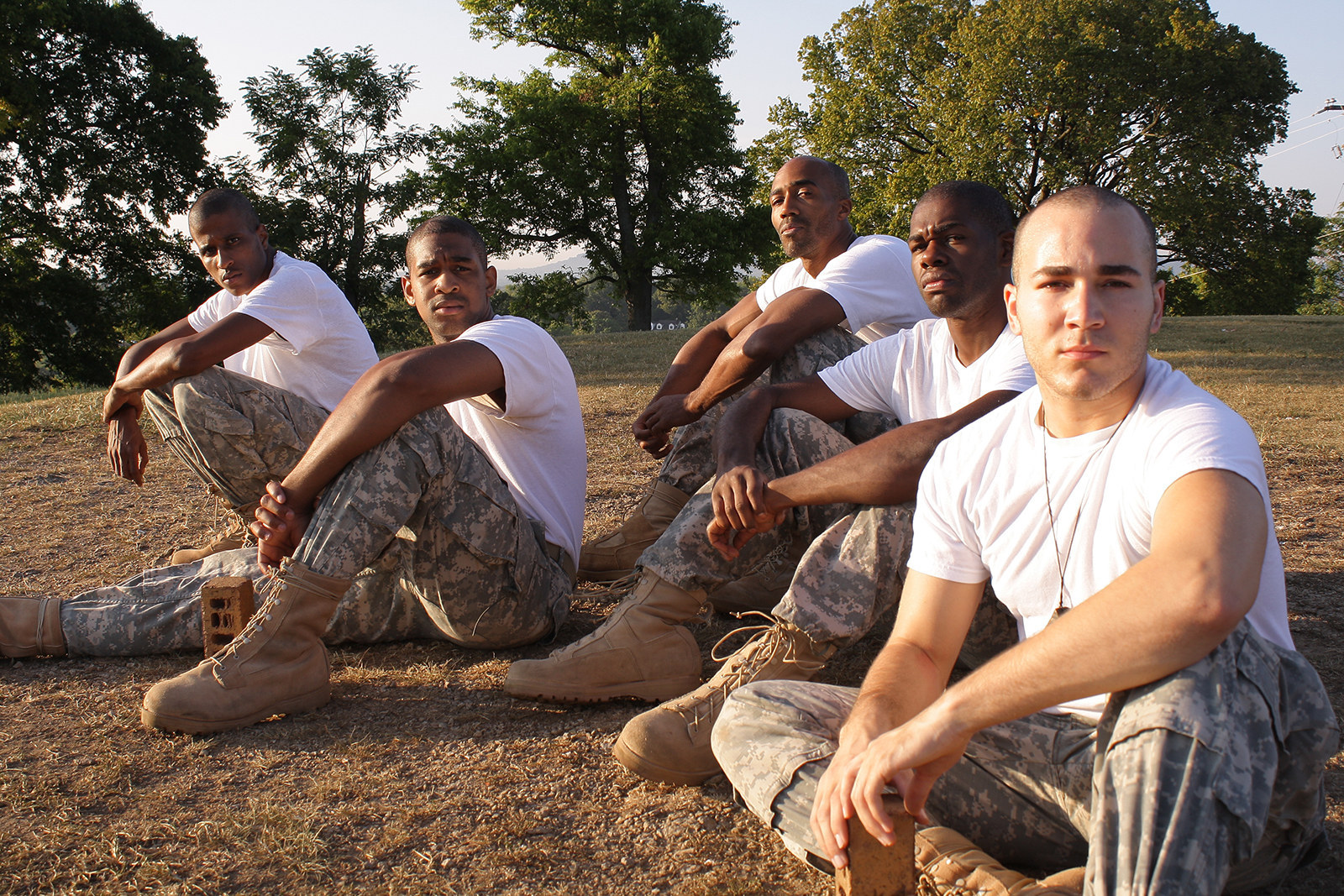 Many black Greeks wistfully recall the "good old days" before hazing was banned, said Jeff Obafemi Carr, a Nashville artist whose movie, He Ain't Heavy, is based on his own experiences with hazing at a Tennessee State University fraternity. The late 1980s and early 1990s in particular are "the stuff of folklore," "the time where you could walk in lines, death march up the middle of the campus, dress alike, keep an identical hairstyle, perform random step shows in the middle of the night in front of dormitories, get cussed out by your superiors in the student plaza in front of everyone ... and no one said a frigging word," he wrote in an upcoming book about hazing in BGLOs.
One study published this year found that hazing has become increasingly violent within black fraternities. Researchers analyzed over 350 lawsuits involving hazing from 1980 to 2009 and found that physical hazing — examples include paddling, beating, kicking, and pelting — represented 68% of the total number of reported incidents for black fraternities, but only 16% of the total cases for white fraternities.
Perhaps the spike was due to beliefs that in order to become a real member, not just a "paper" one — as in someone who wrote a check, filled out paperwork, and took a test instead of undergoing a rigorous underground pledging process — one must take greater measures to prove himself, the researchers wrote. Thus, the symbolic initiation traditions of BGLOs have been "misconstrued and misinterpreted" into "inhumane" practices, the researchers wrote. (The study also looked at black sororities, but found their hazing practices were less violent and ubiquitous.)
After Champion died, FAMU's ousted band director released documents that proved his hazing warnings had been ignored by the school for decades. When Smith implemented a reporting system in 2013, students alleged that all sorts of groups were hazing: dance teams, the National Society of Pershing Rifles, the school's chapter of a nonprofit called Progressive Black Men — even the campus choir.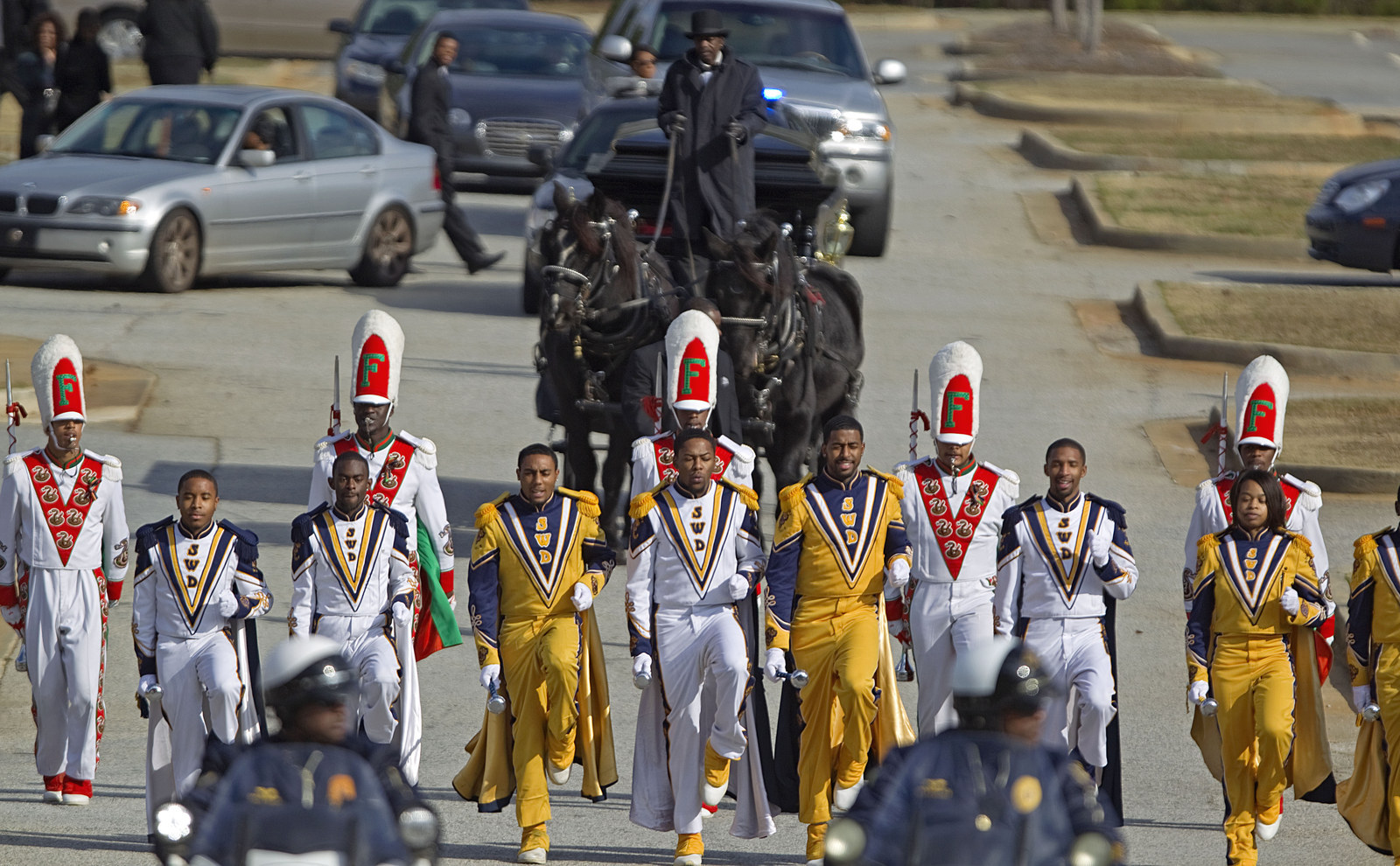 Champion's death was a "transformative" case because it shed light on hazing as a problem that goes far beyond fraternities or even college campuses, since many people now first experience hazing in high school, said Kimbrough. "If it had been another fraternity hazing, it wouldn't have gotten as much attention," he said. "But people were like, 'What, bands are killing people?'"
The irony of these brutal hazing rituals is that HBCUs have always been a space for black students to "have an opportunity to be somebody and gain positions of prestige that we can't at PWIs," Carr said. "At HBCUs, we get to experience what it feels like to not have race be a factor. Oftentimes, it's one of the first times we find ourselves in leadership positions. And because that's new, we take pride in that, especially given the disenfranchisement that takes place in society. Once we obtain that elite status, we can go overboard."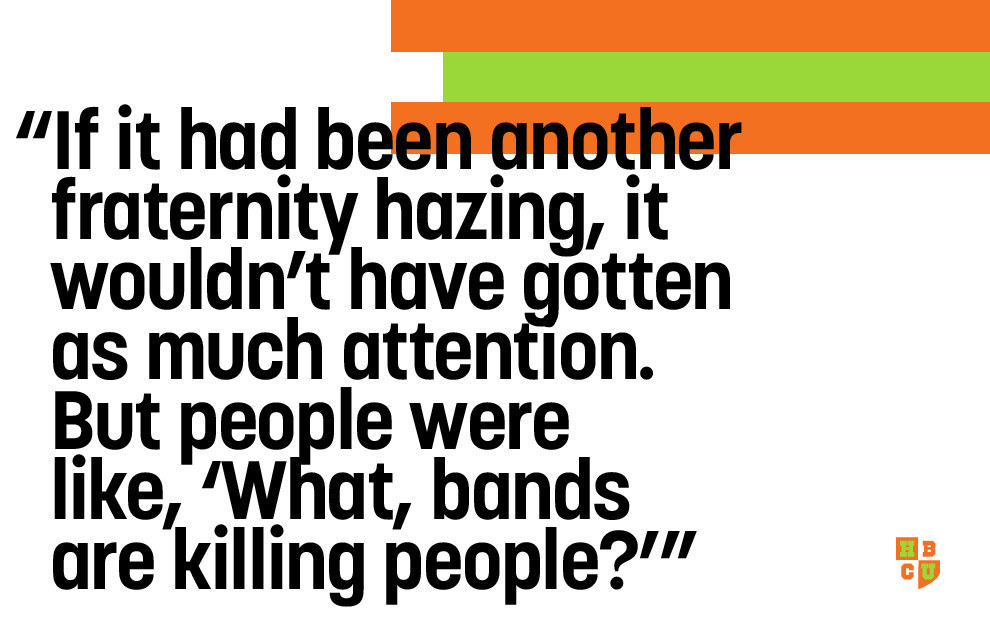 Champion, who was 6 feet 1 inch, 235 pounds, and "previously healthy," according to his autopsy report, was beaten so badly by his bandmates when he "crossed" Bus C that he died of soft-tissue bleeding all over his torso in just an hour. But when you're told that's how it's always been — and that once you go through it, you'll be tougher than before — it's easier to rationalize, former members say.

The nostalgic stories have even filtered into high school and middle school bands. When Champion died, Devon Marrett, now 24, was a junior who had recently left his position as a drum major in the Marching 100 to focus on schoolwork. He first encountered hazing as a ninth-grader in his high school's marching band, and by college, he was desensitized to it, he said. But after Champion's death, he couldn't rationalize it any longer.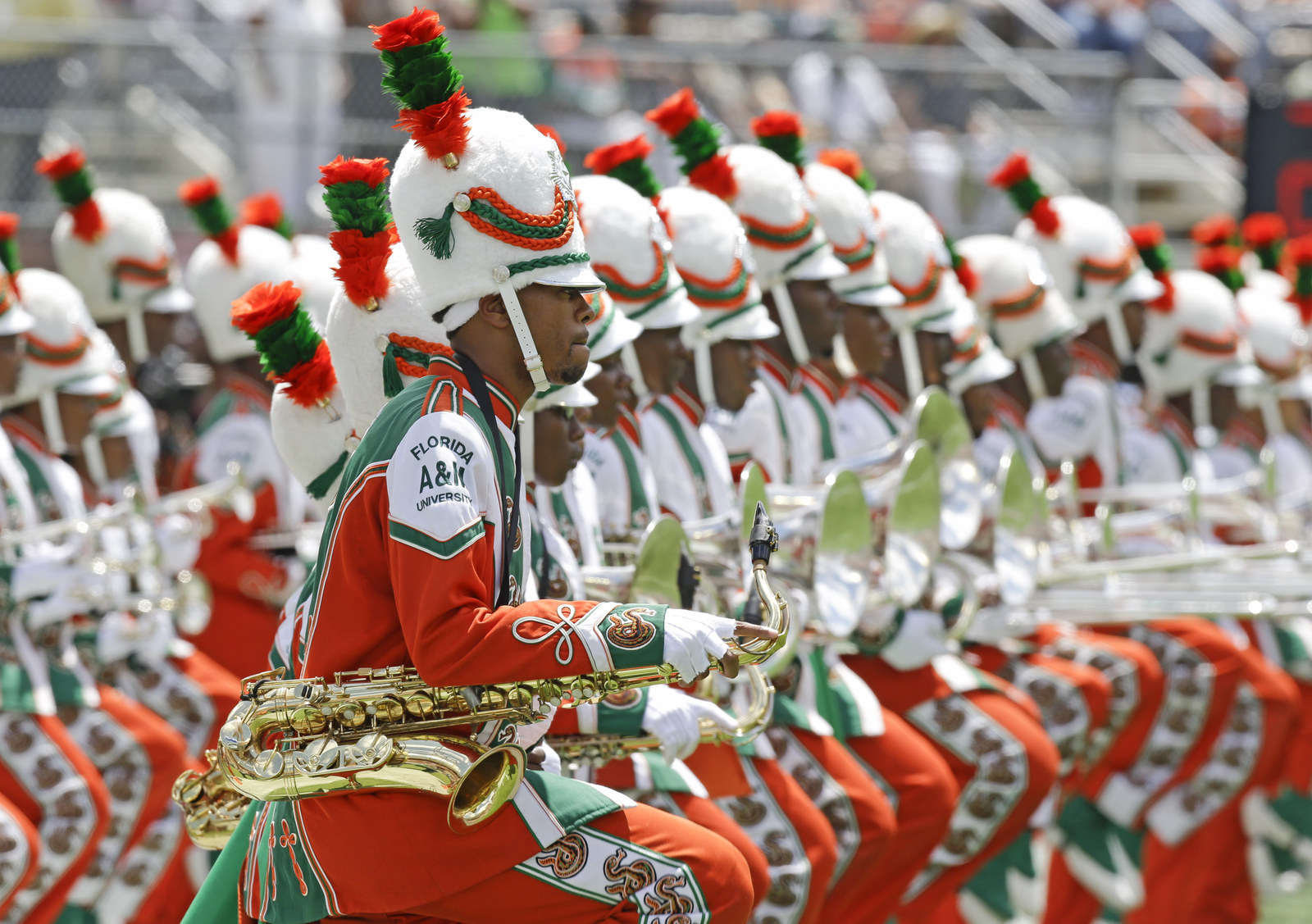 "If someone is standing at attention, or doing push-ups, I can tell myself, OK, the purpose of that is to teach focus and concentration," Marrett said. "But it was clear that there was no purpose behind [Champion's] death. So why? Why would something like that happen?"
At the time, Marrett was taking a psychology class with Jermaine Robertson, one of the professors chosen for the research grant. Robertson had marched in FAMU's Marching 100 in the 1990s, and he had also been badly hazed in middle school. Marrett was intrigued by Robertson's belief that the roots of college hazing, at least for HBCU students, seemed to start much earlier than college, and that many young people such as himself didn't define hazing in the same way as the school and state laws' stringent, zero-tolerance policies did.
"I'm not sure what my definition of hazing was, which is why I went through certain things that might be considered hazing by the state of Florida," Marrett said. "When someone older says, 'This is the process,' it's very hard to go against that, because the need to belong is so great." Marrett started assisting Robertson in his research, focusing specifically on the relationship between hazing and the "cultural misorientation" of African people who have been "separated by their culture through forces beyond their control."
The National Study of Student Hazing was a helpful starting point, said Robertson, who specializes in African-American psychology as well as "Africentric clinical intervention and assessment." The study, which found that alcohol consumption was the most frequently reported hazing behavior, followed by sleep deprivation, various forms of humiliation, and sex acts — not the physically destructive acts black members nationwide describe — didn't take "racial identity" into account, he said.
Robertson reached out to the researchers who conducted the study to ask if he could use it to test out his own hypotheses, and one called the work he's done so far "pioneering." But Robertson is clear that it's only pilot data. The next step, he said, pending funding, is to figure out what questions they should be asking in the first place, since the National Hazing Survey's questions were based on what goes on at PWIs.
"We have to help each other understand that you can have rich traditions without destructive behavior," he said.
Marrett graduated from FAMU in 2014 and no longer works with Robertson, but wants to continue working on hazing-related research in the future. In the meantime, he said, he's been talking to the younger guys he knows who are still in the Marching 100. "I tell them to slow down, and think about why they're participating before they do anything," he said. Marrett has often wondered whether he would have followed in Champion's footsteps if he had stayed in the band. If he had thought harder about the connection between racial and cultural identity and hazing that Robertson tested for, he wouldn't have, he said. But he thinks that by then, for most teens, it's too late.
"It's good to target college students," he said, "But you would have had to start earlier than 17-year-old me."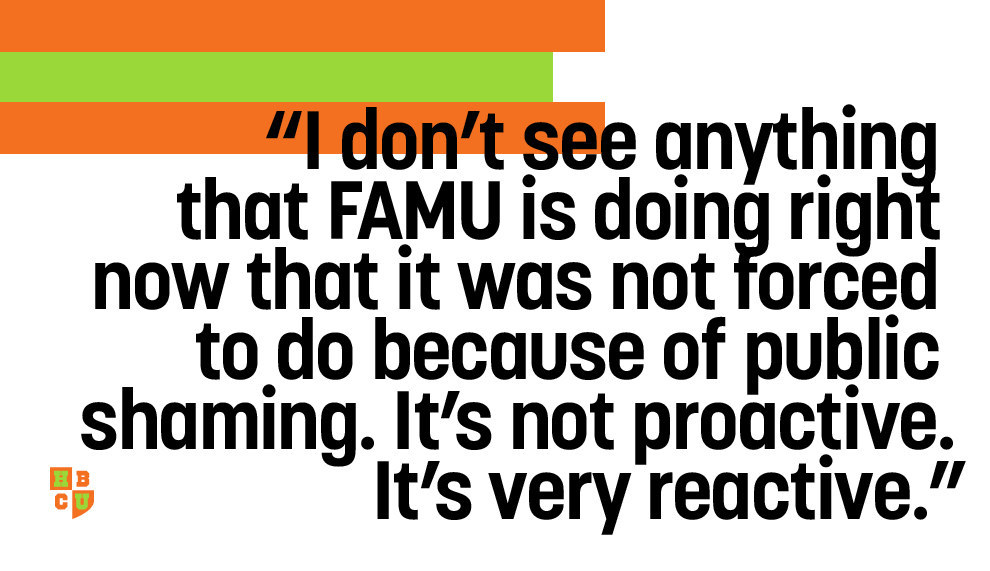 One building over, DeAnna Burney, the other FAMU grant recipient, has been researching hazing from a more practical perspective. In 2001, Burney developed a scale that assesses how adolescents respond to anger. After Champion's death, she wrote a proposal to develop the same type of instrument to gauge which students are most at risk for hazing, and how to help them if they are.

Burney tested for health risks more common in black Americans, such as diabetes and hypertension. Unsurprisingly, her preliminary findings show that pledging is a high-stress activity and that students with those health histories should be monitored, as they shouldn't stay up all night or go without eating. She also tested for psychological and environmental risks, and found that HBCU students may be more likely to be desensitized to hazing if they experienced abuse as children or grew up in a violent neighborhood. "If people have a history of abuse, they might mimic that type of discipline" through hazing, she said.
That may explain why many of the students she surveyed could not provide a formal definition of hazing, she said. It's not just that they couldn't put it into words, but that they believed "student organizations have demands that require physical work and practice," and that hazing was a form of "discipline" that warded off slackers and "motivates the student to prove themselves as a viable member of the organization."
"Participants reported that some forms of harsh expectations are needed to break a student and remake them to be suitable for an organization," she wrote in her research report. In their view, "hazing is necessary to make a person better."
Even administrators may be desensitized to hazing. Burney found that 90% of a focus group of around 50 students believed FAMU faculty members supported hazing behaviors. (Many experts consider faculty and alumni influence a major factor in perpetuating abuse, and although it's not clear that's the case at FAMU, the student perception that they influence it matters.) "They said, 'When we go into their offices, they have their paddles on the wall,'" Burney said.
Some of Smith's anti-hazing efforts are in line with the researchers' preliminary findings: He speaks regularly to middle and high schools about hazing, for example, and all new members of the Marching 100 must take a physical exam. But he doesn't want to limit the research to FAMU: He plans to publish a regular journal on hazing research and reach out to other colleges to conduct similar surveys and develop more comprehensive results. When that will happen depends on funding and persistence, which skeptics say might decrease as the years since Champion's death pass by.
"I don't see anything that FAMU is doing right now that it was not forced to do because of public shaming and criticism," said Ricky L. Jones, the author of Black Haze: Violence, Sacrifice, and Manhood in Black Greek-Letter Fraternities. Jones served as an expert for the Champion family in the FAMU hazing lawsuit, and the mismanagement at FAMU prior to Champion's death was the worst he's ever seen in his career, he said. "I don't think they deserve any kudos for being an institution that's leading the way about research or institutional reform," Jones said. "It's not proactive. It's very reactive."
This year, there are incoming freshmen on FAMU's campus who haven't even heard of Champion. But Smith says that doesn't mean they'll give up on their long-term plans. Still, they're not completely convinced themselves that any research could eradicate hazing. None of the students in Burney's study could think of any "replacement behaviors" for hazing. Neither can Smith.
"Can you imagine students saying, 'You know, we had this philanthropic exercise where we were trying to see which school could make the most money,' or, 'I really learned from this team-building exercise?'' he said. He's not even comfortable saying that their efforts have curbed hazing on FAMU's campus for good.
"I think it would be naive to say nothing's going on," Smith said. "But you have to hope you don't push things so deep underground that you never know until there's a problem."
Without that clear knowledge of what's happening on their own campus, FAMU has no business positioning itself as a leader, said Pam Champion.
"They have to be accountable themselves before they put the focus somewhere else," she said. "What has FAMU learned from this tragic incident? How are they going to make sure it doesn't happen again? We have enough surveys and we have enough people crunching numbers. Now it's time for action."