When Sally Haslanger, a prominent feminist philosophy professor at the Massachusetts Institute of Technology, returned to her Cambridge office in August after a summer abroad, she found a padded envelope with no return address waiting for her.
She opened the package while sorting through her other junk mail and stuck her hand inside to feel what was there.
"Then I thought, 'Oh shit,'" Haslanger said. "'This is shit. I'm one of the other people who got the shit!'"
MIT's Environmental Health and Safety team confirmed that the substance was feces, according to a university police report. But Haslanger wasn't as confounded as one might expect a well-respected philosopher to be when faced with a mysterious package of poop. That's because three other philosophers also received shit in the mail last summer.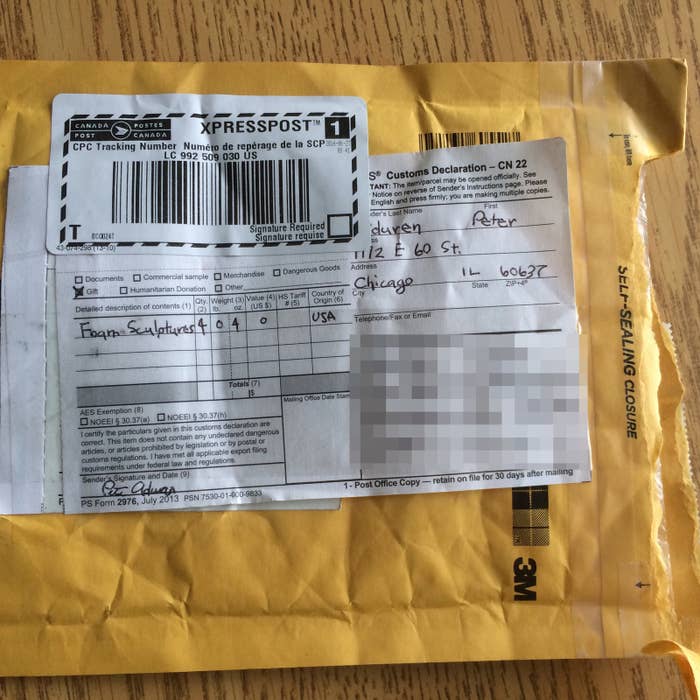 In July, Carrie Ichikawa Jenkins, a philosophy professor at the University of British Columbia, emailed Haslanger, who's a friend, to say she had received feces in the mail — creatively described by the mystery sender as "foam sculptures," according to the attached customs declaration.
The same month, J. David Velleman, a philosophy professor at New York University, stuck his hand into an envelope of shit delivered to his office door.
After this story was published, a fourth philosophy professor, Carolyn Jennings, at the University of California, Merced, emailed BuzzFeed News photos of the unmarked package of feces she received in July.
All four philosophy professors were embroiled in a 2014 academic brawl over what they perceived as an abuse of power within their field. Now, they say someone is sending them shit in an attempt to shut them up.
The question is, who? And why now?
Jennings', Haslanger's, and Velleman's packages were stamped but had neither a return address nor postmark. However, Jenkins' package contained tracking information, which traces back to a USPS facility in Chicago. Brian Leiter, a renowned philosopher and law professor at the University of Chicago, is the colleague with whom the four had a high-profile squabble two years ago. The return address is one digit off from Leiter's office at the University of Chicago, and the sender is listed as "Peter Aduren," a pseudonym that some believe is used by Leiter.
Leiter emphatically denied sending excrement to anyone.
"I have no insight into why crazy people would do crazy things like mail shit to people," he said via email.
Leiter, a prolific and often pugilistic blogger, has many critics who lurk in online communities for academics, particularly those for law school graduates, he said. He suggested one of them might have "picked up the 2014 controversy in philosophy and decided this was a good way to stir the pot."
"This is about trying to embarrass me," he said. "This isn't about the recipients."
It's hard not to laugh at philosophical discourse sinking to the depths of potty humor. (Although, as the 16th-century French philosopher Michel de Montaigne once said, "Lest we forget: 'Kings and philosophers shit, and so do ladies.'")
But this is serious shit. The recipients said they felt the packages were meant to threaten them.
"This is not a funny joke, but a seriously hostile act," said Haslanger. "Such acts are clearly aimed to degrade and silence us."
In recent years, philosophy professors have worked to improve what some say is a hostile professional climate dominated by white men. Studies show that women and minorities face discrimination and have a difficult time succeeding in the field (Haslanger has researched the topic).
One of the most powerful players in philosophy is Leiter, who in 1989 founded the Philosophical Gourmet Report, a highly influential ranking of philosophy PhD programs that the New York Times has called a "bible for prospective graduate students." Leiter and his report have drawn controversy for decades, but the shit really hit the fan, so to speak, in 2014, during a convoluted clash that began when Leiter felt personally attacked by a blog post Jenkins wrote. In it, she pledged to treat other philosophers with respect, especially those more junior or "professionally vulnerable."
Jenkins and Leiter had never met, and her post did not name him or the Philosophical Gourmet Report, but Leiter emailed Jenkins to ridicule her post and to accuse her of taking aim at him in it. Leiter also wrote that Jenkins came across on social media as an "SA," or sanctimonious asshole, and that her post was threatening and "probably defamatory." By September, hundreds of philosophers had signed a pledge vowing not to provide volunteer work for the Philosophical Gourmet Report "under the control of Brian Leiter."
"The effects of this on Professor Jenkins since July have been very serious, impacting her health, her capacity to work, and her ability to contribute to public discourse as a member of the profession," the pledge read. "We don't find what has happened to our colleague acceptable, and don't wish voluntarily to help provide Professor Leiter the power that makes it possible."
Sally Haslanger and David Velleman also published their own concerned statement that included emails Leiter had sent to Jenkins and other women that they felt contained "serious and credible threats aimed at silencing the recipients."
Soon after, Leiter agreed to step down from editing the report. He also hired a lawyer, he wrote on his blog, since he believed there were "misstatements of fact" in the September pledge. He never filed suit, although this summer, he posted a series of Jenkins' emails on his blog that he obtained through public records requests.
Philosophy has recently undergone a sea change that "rejects acquiescence to abuses of power in philosophy" and "seeks to support rather than silence the vulnerable," according to a post on the philosophy news blog Daily Nous. A spate of high-profile sexual misconduct scandals at philosophy departments nationwide has further spurred calls for change.
But the mysterious shit-stirrer makes clear there's still "a problem in the discipline — 'toxic' is no longer a metaphorical term," said Jennifer Saul, a professor in the philosophy department at the University of Sheffield and editor of the blog What Is It Like to Be a Woman in Philosophy.
"This shows, I think, the urgency of the growing campaign to improve our field," she wrote in an email.
Although it's impossible to know who sent the packages, "it does seem that we know why," she said, given that the initial three professors are only connected by their criticism of Leiter's emails. (Leiter also said in an email that what those three professors had in common "was their role in launching an attack on me around the time the last edition of my philosophy rankings were supposed to come out in fall 2014.")
There's not much the recipients can do. Although Haslanger, Velleman, and Jennings notified campus security, and Jenkins filed a police report, the authorities didn't seem interested in investigating, the professors said.
Haslanger saved her poop-filled envelope in hopes of nabbing the culprit. But two facilities that specialize in poop DNA analysis told BuzzFeed News it was likely too old and contaminated to test. (Poop itself does not contain DNA, although fresh or frozen excrement can be tested since cells scrape off the human body on its way out.)
While it might seem like a crappy prank, it's also scary.
"It looks to me like this was sent by somebody who had a specific and personal intention against Carrie," said her husband, Jonathan Jenkins Ichikawa. "Someone put literal feces in her office. I can't imagine any possible reason to do that, other than to hurt and intimidate."
This story has been updated to include information about a fourth philosophy professor who received feces in the mail last summer.
CORRECTION
Jennifer Saul is a philosophy professor at the University of Sheffield who recently stepped down as chair of the philosophy department. An earlier version of this story said she was still the chair.