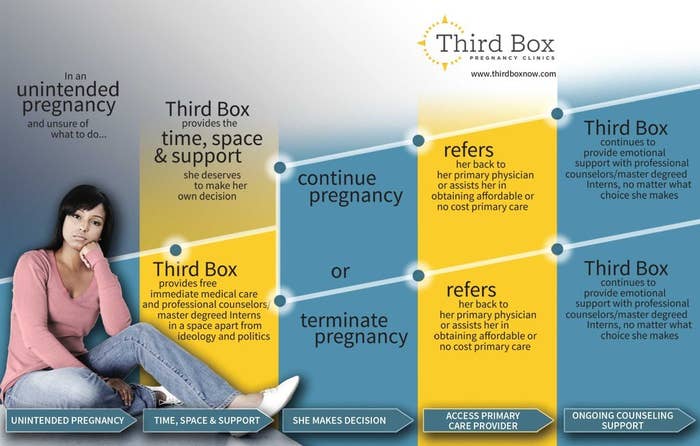 Third Box Pregnancy Clinics bills itself as a new national nonprofit "social franchise organization" that is "deeply dissatisfied with the status quo in our country over abortion."
The name signifies "a space that's not part of a political movement," according to Third Box's website.
Third Box claims it isn't a crisis pregnancy center — faith-based, anti-abortion nonprofits often accused by abortion rights groups of misleading women — or an abortion clinic.
But Third Box is the descendant of First Resort, a Bay Area network of clinics that has repeatedly come under fire for concealing its anti-abortion stance.
Both Third Box and First Resort share the same CEO, Shari Plunkett. In 1999, Kaiser
Permanente stopped referring women to First Resort after Plunkett told a conservative newspaper that she believed "every woman's heart is telling her to carry to term, because God has placed truth in her heart, and the truth is that abortion is never the right answer."
In 2011, Plunkett told supporters in an email that the closing of local abortion clinics prompted "one of the most amazing opportunities we've ever had to serve abortion-minded women."
The same year, San Francisco City Attorney Dennis Herrera and Supervisor Malia Cohen introduced the Pregnancy Information Disclosure and Protection Ordinance, which prohibits "limited services pregnancy centers" from making false or misleading statements to the public relating to their services.
First Resort has thus far unsuccessfully challenged the ordinance's constitutionality in an ongoing lawsuit, claiming that it "burdens its right to free speech, and in particular, its ability to express anti-abortion views to women using its clinic."
Now First Resort has rebranded itself as Third Box, led by Plunkett and Fred Amoroso, a former Yahoo chairman who was also involved in First Resort, according to its website. Third Box says it currently operates three clinics in San Francisco — the centers still listed on First Resort's website — but has plans to expand in 12 other cities across the country.
Visitors to Third Box's website are encouraged to donate to the "epic new cultural movement" by making a "financial contribution of any size that will help Third Box catalyze a movement of culture care, not culture war – and advance the common good."
On Third Box's donation page is this disclaimer: "Thank You for your gift. Third Box Pregnancy Clinics exists to provide time, space and support for women in unintended pregnancies who are unsure about their decision. Third Box Pregnancy Clinics is the successor organization to First Resort. During this transition period, First Resort will be handling the administration of all donations."
Third Box declined repeated requests for a telephone interview and did not respond to a list of emailed questions.
Crisis pregnancy centers have been around since the 1960s and currently outnumber abortion clinics about 5 to 1, according to an estimate in a recent Vice report. NARAL Pro-Choice America regularly documents evidence of what it considers deceitful crisis pregnancy centers across the country. They've found that some employ deceptive billboard and public transportation advertisements, while others buy online ads; in 2011, "First Resort" was one of the first search results for "Where do I get an abortion in San Francisco?" Some clinic staffers tell women that abortion increases the risk of breast cancer, suicidal ideation, and infertility — all widely debunked claims.
Most cities' attempts to regulate crisis pregnancy centers have been unsuccessful. In cities such as Baltimore and New York City, centers and anti-abortion advocates successfully challenged ordinances on the basis that they were First Amendment violations. But as media coverage of crisis pregnancy centers has grown, centers have been "forced to go back to the drawing board to reinvent themselves to mislead," said Samantha Gordon, director of public affairs at NARAL.
"We're not against women getting the care and support they need when dealing with unintended pregnancy," Gordon said. "We're against biased counseling, shaming, and lying to get women through the front door so you can force your ideological agenda on them regardless of their circumstance."
First Resort's lawsuit against San Francisco's Pregnancy Information Disclosure and Protection Ordinance is still ongoing. A previous version of this article stated otherwise.