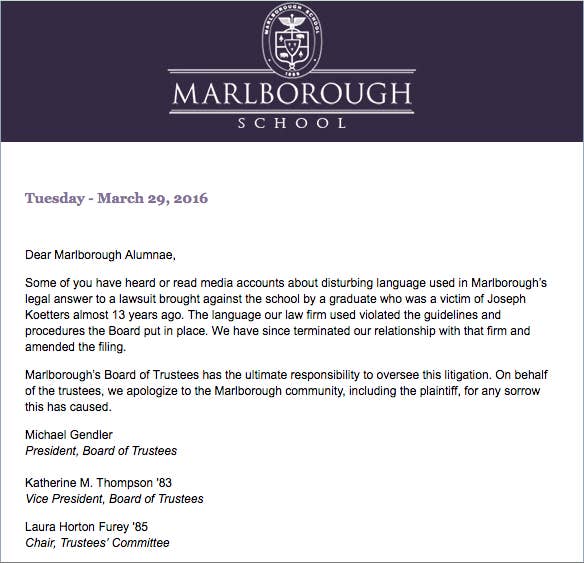 The Marlborough School apologized to alumni on Tuesday for using what it called "disturbing language" in a contentious ongoing lawsuit brought against the school by a graduate who was sexually abused by a former teacher. Marlborough, an elite private all-girls high school in Los Angeles, also fired the law firm and will amend the filing, its board of trustees wrote in a letter to alumni.
BuzzFeed News reported last week that Marlborough's legal defense had claimed the woman suing the school is responsible for the emotional and psychological suffering she's experienced because she did not speak up sooner. For the same reason, the school argued, she was at fault for having "exposed" other students to potential sexual abuse.
The former teacher, Joseph Koetters, is currently serving a jail sentence for sexually abusing the plaintiff and another 16-year-old student in the early 2000s.

Following the BuzzFeed News article, outraged alumni launched a Change.org petition urging the community to stop giving financial support to Marlborough until the school changed its defense.
Marlborough alumni received an apologetic email Tuesday evening from the Board of Trustees.
The legal language "violated the guidelines and procedures the Board put in place," the board wrote. "We have since terminated our relationship with that firm and amended the filing ... On behalf of the trustees, we apologize to the Marlborough community, including the plaintiff, for any sorrow this has caused."
In a statement to BuzzFeed News, Marlborough's board of trustees confirmed that it had amended the filing and said the language their former law firm used was not "reviewed or approved" by the board.
The plaintiff's lawyer, David M. Ring, said that the retraction was "not enough" because the school is still claiming that the victims waited too long to file suit.
The law firm, Mckool Smith Hennigan, did not respond to requests for comment.