Everything You Need To Know About The New White House Campus Sexual Assault Report
Rape survivors and higher education experts weigh in on the White House's confusing new guidelines.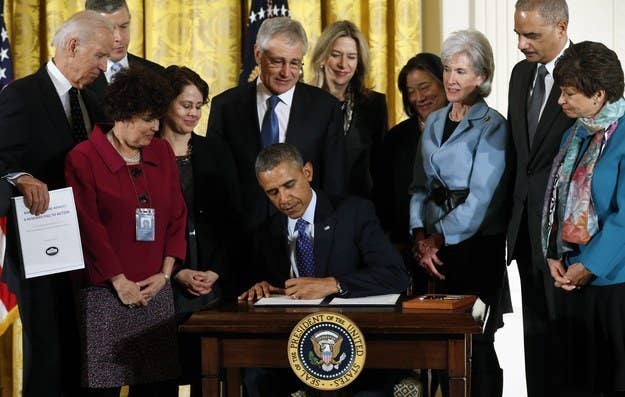 The White House's new guidelines on combatting campus sexual assault fail to hold both rapists and their administrations accountable, according to higher education experts and victim's rights advocates.
They say the 20-page report, compiled by a task force that President Obama formed in January, is a step in the right direction, especially in terms of increasing transparency, thus taking the burden off sexual assault survivors to tell their own stories again and again. But the lack of immediate sanctions for schools that fail to comply with already existing federal laws may be an opportunity for legislators — many of whom have joined the cause this year — to take congressional action.
"Increased coordination and transparency are important, but they are ultimately only accessories to real enforcement," said Alexandra Brodsky, co-founder of activist coalition Know Your IX/ED Act Now and one of 16 students and alumni who filed a Title IX complaint against Yale University in 2011.
BuzzFeed spoke to some of the higher education experts, victim's rights advocates, and student survivors who worked closely with the task force to break down the report.
The Good
Campus Climate Surveys
Under the federal Clery Act, schools that receive federal funding are required to accurately report campus violence; it's estimated that 63% of schools fail to do so. The task force is providing schools with a toolkit to conduct campus climate surveys to "gauge the prevalence of sexual assault on campus, test students' attitudes and awareness about the issue, and provide schools with an invaluable tool for crafting solutions" and plans on exploring legislative or administrative options to require schools to conduct these surveys by 2016.
Mandatory climate surveys will "force schools to close the gap" between the number of formally reported assaults and those disclosed by students in surveys, said Laura Dunn, founder of SurvJustice and a sexual assault survivor who lobbied to enact the Campus SaVE Act in 2013.
NotAlone.Gov
The White House's new website will make some enforcement data public, explain how to file complaints with the Office for Civil Rights and the Department of Justice, and give students a clear explanation of their rights under gender equity law Title IX and Title IV, which requires public schools to respond to sexual assaults committed against their students. The website will also help students decipher other "often complicated legal definitions and concepts" and detail "relevant guidance on a school's federal obligations, best available evidence and research on prevention programs, and sample policies and model agreements."
"Though the website has a ways to go in terms of content and presentation, the fact that the White House heard our concerns about the inaccessibility of the Department of Education's process is promising," said Annie Clark, co-founder of activist group End Rape on Campus and one of the complainants in the 2013 Title IX and Clery Act charges against the University of North Carolina at Chapel Hill.
Coordination Efforts
The report states that the DOE is clarifying how key federal laws intersect, the DOE and DOJ have entered into an agreement clarifying each agency's role vis-à-vis Title IX, and the DOE offices responsible for Title IX and Clery Act enforcement have also entered into an agreement clarifying their respective roles.
"One of the problems for many years has been that has been that the different offices in different agencies were not coordinating their activities," said S. Daniel Carter, director of nonprofit campus safety initiative 32 NCSI. "Now they will be."
The "Mixed"
Public Resolutions, but Not Investigations or Complaints
While NotAlone.Gov will post OCR resolution letters and agreements, it will not publicly list complaints or pending investigations. As of April 3, about halfway through fiscal year 2014, the OCR had already received 30 Title IX complaints, as many as it did in all of FY 2013, and there were 52 pending Title IX investigations according to the Huffington Post. The government will only release information about those cases upon request.
Voluntary Resolution Guidelines
By law, OCR is required to pursue a voluntary resolution with a school before initiating an enforcement action, such as withholding federal funds.
Now, the OCR will place a 90-day limit on voluntary resolution agreement negotiations where it has found a school in violation of Title IX and make it explicit that schools should provide survivors with interim relief — such as changing housing or class schedules, issuing no-contact orders, or providing counseling — pending the outcome of an OCR investigation.
But while the limit is better than nothing, schools like Yale and the University of Montana that have entered into these voluntary resolutions have gotten off easy, advocates say, and the OCR has never withheld federal funds as punishment for Title IX infractions.
Dunn said she would like to see voluntary resolution guidelines eradicated and replaced with other consequences, like fines. Failing that, interim relief measures should not only be explicit but mandatory, she said.
The Bad
Lack of Enforcement
The focus on compliance with laws that already exist instead of sanctions that don't will be a "field day" for sexual misconduct consultants, said higher education consultant and law professor Peter Lake. "A lot of people just got incredibly rich. This will be like Haliburton meets higher education."
But the report only hints at ramped up enforcement without detailing how that enforcement will work.
"It's unbelievable that the OCR has never sanctioned a school for Title IV violations, and this is a real opportunity for legislators to step up and create room for immediate sanctions like fines," said Dana Bolger, co-founder of Know Your IX/ED Act Now. "Cutting off all federal funding would hurt students, but fines would send a clear message that this failure won't be tolerated."
Focus on Rehabilitation over Expulsion
Repeat rapists on college campuses are responsible for 90% of rapes and commit six rapes on average, according to research on "undetected rapists" on college campuses. The report barely mentions the perpetrators of sexual misconduct, aside from this paragraph, which Dunn called a "feel good measure":
On April 29, 2014, the Justice Department's SMART Office will release a
solicitation for a pilot sex offender treatment program targeting college perpetrators. Research suggests that treatment can be effective in reducing recidivism among offenders, yet no programs currently exist for the college population. Regardless of campus-imposed sanctions, we need to help reduce the risk that young perpetrators will offend again. This first-of-its kind pilot project holds out new hope for reducing sexual violence on campuses.
"We still don't want to hold men responsible, for sexual violence," Dunn said. "It's a very odd choice to focus on rehabilitation instead of on sanctions."
The task force's failure to crack down on administrations is an opportunity for Congress, advocates said.
"Committee reports can only get us so far," Brodsky said. "There's a lot more to comply with here, but the White House hasn't yet increased the stakes."