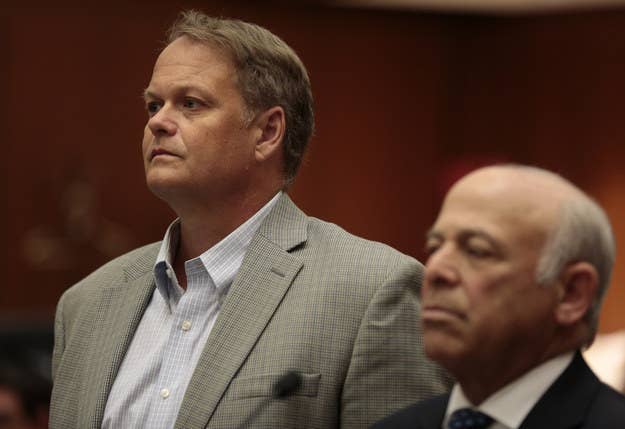 A former teacher at an elite private all-girls high school in Los Angeles who was charged with sexually abusing two former students is expected to plead guilty to four criminal counts next week, lawyers for both the victim and teacher said.
Los Angeles Police charged Joseph Thomas Koetters with 14 sex crimes earlier this year, based on reports from two different women who said he had sexual relationships with them when they were his students at the Marlborough School, an elite all-girls private school in LA. If approved by a judge, Koetters will have to register as a sex offender and will be sentenced to a year in county jail, his lawyer said.
BuzzFeed News first named Koetters, 47, and brought the allegations against him to light — including interviews with other former students who did not file charges but said Koetters had pursued inappropriate relationships with them during his 14 years teaching English at Marlborough. One 2013 graduate, Mikaela Gilbert-Lurie, had reported Koetters to school administrators in 2012 after he sent her inappropriate emails and, she said, touched her knee, but the school did not fire him.
After BuzzFeed News made inquiries, Koetters resigned from his position at Polytechnic School, another exclusive private school in Los Angeles where he taught from 2013 to 2014, after he voluntarily left Marlborough.
The first woman told police in July 2014 that Koetters had a year-long sexual relationship with her when she was his student in 2000 that resulted in a pregnancy and a miscarriage. Koetters was arrested on four sex crime charges in February 2015 related to her claims. The second woman told police in April 2015 and in a exclusive BuzzFeed News report that Koetters had a sexual relationship with her when she was his student from February to June 2004. He was charged with 10 additional sex crimes related to her claims in May, bringing the total to 14. Koetters pled not guilty to all charges and was released on bail both times shortly after his court appearances.
Polytechnic and Marlborough conducted their own investigations only after BuzzFeed News first reported on the sex abuse allegations in July 2014. Marlborough assembled a special investigative committee that announced in November 2014 that school officials had made "mistakes in judgment" and that the long-standing Head of School, Barbara Wagner, would resign. The school is also facing a civil suit filed by the first victim that claims Marlborough has "repeatedly concealed or withheld the full extent of its knowledge" regarding Koetters "with the desire that the matter would ultimately be brushed aside and forgotten."