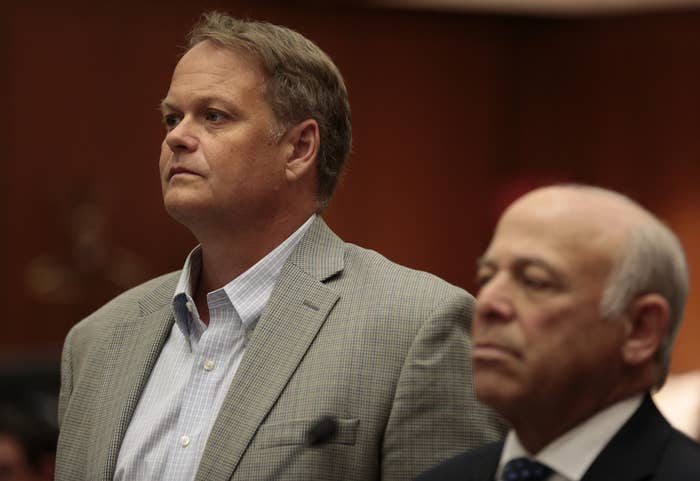 Joseph Koetters was charged Monday with 10 additional sex crimes related to Marcy's allegations.
He pleased not guilty on the amended complaint, according to a statement from the Los Angeles district attorney's office. He was released after posting bail, which was raised to $490,000, an additional $350,000.
Koetters now faces seven counts each of oral copulation of a person under 18 and sexual penetration by a foreign object of a person under 18. If convicted, he faces more than 11 years in state prison.
"It is no surprise that another victim has come forward," said David M. Ring, who now represents two of Koetters' alleged victims. "He targeted many girls over his 13 years at Marlborough; I hope other victims come forward also and have their day in court."
A second woman says former teacher Dr. Joseph Koetters sexually abused her in 2004, when she was his 16-year-old student at The Marlborough School in Los Angeles. Just two months ago, Koetters was charged with four felony sex crimes relating to another former student.
Marcy (not her real name) said she has spoken with the Los Angeles Police Department and plans to meet with them later this week to report that she and Koetters, 47, had a "full-blown sexual relationship" during her junior year at Marlborough, an elite private school for girls in grades 7–12.
In an exclusive interview with BuzzFeed News, she said Koetters wooed her when she was a junior in his AP English class by complimenting her taste in music and literature and telling her that he had never felt this way about anyone else before. Soon, Marcy said, he was regularly pressuring her into ditching class to have sex with him. Koetters' wife was pregnant with her third child at the time, she said, but he told Marcy that he hoped to run away with her one day and have children of their own. Although Marcy often missed half-days of school and her friends asked why Koetters stared at her in class, no one at Marlborough ever inquired further into her relationship with Koetters, Marcy said.
"I would have thought someone would have noticed that I was skipping classes — that I was getting off the school bus and actually walking in the other direction — or the strange way we acted around each other, but no one ever did," Marcy said. "I think they should have noticed."
In addition to working with the LAPD's ongoing criminal investigation, Marcy is considering her legal options and recently retained lawyer David M. Ring, who also represents Koetters' other alleged victim. He is planning on filing two civil lawsuits against Marlborough in early April.
"The civil lawsuits will prove that Marlborough knew about Koetters' bad conduct for years and did nothing about it," Ring said. He expects more victims to come forward. "We know Koetters engaged in similar misconduct dating back to his very first job in the early 1990s at Polytechnic High. Marlborough knew it, yet hired him anyways."
A Marlborough spokesperson said it would be "inappropriate" to comment on Marcy's story because of "threatened litigation."

Marcy, now 27, told BuzzFeed News that her relationship with Koetters has caused her immense guilt, anxiety, and depression throughout her life. As a result, she's cycled through emotionally abusive relationships, she said.
"I'm only now coming to terms with the fact that he is a predator and I was a victim, but for a really long time I thought it was my fault," she said.
Koetters first approached Marcy the same way he did the other women who spoke to BuzzFeed News last July: by recommending books and flattering her intellect. Koetters told Marcy that she was "cool" enough to appreciate the explicit experimental fiction he gave her, but that he liked more about her than her taste in literature.
"I would give you an 'A' if it was just based on how I feel about you," she remembers him telling her.
Private meetings about books turned into late-night emails and instant message conversations, Marcy said, in which Koetters complained about his loveless marriage and told Marcy she was thoughtful for caring about him. Then, during a meeting, Marcy said he touched her knee. When she didn't protest, Koetters suggested the two of them meet at a nearby Noah's Bagels. Marcy took the Marlborough bus to school that day. When she got off, she turned in the wrong direction. He picked her up and drove her to a hiking trail in the hills. That's when he kissed her for the first time, she said. When Koetters asked Marcy if she wanted to have sex with him right there, she didn't even know what he was talking about; it was her first intimate relationship, she said.
"He made it feel very natural and normal, but he also kept saying that he couldn't resist himself around me, that he couldn't control himself," Marcy said. "He always said there was something special between us."
They started having sex several times a week, Marcy said. She would often ditch entire half-days of school to spend time with Koetters at parks, in the back of his car, and even at his house when his wife was at work. Sometimes, she said, his kids would come home, and he would ask Marcy to hide from them. Koetters' wife's pregnancy added to Marcy's overwhelming sense of guilt. Marcy said he often talked to her about baby names.
"This is difficult to talk about because I still feel guilty," she said. "It's hard to feel like it's not a reflection on me."
Even though she didn't get in as much trouble as she expected for skipping class, Marcy's relationship with Koetters impacted her education, Marcy said. "I went from this kid who cared about school so much to someone who was constantly trying to hide what she was doing from others," Marcy said. "It was so distracting. I didn't do very well that semester."
She still doesn't understand why no one noticed how many classes she missed — and why no one examined her relationship with Koetters more closely. Her friends noticed that Koetters had a habit of gazing at Marcy intently after reading romantic poetry in class, she said, and he would often stare at her in the hallways.
But no one noticed — and Marcy said Koetters was an expert manipulator.
"One time I asked him if he was just using me for sex, and he was like, 'How could you even say that?'" she recalled. "He told me he loved me, that this had never happened before with anyone else."
Their relationship petered out when Koetters' wife had her baby and Marcy went on summer vacation, Marcy said. When she returned to Marlborough for her senior year, Marcy had a new boyfriend and refused Koetters' advances. But she still felt attached to him. Once she overheard a younger girl talking about how Koetters was flirting with her. It made her sick. She ran to Koetters' office and asked him if it was true. "Of course not," he told Marcy, and told her he would solve the problem by reporting it to the administration himself. Marcy said she worries that Koetters' strategy may have worked. In 2014, after the allegations against Koetters received media attention, Marlborough launched its own investigation. The subsequent report noted that a student reported improper behavior by Koetters in 2005.
"At the time she reported it, the student's complaint was not fully investigated by the Head of School, who incorrectly questioned the veracity and motive of the student's allegations regarding Koetters. The decision not to fully investigate the student's complaint represented a serious error in judgment by the Head of School," the report said.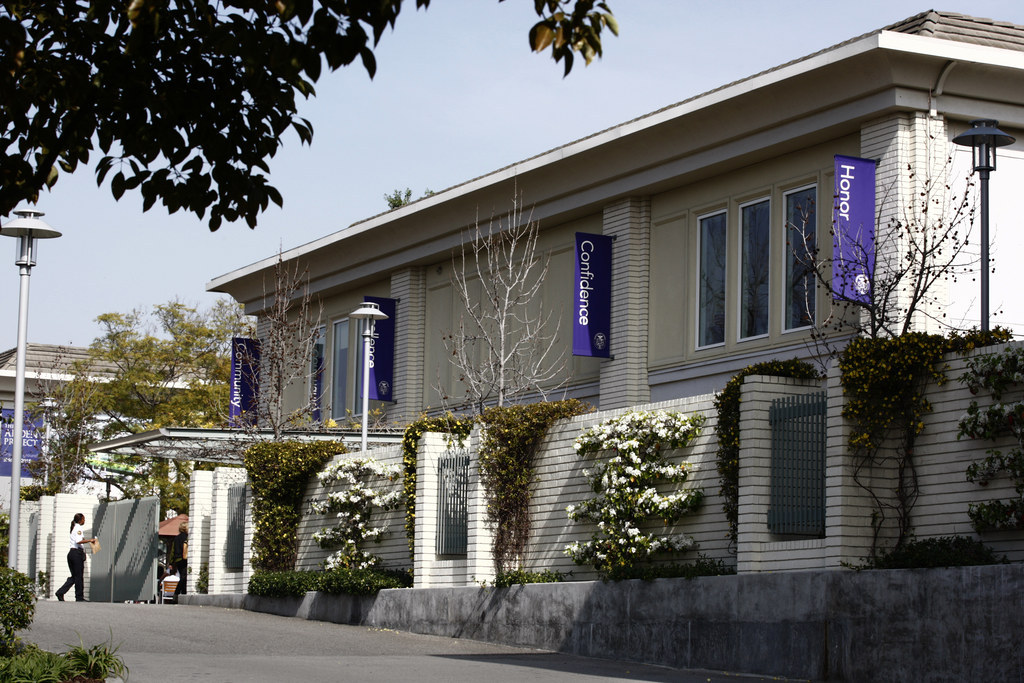 Before the allegations of sex with underage students emerged, Koetters was seen as a charismatic teacher who was beloved at Marlborough, where he taught for 14 years. He would likely still be teaching high schoolers today if it weren't for 2013 Marlborough graduate Mikaela Gilbert-Lurie. She wrote an essay for xoJane last June detailing her experience with Koetters, who had sent Mikaela inappropriate emails, told her he couldn't control himself around her, and even touched her knee on school grounds. The essay didn't name Marlborough or Koetters, but within hours, eight alumni from 2000–2012 had contacted Mikaela to tell her they knew exactly whom she was talking about. BuzzFeed News interviewed most of them in an exclusive story in July.
When Mikaela's parents reported Koetters' behavior in 2012, Marlborough stripped Koetters of his English department chairmanship and forbade him from contacting Mikaela, a restriction the school later admitted he violated on multiple occasions. The school did not fire Koetters or investigate further, even though Mikaela and her family told administrators that they believed he had acted inappropriately with other students. Koetters remained at Marlborough until 2013, when he voluntarily left for Polytechnic School, another elite private school in Los Angeles. Koetters, a Polytechnic alumni, also taught English there for a year in 1991. His age was both "an asset and a detriment when dealing with the students," a school newspaper article covering his decision to leave Polytechnic noted at the time. (In a statement to the school community last summer, Polytechnic said information about allegations of sexual misconduct during that time period was provided to investigators, but that they couldn't provide further details due to confidentiality restrictions.)
Although Polytechnic has admitted it knew about Mikaela's allegations before hiring Koetters, he did not resign from Polytechnic until BuzzFeed News made inquiries last July.
Most of the former Marlborough students who spoke with BuzzFeed News in July said Koetters didn't take it any further beyond suggestive comments and a touch on the knee. But one, Sarah (not her real name), said Koetters repeatedly had sex with her while she was a minor from 2000–2002. She reported him to Marlborough and the LAPD after she read Mikaela's essay last summer.
On Feb. 3, Sarah's allegations led to charges against Koetters: two counts each of oral copulation of a person under 18 and sexual penetration by a foreign object. At the time, Detective Kim Porter said two other alleged victims were also interviewed but neither could file charges, due to the statute of limitations and one allegedly taking place in Nevada. Later that month, Koetters pleaded not guilty.
After Mikaela's xoJane essay spread throughout the Marlborough community last summer, head of school Barbara Wagner sent out a letter to parents reminding them that the school had "long-standing and regularly reviewed policies that prohibit harassment of any kind, as well as consistently applied protocols to address such concerns" and that the school "promptly investigates all concerns of inappropriate behavior and issues disciplinary consequences consistent with the level of improper conduct." She said she was sorry that Mikaela "felt Marlborough did not serve her as she had hoped."
A few weeks later, after BuzzFeed News' article and the subsequent media coverage, the administration changed its tune. Marlborough's board launched a special investigative committee to look into the allegations that later determined "a pattern of misconduct" by Koetters and "mistakes in judgment" by school officials. New protocols were established and Wagner resigned. "We offer our deep and sincere apologies to the victims and their families, both for the inappropriate actions of Koetters and the manner in which the School initially responded to them," the board wrote in a November letter announcing the findings.
But some of Koetters' former students still feel that Marlborough hasn't completely accepted responsibility or been entirely upfront about its findings. There's only a passing reference to Sarah in the eight-page Marlborough report: She's described as a girl with whom Koetters engaged in "inappropriate physical conduct" in the early 2000s.

Marcy reached out to Marlborough when the board launched its investigation in July 2014, but was ultimately too concerned about her anonymity to tell them her full story, she said. She was planning to "go to the grave" with her secret, but Koetters' arrest changed her mind. Marcy is speaking out now, she said, because she believes there are more women out there who Koetters manipulated and abused — and because she believes Marlborough should have protected them.
"I'm sure there are more than just us two," Marcy said. "I don't want to have people willing to dismiss the extent of what happened and have him just walk away."
She's looking forward to assisting with the LAPD's criminal case — and she also hopes sharing her story will pressure Marlborough into finally admitting accountability.
"In an underage all-girls school environment, you should probably look into girls' claims more than assume the adult is right," she said. "Marlborough fostered independence in us, and that was great for my education, but it also meant no one was really watching out for us."
Koetters "never seemed worried about getting caught for a second," she said.
Koetters is currently free on $140,000 bail. If he is convicted as charged, he could face up to five years in state prison, according to the district attorney.
Marlborough, Polytechnic, and Leonard Levine, Koetters' lawyer, were unable to or did not respond to requests for comment by press time. The story will be updated if and when they do.
The story has been updated to include a comment from a Marlborough spokesperson.