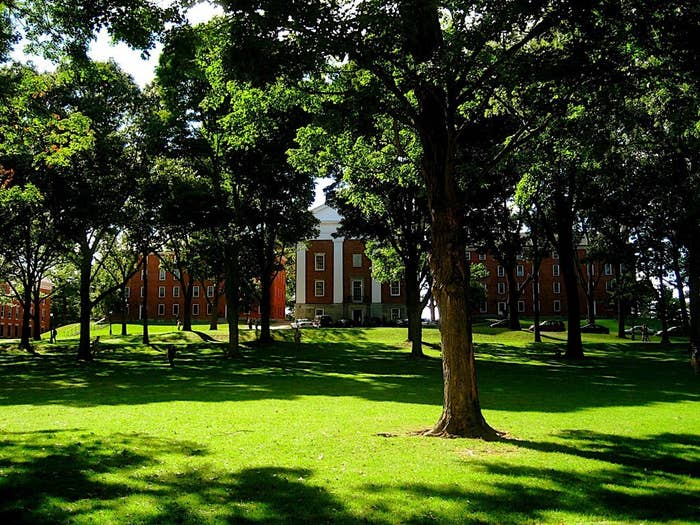 Amherst will officially ban all on- and off-campus fraternities and sororities, including "underground" organizations, according to an email sent out Tuesday by the college's board of trustees.
Although the elite private college officially cut ties with fraternities and sororities in 1984, the college still allowed the groups to convene as long as their activities were held off campus. This new decision reaffirms that resolution and further prohibits "student participation in fraternities and sororities and fraternity-like and sorority-like organizations, either on or off campus" as of July 1, 2014.
Student activists called the move a "brave step" for Amherst, which is one of at least 55 colleges and universities currently under federal investigation for mishandling sexual assault complaints.
The decision demonstrates the school's commitment to "challenging the pervasive culture of white male privilege and entitlement on campus," said Dana Bolger, a co-founder of national student-survivor activist group Know Your IX who is slated to graduate from Amherst in a few weeks.
"The school's talked a pretty game so far about its commitment to improving survivors' experiences but we haven't seen any really tangible changes until now," she said, noting that the decision was likely a difficult one "that will risk alienating their fratty alumni donor base."
The administration has debated banning all fraternities since last year, after Amherst President Carolyn L. Martin assigned a special Sexual Misconduct Oversight Committee to look into how the college handled sexual assault following a highly publicized student account of campus rape.
The committee determined in early 2013 that underground fraternities, despite their lack of any official status, "possess considerable ability to shape the College's social life" and that their "juridical invisibility" prevented the college "from enforcing appropriate expectations for student behavior with respect to them, including accountability under the Honor Code." The committee asked the board to address the situation.
"My feeling is that ambiguity is the worst of all possible worlds," Martin told the Huffington Post in June 2013 regarding the vague nature of the fraternities.
Despite the findings, two students filed federal complaints against the college in November 2013 alleging that the college disregarded their sexual assault reports and worked to isolate them from campus. Unofficial fraternities continued to receive bad press through this year.
Tuesday's letter decreed that while Amherst has no authority with respect to underground fraternities and sororities, "the appearance of College responsibility cannot be avoided, both because the membership of underground fraternities consists of Amherst students and because the College has acquiesced in the fraternities' existence." Furthermore, it is "inevitable" that situations will occur when the policies of the College and the wishes of underground fraternities are at cross-purposes."
Violators may be subject to suspension or expulsion, according to the letter, embedded in full below: