Alumni Refuse To Donate Until Colleges Address Campus Sexual Assault
Alumni across the country are using creative tactics to pressure their alma maters into taking action.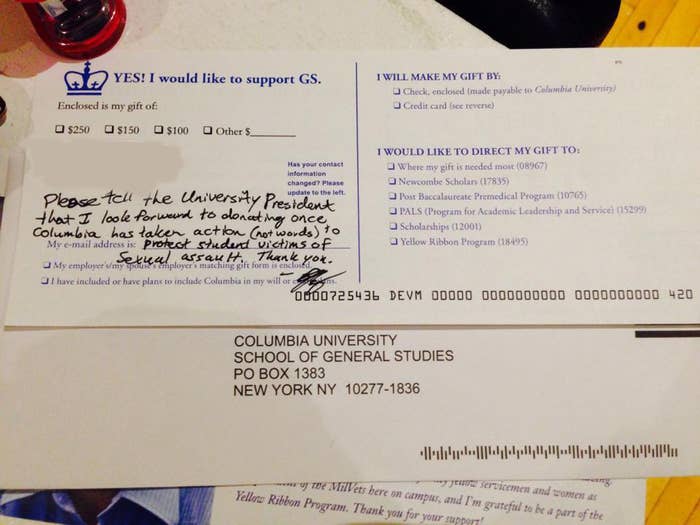 Successful social entrepreneur Elizabeth Amini, a 1995 graduate of Occidental College, was planning on giving her alma mater a seven-figure donation.
Then, she read that a student at the school — one of at least 55 under investigation by the U.S. Department of Education for allegedly mishandling sexual assault cases — received a brief suspension and book report assignment after he was found "responsible" for sexual assault.
Horrified, she started reaching out to top donors and collecting signatures for a petition demanding personnel changes, which she delivered to Occidental President Jonathan Veitch's office last month. Soon after, the two met to discuss the alumni's demands, which include new prevention programs, expelling students found responsible for sexual assault with few exceptions, and "firing every last person who discouraged survivors from filing reports."
If the school does not comply by the end of the summer, Amini said, the coalition will launch a campaign to oust the entire administration.
Annual giving to Occidental last year totaled over $18 million, which is 4% of the school's annual budget, according to the school's 2013 annual report. In April, an editorial in the Occidental Weekly asked frustrated alumni to stop yelling at "Telefund" student fundraisers and said negative publicity had caused Telefund to cancel shifts to spare employees from "diatribes."
"We've made it clear that our demands are not a request, and I think Occidental has to listen," Amini said. "Nobody wants to donate to a school where people are being raped."
U.S. colleges and universities raised an unprecedented $33.8 billion last year, and around a quarter of it — $9 billion — came from alumni donations, according to the Council for Aid to Education in New York.
As more schools come under fire for mishandling sexual assault, alumni across the country are brainstorming ways to pressure their schools into taking action. Many hope that one tactic will be particularly fruitful: withholding money.
Fifty-eight percent of Williams alumni gave to the college last year — the third-highest proportion of any college or university in the country, according to WBUR — but now, two big-time fundraisers are publicly canceling efforts thanks to recent sexual assault allegations.
Gretchen Wetzel, a 1977 graduate of Dartmouth College, another school that has loyal alumni — about 44% gave to the college last year, according to the Council for Aid to Education— told Bloomberg News that she and her ex-husband, who have given more than $1 million to the college, stopped donating to the general alumni fund due to concerns about sexual assault on campus. (Wetzel now gives to specific projects, like a residential hall for LGBTQ students.)
A photo with "Please tell the University President that I look forward to donating once Columbia has taken action (not words) to protect student victims of sexual assault. Thank you" scrawled on a Columbia University donor card was recently shared widely online. It inspired Nadia Dawisha, a 2004 graduate of Miami University in Ohio, who said she is considering reaching out to fellow alumni to devise similar awareness efforts.
Some soon-to-be alumni don't want to wait until they can make big-time donations to wield influence, given that their schools aren't waiting until they graduate to ask them for money.
A group of students at Brown University recently launched a "Gift for a Sexual Assault-Free Campus in Honor of the Class of 2014" as an alternative to the school's traditional "senior gift." The funds will supplement existing funding for sexual assault prevention by directly supporting peer education programs and university staff training, said Katherine Long, a senior at Brown who worked with the administration to organize the effort.
"I love the time that I've spent here, but I felt I couldn't give back in good faith because of the way Brown has mishandled sexual assault so publicly," said Long, referring to recent controversy over an alleged rapist's return to campus. "Students really do want to give back to Brown, but they want to do it in a way that's accountable and sustainable," she said.
Zoe Ridolfi-Starr, one of 23 students at Columbia and Barnard who recently filed a federal complaint accusing the school of mishandling sexual assault cases, said she contacted the Brown students in hopes of adopting their fundraising model. However, Ridolfi-Starr said, she envisions an alternative donation system that would be completely separate from the administration. She is working with alumni to organize events for the school's annual reunion weekend later this month.
Amari Hammonds, a 2009 Columbia graduate, said she is excited about catching up with friends during reunion weekend, but "with all this stuff in the news, I don't think we can ignore this problem that's continuing to have a really harmful impact on campus."
She and other alumni will give out wristbands and fliers and host a forum with current students that will give alumni the opportunity to learn more about ongoing action related to sexual assault policies and programming at Columbia.
One of the challenges with alumni, Ridolfi-Starr said, is that they're not around so they don't always know the extent of what's going on from the students' perspective.
"We want to give them a reality check," she said.