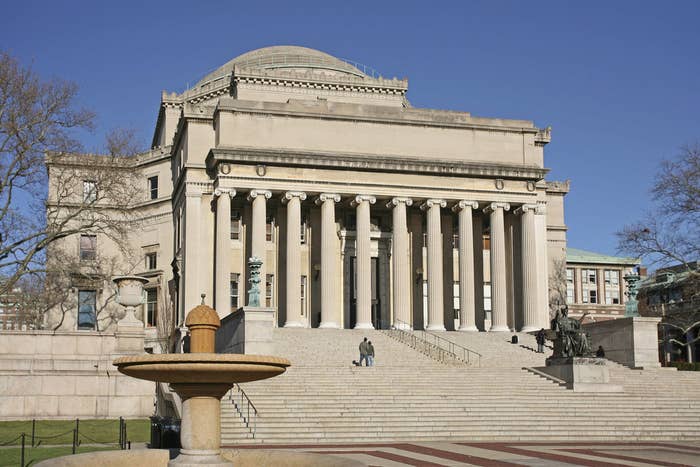 Columbia University and Barnard, its affiliated women's college, discouraged students from reporting sexual assault, failed to adequately discipline perpetrators, and retaliated against rape survivors and student activists for speaking out, according to 23 students who collectively filed federal complaints against the school on Thursday.
The complaints against the Ivy League college, filed with the U.S. Department of Education's Office for Civil Rights, allege violations of federal equity law Title IX and the Clery Act, which requires schools to accurately document and disclose campus sexual assaults.
The OCR received 30 sexual violence-related complaints against colleges and universities last year, almost double the previous year's 17. But activists say the Columbia complaint is the first to publicly link Title IX and Clery complaints with alleged violations of Title II, part of the Americans with Disabilities Act, which mandates that schools provide accommodations based on disability status. Survivors who suffer from assault-related post-traumatic stress disorder and depression are often discriminated against and denied rights, the complainants say.
"Trauma can be a severe detriment to a student's mental health, and therefore any violations of federal law that demand that students who struggle with their mental health be treated fairly are linked to violations of Title IX," said complainant Rakhi Agrawal, a senior at Barnard who says she was denied mental health accommodations and threatened with expulsion after a friend reported her for having suicidal thoughts.
About one-fourth of the complainants are students who identify as queer and say they hope the more than 100-page complaint will help bring attention to the discrimination they face when it comes to counseling, advising, and the adjudication of their cases.
Universities are required by Title IX to help students who report sexual misconduct feel safe from their alleged attackers, even before an investigation has been completed; students may request housing and class reassignments, for example.
But while Columbia's own sexual misconduct policy states, "Gender-based misconduct can be committed by anyone regardless of gender identity, and it can occur between people of the same or different sex or gender," multiple complainants told BuzzFeed that administrators failed to take their reports seriously.
"Queer survivors are consistently discredited and disbelieved," said lead complainant Zoe Ridolfi-Starr, a junior at Columbia. "It was absolutely a priority to reach out to people whose identities and experiences diverge from the traditional narrative."
One complainant who identifies as queer and sought help after an assault said that the rape crisis center "did not seem prepared to deal with a narrative of a woman assaulting another woman." She says advisers failed to tell her about her options for switching housing and classes. Despite asking multiple administrators for help, she was unable to switch out of two classes she shared with her assailant for the duration of the semester.
She chose not to report her assault because "staff members gave me the very strong impression that reporting wasn't going to lead to anything," she said.
Update:
Columbia spokesperson Robert Hornsby sent BuzzFeed a statement via email:

Sexual assault and gender misconduct are unacceptable, including on college and university campuses. We have been working with students, faculty and staff to make that emphatically clear on our campus and have already taken the first of a series of significant new measures dedicated to preventing such sexual misconduct, supporting survivors, and improving adjudication of these painful cases. That process of action and reform will continue in the months ahead because we are committed to protecting the health, safety and wellbeing of every member of our university community. We've been told a complaint has been filed, but we have not seen it, and are not able to comment on its allegations.