Would You Let An App Set You Up On A Blind Date?
A new OKCupid app, Crazy Blind Date, takes the effort out of online dating. But is that a good thing?
For people who like the idea of online dating but feel that it simply provides too much information — that it matches users a little too well — OKCupid has a solution: an app called Crazy Blind Date, which lets users arrange relatively last-minute blind dates using only first names, GPS-identified locations, and a single scrambled profile picture.
The app (free for iPhone and Android) can be used as a standalone dating product, or as a kind of supplement to an existing OKCupid member's web profile. Crazy Blind Date asks for your name, location, age, sexual orientation, and a picture — or, if you've already got an OKCupid profile, the app will only ask you for the first two. Users then select a free night in the upcoming week, choosing a possible date spot from those that appear in the vicinity of your apartment (or wherever you are when you activate the GPS). You can then scroll through "Your Dates," or other users who have proposed dates in similar locations for the same night. If any of them sound appealing, you can suggest taking them up on their idea, or ask them to consider yours.
About that name slot: the app's creators (perhaps fairly) assume you'll use your own, but you certainly don't have to. There's nothing keeping you from using an alias (and taking advantage of aptly named clubs in your area), and that's how I came to own a Crazy Blind Date profile under the name Buffy, proposing a date at The Bronze this coming Saturday.
So far, I don't have any takers.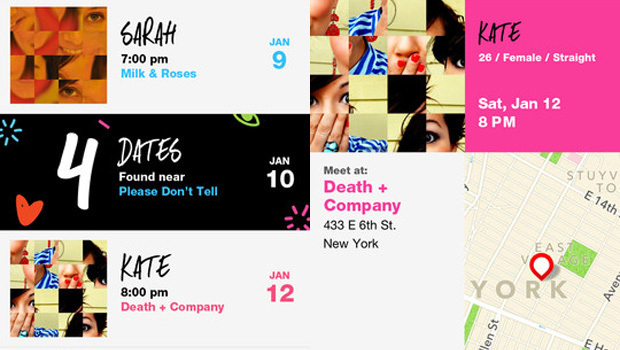 Ostensibly, the point of Crazy Blind Date — which was first introduced as a web service in 2007, a version that ultimately failed — is to eliminate the labor-intensive end of online dating, which can involve hours, days, and weeks spent browsing through profiles, and occasionally participating in drawn-out message exchanges mostly about soup.
In a piece about the app, Jenna Wortham quotes OKCupid founder Sam Yagan, who remarks:
"If you ask women what they dislike most about online dating, it's that it's too much work."
Is it, though? That doesn't sound familiar. Sure, if you asked women to list their top ten objections to online dating, I expect that "time" would make most of those lists. It's just that I'd assume it would be more in an "I feel myself dying" sort of way.
Still, Crazy Blind Date is an app that puts the unlikeliness of its matchmaking success right there in the title. In a way, it's nice: There's no way you can be unduly wooed by the six objects whoever you're looking at couldn't live without, because you don't even know what they are. But then again, you can't (really) see his face, or know anything about him, or be sure that his name is Spike, either. This is an app that asks its users — presumably, for the most part, people who have spent time in the trenches of online dating — for trust. Which is crazy.