Why You Shouldn't Facebook Friend That Nurse
It is a bit weird.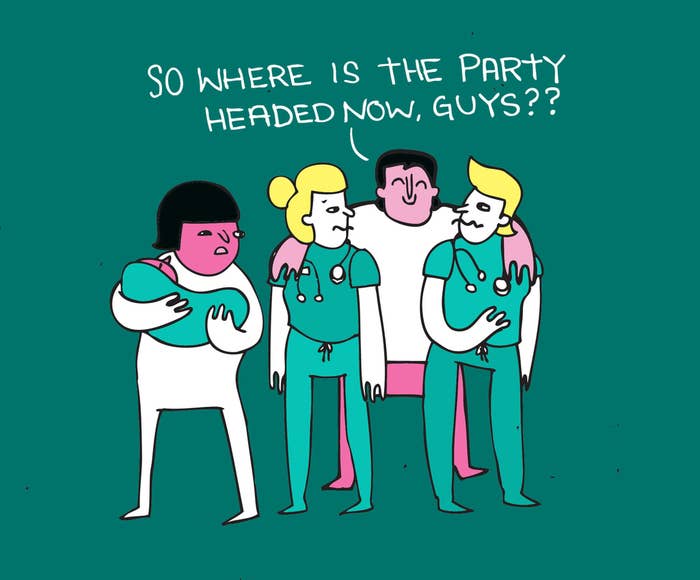 My daughter was in the NICU for a bit after she was born, and there were a couple of nurses I really liked. I text pictures, which usually get responses. What I want to know is whether it's appropriate to add them on Facebook. I don't post pictures of my daughter, so having them on my friends list would be strictly for communication with me. I don't want to seem overbearing as I already text them occasionally, but I am very grateful to them for my daughter's health and want to keep in touch.
First of all, I'm very happy to hear that your daughter is healthy. And I think it makes perfect sense to have sent pictures to the nurses who helped her — anyone who's ever had a family member in the hospital for a while and who has watched nurses and doctors help that person get well again can understand the intense emotional bond you've developed towards them. Everyone likes to hear that their good work is appreciated, and I'm sure these nurses are no different. Still, that being said, I would advise you not to add them as friends on Facebook.
Keep in mind that this is my advice based solely on the information presented — if you've become friends with any of these nurses (i.e., you spend time together or have started to converse about topics besides your daughter and their work), of course you may add them. Otherwise, if they aren't texting or calling you on their own, I think it's best to leave it be. Here's why: This is what these nurses do every day. In that way, they likely stand out more uniquely in your life than you do in theirs — and I don't mean that at all to signify that they don't remember or care, because I'm sure they do. I just mean that (with good fortune) your daughter will need that kind of care only once. They will give it to countless new babies for years and years. It's their job. I would only worry, then, that adding them on Facebook puts a bit too much pressure on them to reciprocate your attention. I think the best thing you can do is to mail cards (with a picture) to the hospital, and the nurses in particular, on one or two anniversary markers of your daughter's good health, and say thanks. You can include a return address and your phone number, and that way anyone who wants to respond can do so — and you would (and should) know that if they didn't, it wouldn't be because they weren't touched.
What's your opinion on giving e-gift cards for holiday presents? There are some friends and relatives I'd like to get something small for, but I probably won't be seeing them in person, and I'm wondering if this is the easiest/best way to go.
Look, I know you're trying to be nice, but an e-gift card is LITERALLY the same as spitting all over a twenty dollar bill, wrapping it in a tissue, using that tissue to wipe off all your eye makeup, putting the tissue-wrapped dollar in your mouth, taking it out, wrapping the tissue-wrapped dollar in a really stupid article from the newspaper, throwing it in the garbage outside your friend's house, and texting him later to say, "Hey, check your garbage."
The only gift lazier than an e-gift card is nothing, and nothing is not a gift. Please note that this is not an outcry against gift cards in GENERAL, because though I am loathe to encourage them, I realize that they are a probably needed holiday last resort, in cases where a) the giver has tried but failed to think of a better alternative, b) the recipient is hopelessly boring and opinion-averse and/or c) the card is the thing the recipient genuinely wants, whether for practical purposes (a gas card, a grocery store card) or for a special treat they wouldn't get themselves (a spa certificate, etc.). But for GOD'S SAKE, if giving a gift card is what you will do, get the tangible version and either give it in person or send it in the mail. Wrap it cutely and attach a card — preferably a homemade one. (Don't start with me. It's a piece of paper.) If you're running late on time — which is your fault, to be clear — trust that it's better to receive a late package you can hold than a dumb email with nary an affixed ribbon to be seen.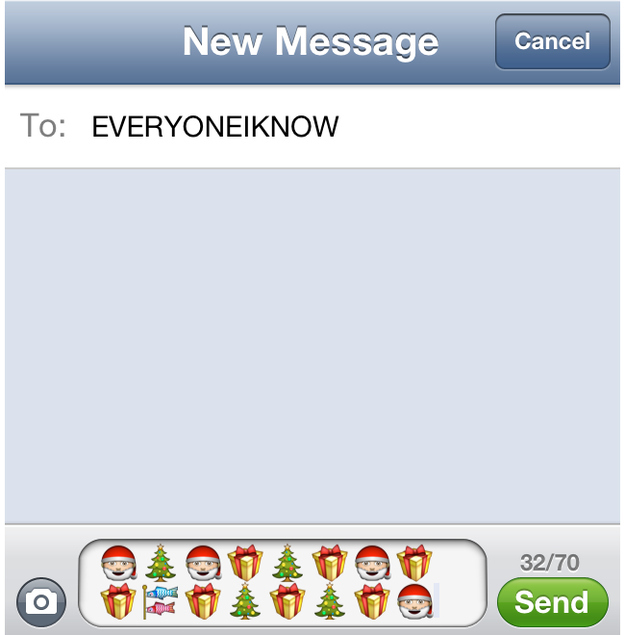 I know, I KNOW that this Christmas will be the same as all Christmases before it, in that I will receive a handful of well-meaning but impersonal and annoying mass texts. Am I wrong to be annoyed? Can I make them stop?
Darling, you can be annoyed about whatever you want. I'm calling you "darling" not because I'm trying to be patronizing or because I want you to think of me as some beloved white-haired aunt in a shawl, though whatever floats your boat. I'm calling you "darling" because I'm fed up too and I like you for being fed up with me. (Not WITH me, but with me. You know?) Let's list everything that annoyed us today! Agh, there are too many, I can't get into it. Mostly it was stuff about insurance companies and a disappointing sandwich. Texting hasn't bothered me yet today, but the day is young.
Mass holiday text messages are truly the worst. (Except for e-gift cards. THOSE are the worst!) They say nothing and mean nothing and put you in a weird position where it's almost weird of you TO respond? When normally the point of texting (or any communication) is to GET a response? If someone is sending you a mass text, that person doesn't want a response, or at least not a conversation. I don't know what those people want. Trap a few; ask them and let me know. In any case, the only proper response is no response at all. Your only hope is that persistent silence will eventually dim their faux holiday spirits until they're hardly visible at all, glowing only dully, like you and me.