When To Crop Your Friends Out Of Photos
Plus: how to deal with Twitter pests. And the bizarre gender norms of OkCupid.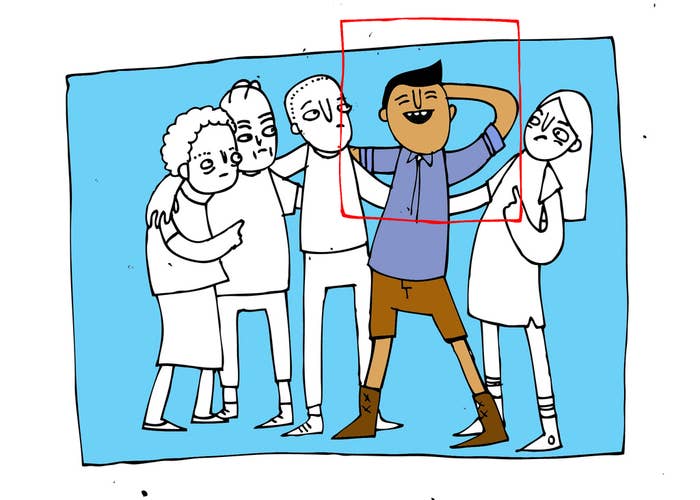 Are there rules about making your profile picture (on Facebook, in particular) a photo that you've cropped down to just you? I feel like in college everybody's photo was just a photo of their face cut out of a picture they looked particularly good in, but now the norm is to have a shot of just you.
You are really right! There is nothing college-ier than a closely, conspicuously cropped Facebook profile picture of a boy or a girl carrying a plastic cup, an eighth of someone else's face hovering just off to the side. You know, there should really be one kid on every college campus that is responsible for editing everyone's Facebook pictures, and she has to have photography experience. There should be another position that vets potential profile pictures in the first place, too — like, hey, you sure you want go with the post-hunt "I killed this animal" shot for your OkCupid profile? — but that's a separate issue.
I agree that cropping doesn't really matter — though let's leave the College Crop in the past, whenever possible — in the general sense. Sometimes you just look good around other people. Which is why they have to be taken out. I get it! It's fine. Unless there is an especially creepy hand left sitting on your shoulder, I doubt anyone will even notice. Good friends won't care if they're cropped out and neither will enemies, because they won't know, because you aren't Facebook friends with your enemies, right?? (Oh, and please don't use a cropped shot of you with your ex as your profile picture. This is for your own good! Start fresh. If you just had a breakup, get all pretty and make your friends take 800 pictures of you the next time you go out. That's their job.)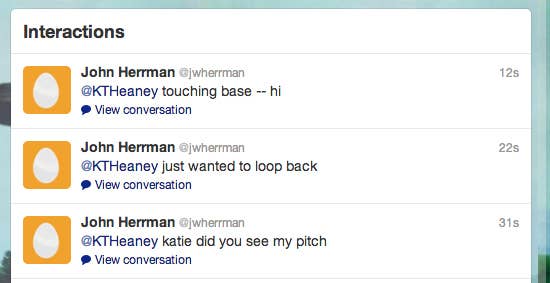 What do you do about annoying people who frequently @-reply you on Twitter, if they aren't your friends but aren't spam bots either?
On the one hand, hate them. Tell your roommate or your girlfriend, "So-and-so tweeted at me. AGAIN!!!!!!!" Look at this person you actually know and care about with incredulity. Fling your hands in the air. Throw your phone and yell "I GIVE UP," and groan, and then say, "I don't know what s/he wants from me!" Ideally, your roommate or girlfriend will be someone who pretends to hate whomever you want her to hate, just for one minute until you feel better. Ideally she'll be like, "That person, no joke, is the worst human I've ever heard about in my life." Usually this will be enough.
On the other hand, realize that you are communicating in public, to a whole bunch of other goofballs you don't even know, and that you shouldn't find it especially surprising when some of them talk back. And yes, those people should realize that when they've sent 3-4+ unanswered @-replies, it might be better to expend that typing effort elsewhere. You're right about that. But your first mistake was assuming a base level of self-awareness on the internet. Unless you want to block this person, all you can do is ignore it. I won't say "and hope it goes away," because we both know better. Return to Plan A.
I'm a girl on OkCupid, and the few times I've tried being the one to send the first message to guys, I haven't gotten a response. So before I give up trying — and doing the passive-aggressive "you message ME" things there are to do instead — is there something I should know about being a girl who sends the first message, generally? Like general…tips?
Well my first tip is go to the most private area of your home and turn on "Handle Me" by Robyn and recreate as much of the video as possible. If nothing else (because there are only so many of us able to carve themselves a head box), I would at least put on a lot of eyebrow pencil and make bossy faces into the mirror and attempt a few cool-looking shoulder shrugs. This will make you feel good about yourself. That's a promise.
Whether the guys in question didn't message you back because they couldn't handle you or because they just weren't into your profile (but how could they not be? You seem great!), I wouldn't take this as the cue to give up on being the one to initiate OkCupid conversations. (Especially when there are SO many other good reasons to quit it altogether, like the fact that it is The Worst. No, it's fine. It's not, but it's fine.) There is still a weird retro tendency on OkCupid to let guys do the messaging (or to provoke them to do it with rating, ugh), but that's stupid. If you find someone you actually like in that haunted swamp, you should message that creature, because this is not going to happen a lot.
As for tips, I'll do what I do from time to time when presented with dating inquiries beyond the scope of my expertise and ask Chiara Atik (author of Modern Dating: A Field Guide) to help you. Here's her advice!
"Okay, one thing to keep in mind: people who are good at online dating (guys and girls) message other people a lot. Don't message one or two guys and then wait for their responses with bated breath: better to get a lot of conversations started so you don't put too much weight/emphasis on one or two ... and so you don't get discouraged if you don't hear back. Some tips: Don't "introduce" yourself - way too formal for online dating! Just jump right in, the more relaxed and conversational, the better. Make sure to respond to something that's in his profile rather than vaguely asking him about himself/his life. Keep it short, end with a question. (Example: "Omg, I am also obsessed with The Staircase. Have you heard the owl theory? What's your take?")"