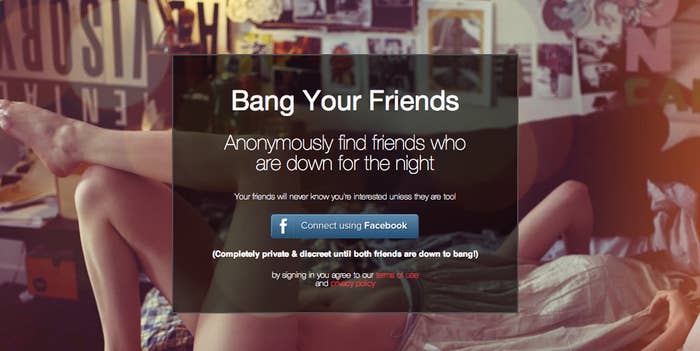 "Bang With Friends" is a new Facebook app that says it helps you "anonymously find friends who are down for the night." But as you might expect of a Facebook app, it's not all that anonymous.
When you log into the app — which is currently down, either overloaded by legions of DTF Facebook users, testers, or both — you'll see a screen filled with your Facebook friends of the opposite sex. (The faces you'll see certainly aren't chosen for compatibility or even availability — included in my choices are coworkers, gay guys, married folks, and, in a particularly gross oversight, my little brother.) The app appears to be designed for exclusively heterosexual pairings. It only — apparently mistakenly — shows same-sex Facebook friends who don't have their sex listed on their profiles. This is true regardless of how your sexual orientation is listed, or whether it's listed at all.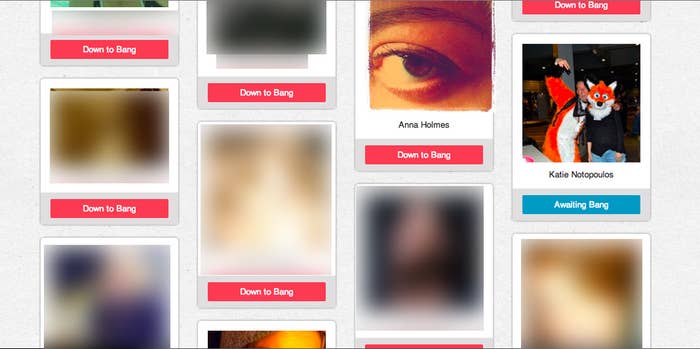 Clicking "Down to Bang" on any one of these people's faces shouldn't notify them that you've done so unless they click "Down to Bang" below YOUR face, too. This part seems to work — fellow FWD editors and I tested the selection process on each other, and only received notification emails once the (experiment-only!) "Down to Bang"-ness was mutual.

Until this point, the app is working as well as an app like this can. But the "Bang With Friends" promise of discretion has a loophole, one that could be hard to explain even IF you're supposedly on it just to be funny: Facebook lets people accessing the app see which of their friends are already using it, BEFORE having the option to authorize it themselves.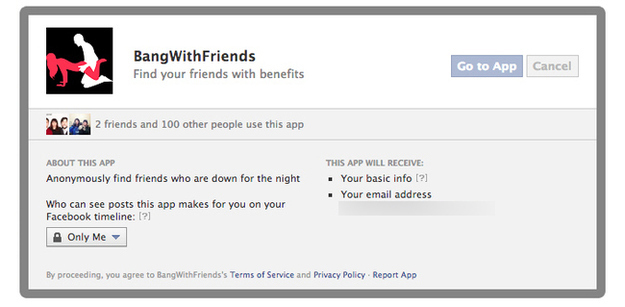 It's not really "anonymous" when your Facebook friends can see that you're out there trawling for sex, is it? It's embarrassing enough knowing that they can just see you, but imagine one of your Facebook friends clicking on "Bang With Friends," seeing YOU there, and deciding there probably isn't anyone in there worth downloading the app for after all. (I mean also it's likely the app was designed, at least in part, as a joke. Right???)
Still, the best way to describe the whole thing, joke or otherwise, is "icky." See, for example, the app's (NSFW) how-to page: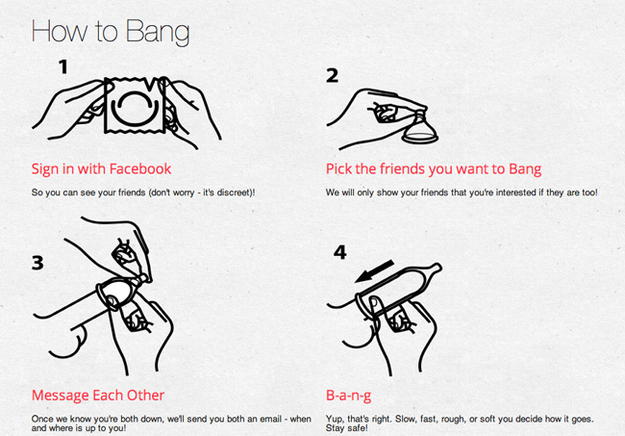 In case you're wondering, yes, the same image shows up for users male and female.
Unless you're someone who believes (almost certainly wrongly, by the way) that your Facebook friends are all dying to hook up with you, and would do so if only given the bright blue button to admit it, the app doesn't really offer you anything you couldn't already accomplish on Facebook without it. How many people would really freely admit to wanting to hook up with a friend who wouldn't already have some indicator of interest? Shouldn't you already kind of know your chances with your Facebook friends? Part of the grossness of "Bang With Friends" is the way it conceives of friendship as something you only do to get to, well, banging.
But if you do decide to take the "Bang With Friends" plunge (sorry), just know this: It won't be as secretive as the app's creators might have you believe.