The App That Sets You Up On A Blind Group Hang
Grouper is an app that sets you up on a blind date — in groups.
It might, in other circumstances, seem comforting to think that two of your friends could come with you on a blind date and it wouldn't be weird. Maybe they could help you decide if the guy or girl you're meeting is normal, or kind of provide live commentary on your chemistry (or lack thereof), and, perhaps most importantly, be on-scene excuses to bail if the date takes a turn for the terrible.
But what if it's not just you who's bringing two friends? What if your date did too? (*Halloween soundtrack noises*)
Grouper is a new iPhone app that calls itself a social club, and it's not unlike a more slick (and more expensive) Crazy Blind Date, the OkCupid app that launched earlier this year. Only instead of the more traditional one-on-one online date, Grouper sets up groups of three.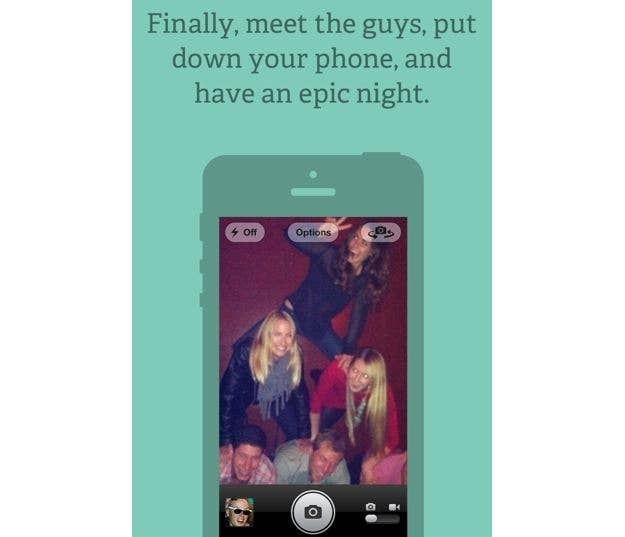 The app matches up a group of three friends with another group of three friends — men and women, men and men, women and women, depending on the users' preference. Grouper matches the sets of three by accessing their Facebook information — likes, age, educational background, and "general lifestyle. None of this information — not even a picture — is shared with users prior to the date. Once there's a match, Grouper will pick a bar and tell you where to show up. Each person pays $20 (plus tip) ahead of time, which covers a drink, the matching service, and what the app's creators call "the concierge."
The concierge you'll get can vary, but it's likely to be either a woman named Lexi or a woman named Challen. Challen or Lexi will monitor your group hang with a few evaluation questions, and will later work to improve your experience for the next time. You can also, as I did, text the concierge with questions, like why the service is not yet available in Minneapolis. She is friendly and a smiley emoticon enthusiast.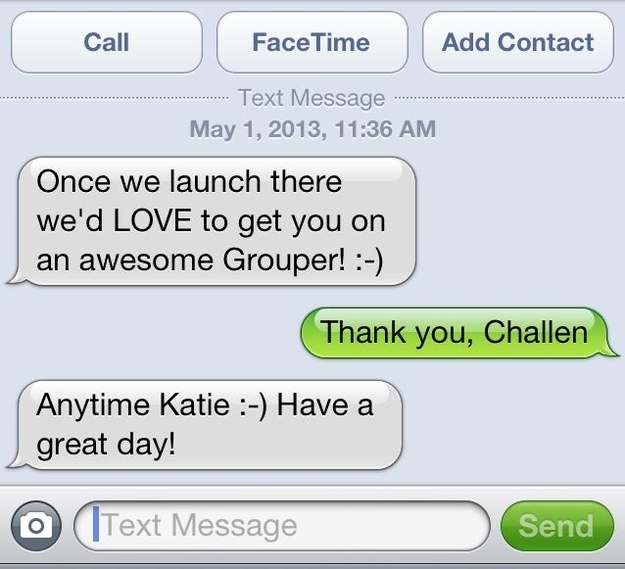 Anyone who wants to use Grouper — and who lives in a city where the app is currently live — needs to apply (by signing up through Facebook), and as of right now it's estimated that it will take the average user's application two weeks to be accepted.
Here are some questions you might want to worry about while you wait for your application to process: What if they don't accept your application, and what will that say about you? How are you going to pick the two friends that come with you, because you want them to be your GOOD friends but maybe not necessarily your most attractive and most charming friends, right? Or do you? Is this a "rising tide lifts all boats" -type scenario? How are you going to decide, silently and instantly, who matches up with whom? What if there is disagreement? How will you let each other know? Because what are the chances that there won't be a conflict of interest? What happens if you get there with your friends and you're all attracted to the same guy or girl in the group of three strangers? Would you all try to win over that same stranger, and if so, what will those two poor other people do? What if your two so-called wingwomen are having a really nice time, because they're able to adapt to most social situations and you are someone who needs things to go a certain way, and you want to leave but you can't because it will set the group date ratio off-balance? What are you going to wear????
But no, it will probably be fine.