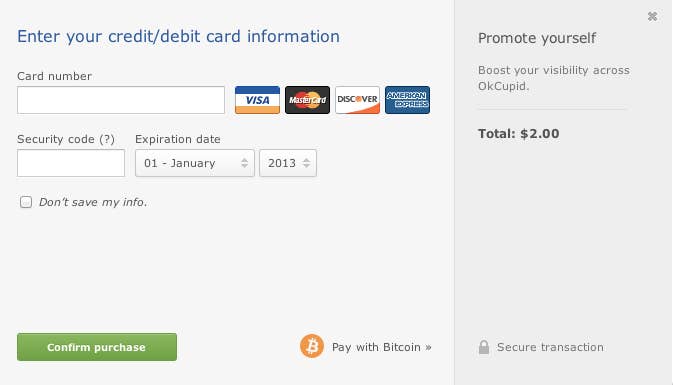 Just about 24 hours ago, OkCupid quietly launched a feature it plans to formalize — and publicize widely — in the next few weeks: an optional $2 fee that lets users who pay it "promote" themselves across the site.
OkCupid has otherwise largely been as democratic as it is possible for a dating site to be — it's free to use (though users can become "A-list" members, able to view the people who've rated their profiles and view the site without ads, for a fee), and anyone can join. Users are currently matched using OkCupid's algorithm, which draws from personality type, interests, demographics, and the site's extensive Q&A.
The promotion feature, says OkCupid co-founder and president Christian Rudder, won't change that. "The idea is that we're showing you to the same people we would over time, but in a very condensed way," Rudder told BuzzFeed. "We still only show you to good matches (high match percentage, nearby) — not just randoms." What the $2 fee gets you, then, is just 10 minutes of promotion, meaning that, for 10 minutes, promoted users' profiles are pushed to the front of the queue in all areas of the site: QuickMatch, Locals, "People You Might Like," etc. In tests of the feature, OkCupid found that those 10 minutes give users 30 times more exposure than their profiles would have otherwise gotten in the same amount of time.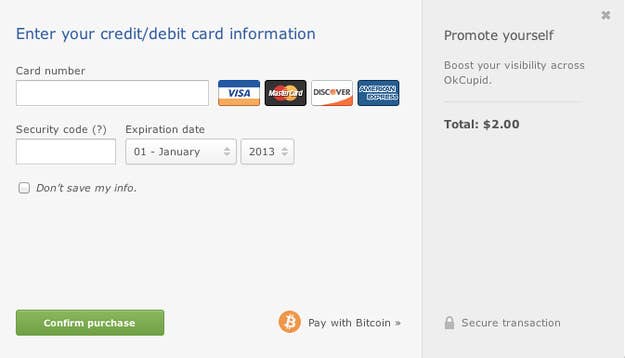 Promoted profiles will always be people you could have come across eventually, Rudder stresses, but it might have just taken you a lot longer to find them. Nobody's OkCupid enemy is about to become her 99% match.
Still, in a way, the promotion feature allows users to purchase eligibility — and nobody else has to know about it, either. Promoted profiles will be indistinguishable from other profiles, and though users who avail themselves of this feature can't be blamed for feeling grateful their profiles won't be marked with a big yellow star, neither can the people who scroll through their matches be blamed for being just a bit more suspicious going forward. The OkCupid experience is awfully weird already, but knowing there will soon be vast numbers of people paying $2 (more than once, potentially) to self-promote for quick bursts of time makes it even stranger.
You can bet, too, the promotion feature will be a popular one. Rudder told BuzzFeed that over 2,500 people have paid to promote themselves in the first 24 hours, and that's before most people have known it was an option. When asked who he thinks will be most likely to make use of the feature, Rudder is admirably forthright: "Guys. Girls get lots of attention anyway. It's gonna be mostly guys."