Is America Having A "Friendship Slump"?
A new study finds that most Americans find something lacking in their friendships. It's an especially big problem in middle age.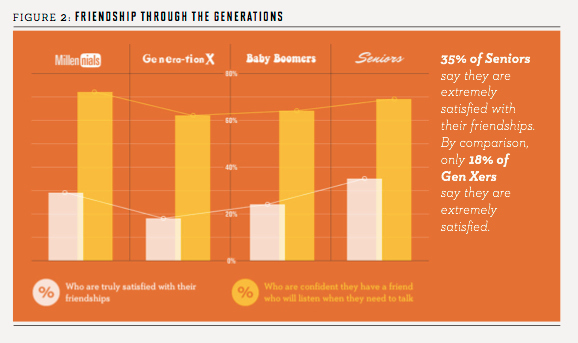 We typically associate the mid-life crisis with career dissatisfaction, divorce, and the purchase of cars (or, in some ill-advised cases, motorcycles), but a study released today suggests that many middle-aged Americans find themselves in a "mid-life friendship slump" as well.
The study — whose title, "The State of Friendship In America 2013: A Crisis of Confidence," manages to be somehow both adorable and terrifying — was commissioned by the group Lifeboat, which aims to help people build friendships. It found that most people, of all ages, are not fully satisfied with their friendships, but that Gen-Xers and Baby Boomers suffer the greatest dissatisfaction: just 18% and 24%, respectively, told researchers that they feel "truly satisfied" with their friendships. Millenials and seniors feel more satisfied on the whole (29% and 35%, respectively), but, again, not by much.
Somewhat surprisingly — and rather comfortingly — seniors report the highest levels of satisfaction across a number of categories examined by this study (see chart below).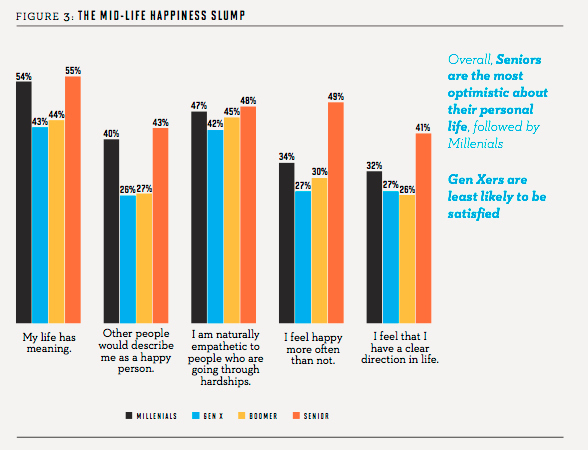 Friendship satisfaction varies by religion and gender too. People who attend weekly religious services are twice as likely to state they are completely satisfied with their friendships than those who don't, and conservatives are 11% more likely than liberals (32% vs. 21%) to say they are extremely satisfied with their friendships. And women feel more confident in their current friendships (41% vs. 33%) and supported in their friendships (39% vs. 28%) than men do.
By a 6-point margin (14% vs. 8%), men are more likely to befriend someone with the idea that that person can help their careers. Women are more likely, overall, to feel confident they have someone they can count on, someone who can advise them in a crisis, and someone they can confide in more generally as well.
Interestingly, and probably inaccurately, more than 80% of survey respondents agree with the statement "I am confident I am a good friend." (If over 80% of us were such good friends, wouldn't we all be more satisfied?)
Lest anyone wonder whether social media is responsible for our failing friendships, the survey results seem to suggest that isn't the case. No matter what Facebook might want you to think, there doesn't seem to be any correlation found between the number of Facebook friends a person has and that person's overall happiness, in either direction.
So what is responsible for the slump? Researchers think mid-life comes with more obligations and less time to devote to friendships, and that Americans that age suffer for it. But the research suggests that the happiness gained from dedicating just a little more time to one's friends is well worth the effort.