How To Do Birthdays On The Internet
Birthday etiquette is hard enough to navigate IRL, but the internet makes everything even weirder. Here's your guide to do online birthdays with social grace!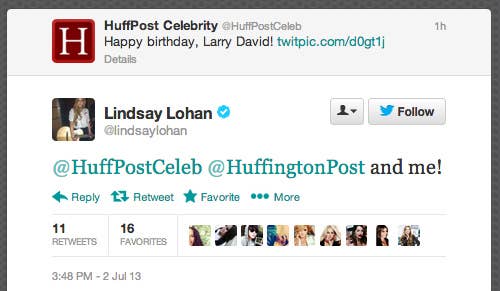 Birthdays: the best of times, the worst of times. If it's yours, and your friends are at least a little thoughtful, and nothing terrible happens at work, they can be mildly enjoyable reminders of the fact that you keep getting closer and closer to being old/dead. On the other hand, the littlest birthday inconveniences or slights can seem monumental, because we're encouraged to think birthdays mean we're SPECIAL, at least for a day, when they actually just mean we were born.
Then, too, there's the problem of how to deal with everyone else. Whom do you wish happy birthday, and how will you do it?
In the real world, there are just too many variables to address. We can't help you there. (Sorry.) Here, though, is a guide to using your manners when it comes to birthdays on the internet — its own special crisis.
It's YOUR Birthday
Rule #1: Do what you want! It's your birthday. (Note: birthDAY. NOT birthWEEK.) Facebook is easiest here — if you have your birthday listed, expect a wealth of generic wall posts and greetings. A nice and easy way to acknowledge them is to "Like" each post and, at the end of the day (or the next day), post a status thanking everyone for their greetings en masse. You don't have to reply individually, though it's nice to do if someone wrote you a personalized message.
As for Twitter/Tumblr/Instagram: one birthday-related post per medium is totally appropriate, though you can expect diminishing responses from your followers over time (unless it's a landmark birthday, like 30). Really, the only way to do your birthday wrong on the internet is to do it TOO MUCH — if you're jumping in on other people's tweets to alert them to your birthday, for example, you might be fishing. (Or you might be Lindsay Lohan! In which case, you do you.)
Inviting People To Your Party
If you're planning to use the internet to invite people to a birthday gathering, first decide whether you want it to be open (i.e. anyone who hears about it is welcome to drop by) or closed. The most polite way to send invitations to a closed event is by email, blind copying everyone on the list — UNLESS you're inviting an established group who won't hate getting reply-all emails from each other all day.
Facebook and Twitter invites should, ideally, be reserved for "whoever can stop by whenever" -type gatherings. These are public forums, and talking about exclusive events there can invite a number of unintended consequences — making people feel bad, for one, or ending up guilt-inviting someone you don't really want there because they somehow get added to a Twitter conversation.
It's The Birthday Of Someone You Like
A good friend/a former good friend whom you still care about: Write something a little longer and more personal than "happy birthday!" (Exceptions granted if you'll be wishing them happy birthday elsewhere, by call or text, too.) It will take you three minutes and it will be very appreciated, because it will stand out.
A high school/college classmate you don't talk to: Posting/tweeting anything here can go either way. If they wished you happy birthday, it's nice to do it back. But eventually, one of you is going to have to be the first to ask yourself, "Why am I doing this?" It's OK if that is you.
A coworker: A short "happy birthday!" is totally acceptable, polite, and encouraged. Even if it's someone you don't know super well or work closely with, it has never hurt anyone professionally to be extra-kind to one's colleagues.
A crush: A sext. Just kidding!!! Omg, just kidding. Do what you'd do for a good friend, but a little cuter. I'm not sure I even know what that means. I'm hoping you do.
It's Your Enemy's Birthday
You don't have to do ANYTHING! Don't pay too much attention to how many well wishes they're getting, you'll hate it.