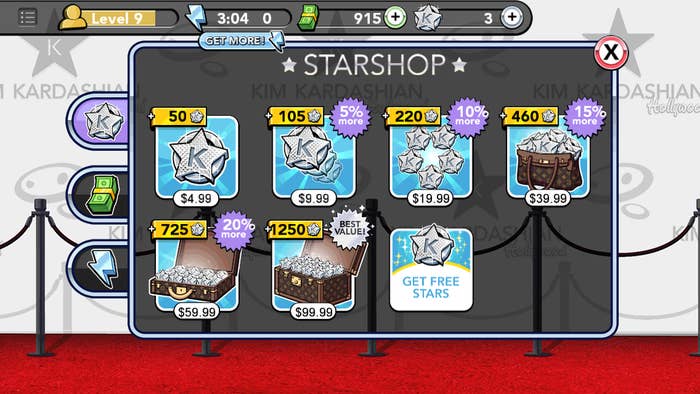 1.
Lindsey Weber, editor at Vulture.com: $0
Okay. I personally have spent no money on the game. But I was writing about it a bunch for work, so I did the magical hack (you can Google how to do this pretty easily) because I had to make it go a bit faster for my purposes — so I could see the entirety of the fame letters (E to A) without wasting an entire weekend.
However, I strongly believe that you shouldn't have to be spending money on this game! It's actually enough of a well-made game that you can spread it out over time (as it intends you to do —aside from the fucked-up-ness surrounding the idea of in-app purchases, which are arguably necessary to fund the game!) This is very unlike games like Candy Crush — which puts up actual barriers between stages that you have to wait out, pay $0.99 for, or "ask friends" to push you through. The only thing you're paying for in Kim's game is go through it faster, essentially. Yes, it's a silly concept, but it's actually really well made game-wise: It's at the same time self-aware and accurate, and there's new stuff at every turn. Even the way you can interact with IRL friends in the game is pretty genius.
2.
Claire Carusillo, writer: $4.99
I'm back home in Illinois for a few weeks while I contemplate next steps. I've never slept well, particularly as a stressed high schooler, and even before that as an anxious middle schooler, and being in my childhood bedroom with literally no clue what I'm doing with my life dredges up a lot of dormant (heh) sleep issues for me. For reasons I won't ever understand (or recommend for my own conditional, potential child), I've been prescribed Ambien pretty liberally by my GP since I was about 13 or 14 years old. I learned probably earlier than most that sometimes, abusing Ambien can heighten experiences? I love reading/Wikipedia-ing/etc. on Ambien, but I consider myself to be pretty responsible about it all and never do anything wild outside of the confines of my hot pink childhood bedroom.
ALL THIS BACKSTORY TO SAY: Last night I was feeling a little down about myself, reading that part of Virginia Woolf's Orlando where she's with the gypsies until I just couldn't with it anymore, and had precious little else to look at as a source of comfort besides Kim Kardashian: Hollywood. Also important: I had a bottle of two-year expired Ambien in my bathroom cabinet!
Gameplay is indeed very boring because it's always like, Simon shut upppppp. And I always forget if the photo shoot studio is in downtown LA or in Beverly Hills, to the point where I play on my iPad, and have a note in my phone about each venue's location so I don't waste money on the bus when I could be spending it on a cat.
Anyway, my kustom avatar (modeled in my image, but hotter) was looking for gossip at Hollywood's hottest dive bar (?) The Brew Palms when I somehow clicked on the little cell phone icon and the first contact in my phone was "Andrew Bailey — a server." I couldn't remember when or where I had met him, but he wears a bucket hat and mermaid hair which made me laugh a lot.
In that moment, I was convinced he couldn't subsist on his waiter's salary in one of the United States' most expensive cities. I wanted to treat him right, impress him. I have a bit of a savior complex!
I had already squandered my in-game savings fashioning my avatar a new look (a Lanvin stunner Kim had worn to the Met Ball earlier this year). With an Ambien-addled brain that also tends to make my heart swell, I went for the in-app purchase for $4.99, securing me 5000 Kardashian Dollars. No hesitation. I spent more than half of those on Andrew Bailey, expecting him to become an A-List celeb instantaneously. Nothing happened, really. He's a waiter and American social mobility is a myth!!!!! JK, kind of, but still.
At the end of the day, we all just want to be liked. And in the earliest hours of the morning, I wanted to be liked by Andrew Bailey, a virtual server.
3.
Jenna Wortham, New York Times reporter: $14.97
I bought 3 of the $4.99 K packs! It's mostly for the outfits and hairstyles. The good hairstyles all cost so many points! I bought a cute shaggy bob and then I had to get the beige bathing suit thing with the sheer robe to go with it for the Triste launch party at Chateu Nuit. I would say it embarrasses me to admit that, but I've stopped trying to rationalize it. I also didn't realize how hard the K points would be to get; I had a bunch early on and adopted that stupid stray cat because the game said it would make me more popular, but I should have bought the dog in the bag, which I could at least wear out. The cat lives in my crappy apartment next to So Chic, and I only see it if I stop by the apartment which I never do because the landlord just makes me pay rent.
4.
Matt Ortile, BuzzFeed: $14.97
Just last night I spent about $15 on Kim K stars and dollars to secure my appearance at the night club in Vegas and finish a date with an imaginary lawyer. Small price to pay to live the life I want to live.
5.
Katie Heaney, BuzzFeed: $19.96
The first time I spent money on the game, I got a $4.99 pack of K coins and was like, haha, that is so funny that I am spending real money on this game, lol. I was on the E-list, in the middle of a pretty short photo shoot, and I knew that if I didn't get more energy, I'd bomb. You get those little notifications, like, "Well, Katie was IN the Metropolitan Magazine spread for scuba wear, but it was just ... okay." And that really stings. So I figured I'd get through this shoot and move up to D-list and never put real money into it again.
But then I got into a pinch where I'd spent $4500 on that leather jacket + dress combo (which was WORTH it, because there was a small press item about how good I looked) and used my precious few K coins on a condo or something I didn't even want, and needed more to gain entry to a photo shoot that Simon said would really raise my profile. So I bought another $4.99 pack. And a little later that night, another.
Two nights ago I bought a fourth. But it's easier now that I'm on the B-list, almost on the A-list, and I've been wearing that outfit everywhere, looking great. $19.96 is pretty bad but I would like my mother and father to know that I have stopped using Seamless and make my own coffee and almost never take cabs.
6.
Becca Laurie, manager, Ravenhouse LTD: ~$20
I have definitely bought stars for only energy. The GATEWAY drug for me was the bonus pack offered this past weekend: EXCLUSIVE SUNGLASSES, stars, and maybe something else? Now I can't even remember, and that in itself is VERY embarrassing? It was $4.99. I love the sunglasses because I hate the eyeshadow colors so much.
The other purchase was for 100 coins (to exchange for energy). I was tempted to use the coins to buy a cute outfit but I stopped myself.
What was I thinking? "Not again." I remember last summer, and all the money I spent on Candy Crush lives, money I will never get back. I feel like the money goes further in Kim game than Candy Crush, though, and I guess I rationalize it by admitting that I really do like playing the game. It makes me happy, and if the price of that happiness is roughly the same price as a fancy coffee or Oprah Chai, it's worth it to me. At least right now. I will start to feel guilty if I spend *a lot* of money on the game I'm sure, but it really does feel like a small price to pay for a fun game? IDK, I sound like an addict!
7.
Emily Gould, author: ~$40
I started small, but eventually was bored and drunk and spent $19.99 on K stars at once. Have not played the game since then because I can't control myself, clearly. I think what was going on in my mind was the same thing that goes through my mind IRL: "I don't have money to spend on this, but I LOOK SO GREAT IN THIS AND I JUST NEED IT TO GET ME THROUGH THIS MOMENT." I will do the hack before I play again, for sure.
8.
Emily George, college student: $100
I started this game two days ago, and I thought I would be fine and not spend anything, but I forgot I had my phone's Touch ID activated [through which iPhone users can use their fingerprint on the home button as iTunes password], so I didn't even think before I tapped to spend $100 on K stars and dollars. I was out of energy in the middle of a photo shoot, and I went to go see how much more would cost me. So I suppose I knew I was considering it, but I didn't realize until after I did it that I had just spent real money! After I purchased it, I tried to rationalize by telling myself it was a good investment, but clearly it isn't at all.
I used the cash and K stars to buy energy, clothes for friends so they'd like me better, and clothes for myself!
As soon as I did it, I regretted it. And I just got the bill in my inbox yesterday. I am sad.
But at least I'm an A-lister!
9.
Frank Lowe, dad tweeter at @GayAtHomeDad: $130
I'm a 37-year-old gay dad, and I have spent about $130 on that stupid game. I hesitated because I thought, "Here I go down this rabbit hole," and also because I thought I should keep Pandora's Box closed. It kept getting worse and worse, that first day, as I became power hungry and ascended up the charts like a fresh-faced ingénue. I was scared to look at my iTunes bill the next day.
The first day alone I spent over $95. I bought K coins so I could get more energy and fly through the shoots. Then there was this one time that Dirk Diamonds wanted to buy the mansion I was looking at, and I was like "Hell no motherfucker," and bought another $20 worth of K coins to beat his ass to the punch. As tempted as I have been, I have NOT bought the Louis Vuitton bag full of K coins, but I kinda want to just so I can hit rock bottom and move on with my life. I'm A-List and #1 now, though, so... I'm not too unhappy about it.
How much have YOU spent? It's OK: we get it if you just really wanted the red and black bikini to wear around your vacation home in Miami. You're among your own people here.