On a warm New York City night in late March, Hayley Kiyoko tells a sea of screaming fans at the Bowery Ballroom that they're pretty. Each time she sings the chorus of one of her 2016 singles (I just wanna tell you that you're really pretty, girl), she points at a different girl in the predominantly young, snapback-wearing, rainbow flag–carrying crowd. Even from the balcony above, you can see the hearts in their eyes. They are the chosen ones, singled out, blessed by their Lesbian Jesus.

Over the span of her still-young musical career, Hayley Kiyoko has mastered the sort of populist stage persona to which many young musicians can only aspire: sexy, but vulnerable, and shy, like you; a cocky underdog, indebted to her fans. The 26-year-old is a former Disney star and a present-day quadruple threat, at least — she sings, acts, plays multiple instruments, and directs her own music videos, each of them received like sacraments by the huge, devoted following she amassed well before the release of her highly anticipated debut album, Expectations, slated for release in March 2018.
At the Bowery show, mixed into her bouncy, gyration-heavy, platinum blond hair–whipping set, Kiyoko gives several short, warm-and-fuzzy speeches about how lucky she feels to be here. When she thanks the crowd for making space in the music industry for "someone like her" — gay, female, half Japanese — she starts to cry. She tells us how, as a preteen, she used to go home after school, take a nap, and imagine "Hayley's World," a magical place where the girls she liked liked her back. Now, years later, she is living in it.
A little over half a year after watching her lay glittery, gay waste to the Bowery Ballroom, I meet Hayley Kiyoko for breakfast at Clinton Street Baking Company & Restaurant, a much-hyped brunch spot on the Lower East Side. She arrives with crew in tow — her manager, her best friend-cum-assistant, her assistant's friend, her label's press contact, a photographer — but is encouraged to sit alone with me ("for privacy") while her mini entourage gathers around a booth five feet away.

Though still in the infancy of her pop music career, Kiyoko has been around for a long time. As an actor she's played Velma Dinkley in the early-aughts made-for-TV Scooby Doo movies, and guest-starred on Disney's Wizards of Waverly Place. In Lemonade Mouth, a cult favorite Disney Channel original movie, Kiyoko played spunky drummer Stella Yamada. She also had a role in the short-lived CSI: Cyber and starred as Aja in 2015's remake of Jem and the Holograms. She still acts — she stars in an upcoming Facebook show called Five Points, produced by Kerry Washington — but has gained more prominence, in recent years, for her music: synth-heavy, catchy, and unabashedly queer pop.
Kiyoko, a Los Angeles native, is tomboyish California cool. Today, she wears blue Adidas sneakers, socks with blue monsters on them, blue jeans, an oversized black NASCAR T-shirt, and an open Army-style green button-down on top. When I ask her to show me the T-shirt so I can do the profile thing and describe it, she tells me, "Don't describe it too much, because it's some random racer dude and I don't know if he's a racist." Her shirt was chosen not due to any particular racing ardor, but for its place in today's blue-toned color scheme.
"People are always like, 'Yeah, you know Hayley, she's a player,' and I'm like, 'Who said that?'"
Color is big for Kiyoko — she says it's how she sees music. The video for her debut album's first single, "Feelings," which she directed, was inspired by an orange gas station she once saw; she designed everything else in the video in service to that orange. "I start with a color palette and a mood board," she says. "What color is the Jeep going to be, and what color should be on the wheels to accent the orange gas station?"
I embarrass myself by telling Kiyoko I thought the video must have been inspired by "San Junipero," the beloved queer love story told in the now-famous Black Mirror episode — the hazy nowhereness of the setting, the '80s vibes, the Jeep…no? "That's interesting," says Hayley, in a way that suggests what I've said is neither very accurate nor particularly interesting. To save face, I begrudgingly tell her my girlfriend said "Feelings" reminded her of Michael Jackson's "The Way You Make Me Feel" video. Kiyoko grins. Bingo.
"I've always wanted to do a video of me following a girl down the street," she says. "Michael Jackson's done it. Omarion's done it. All these male pop artists have followed women down streets in videos — it's kind of the classic thing. And I was like, there is no video of a girl following a girl down the street. I need to do this at some point in my life." But because Hayley is Hayley — not just singer, songwriter, dancer, and performer, but also director and storyteller — her own girl-chasing video had to do more. The set design is all her, as was the decision to shoot it as a one-take. "Nobody's done it as a one-take," she explains. The choreography, too, is very deliberate, playful, and flirtatious and just this side of goofy. "What I love about it is that it still feels real, like that moment of meeting someone and kind of vibing, like, 'Are you into me? Maybe? Yes?'" says Kiyoko. "Not in a forcible way — in a very consensual way."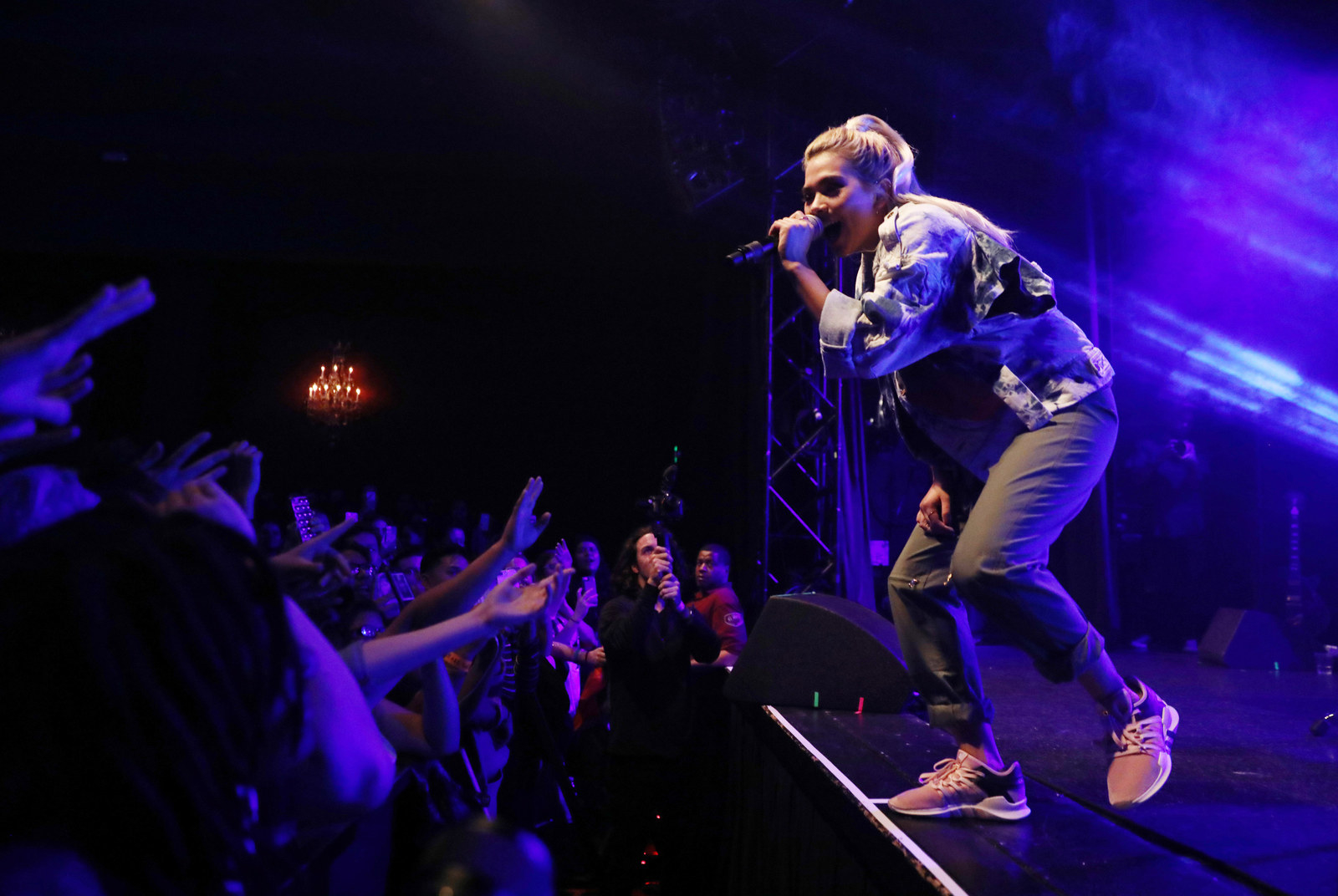 Though she plays a convincing lesbian Lothario, Kiyoko, who is currently single, emphasizes that her videos are more like self-starring fanfiction than autobiography. "People are always like, 'Yeah, you know Hayley, she's a player,' and I'm like, 'Who said that?'" she says. "I'm obviously the most emotional, sensitive, reserved person." Still, it's clear this isn't exactly a reputation she doesn't enjoy. (After the Bowery Ballroom show, Hayley tweeted, "To that gorgeous girl in the middle of the crowd with blonde hair...dm me. ;)") And why shouldn't she? In her relatively newfound status as a young lesbian sex symbol, Kiyoko embodies a sense of vindication (and hope) for all the queer kids who felt left out and unloved in middle school — herself included.
"I've been parading around, leading people, being loud, since forever."
Kiyoko wasn't out in high school, except to a very few close friends, but says she knew she was gay "since the womb." In every other respect, though, Kiyoko was as visible and present a high school student as it is possible to be. She was elected president of her middle school and then her high school first-year class. She was given the title of "Commissioner of Pep Rallies." She created and choreographed for the Agoura High Step Team. "I love that shit," she says. "I've been parading around, leading people, being loud, since forever." Given her upbringing, it isn't especially surprising Kiyoko caught spotlight fever — her father is Jamie Alcroft, a comedian and voice actor, and her mother is Sarah Kawahara, an Emmy-winning figure skating choreographer who did the choreography for 2017's Oscar contender I, Tonya.
Kiyoko was first discovered at the age of 5, while attending a photo shoot with a friend (you know, typical 5-year-old things), and was subsequently cast in commercials for Cinnamon Toast Crunch and Slim Jim. Her music roots took hold just as early: She demanded drumming lessons at the age of 6. In 2007, when Kiyoko was 16, the artist and producer Vitamin C asked her to join a girl group called the Stunners (of which singer Tinashe was also a member). The group released a few singles, but disbanded in 2011 before they released a debut album.
Like Beyoncé, like Justin Timberlake, like George Michael, Hayley Kiyoko is not meant to be part of an ensemble cast. She is too ambitious, too much a perfectionist, too charismatic — too many of the things a person needs to become a star in her own right.
But that doesn't mean she was always as self-assured as she is now. Some of the early music videos Kiyoko released as a solo artist, like "This Side of Paradise," feature male love interests — a move that was, says Kiyoko, partly driven by fear. "It was an extreme struggle," she says. "I did not want to be the gay artist, and I talked to my manager all the time, like, I don't want to lead with that. I didn't want people to look at me like that's all I am."
"I did not want to be the gay artist ... I didn't want people to look at me like that's all I am."
But then came 2015's "Girls Like Girls," which now has more than 82 million views on YouTube. The video depicts the kind of early high school love story most budding queer kids are familiar with: a best friendship which turns into something more. Previously, Kiyoko says, she wasn't comfortable casting a girl to play her love interest, even though she knew that was what she wanted. The "Girls Like Girls" video, in which Kiyoko does not appear, was a way for her to test the waters. And as soon as Kiyoko saw the internet's adoring, emotional reaction to the video, she felt moved to create more videos that spoke to who she really was — and to appear in them herself. "The fear that I used to have has now forced me to be like, you know what? No one else is stepping up, so I will," she says. "I will be that person that I was afraid to be."
Kiyoko has taken to her mission with aplomb, releasing, in the last year and a half, a series of sultry, heartache-y videos about falling in love ("Sleepover") and falling out of it ("Cliff's Edge"), all of which she directed herself. In what is perhaps her most famous video among diehard Kiyokians (the name by which Kiyoko's fans self-identify), "Gravel to Tempo," Kiyoko dances through a high school, watched skeptically by a pack of pretty, popular girls. In sneakers and baggy denim shorts, she taunts them, climbs atop a cafeteria table to flirt with them, and eventually wins over a girl known to Kiyokians as Headphones Girl, a pairing to which many, many Tumblr posts are devoted. In the week leading up to the release of her video for "Feelings," Kiyoko and Headphones Girl (Chanel Celaya) kissed in a video on Kiyoko's Instagram story.
"The fans needed it and they deserved it," laughs Kiyoko. "They lost their goddamn minds." The kiss was pure (and savvy) publicity, but where previous eras' "gay for sweeps week" efforts seemed like cheap stunts — like the brief fling between The O.C.'s Marissa Cooper and Alex Kelly, for a personally devastating example — when Kiyoko feeds fans' fantasies, you can't help but cheer her on. It is still novel to watch a young queer woman of color get exactly what she wants.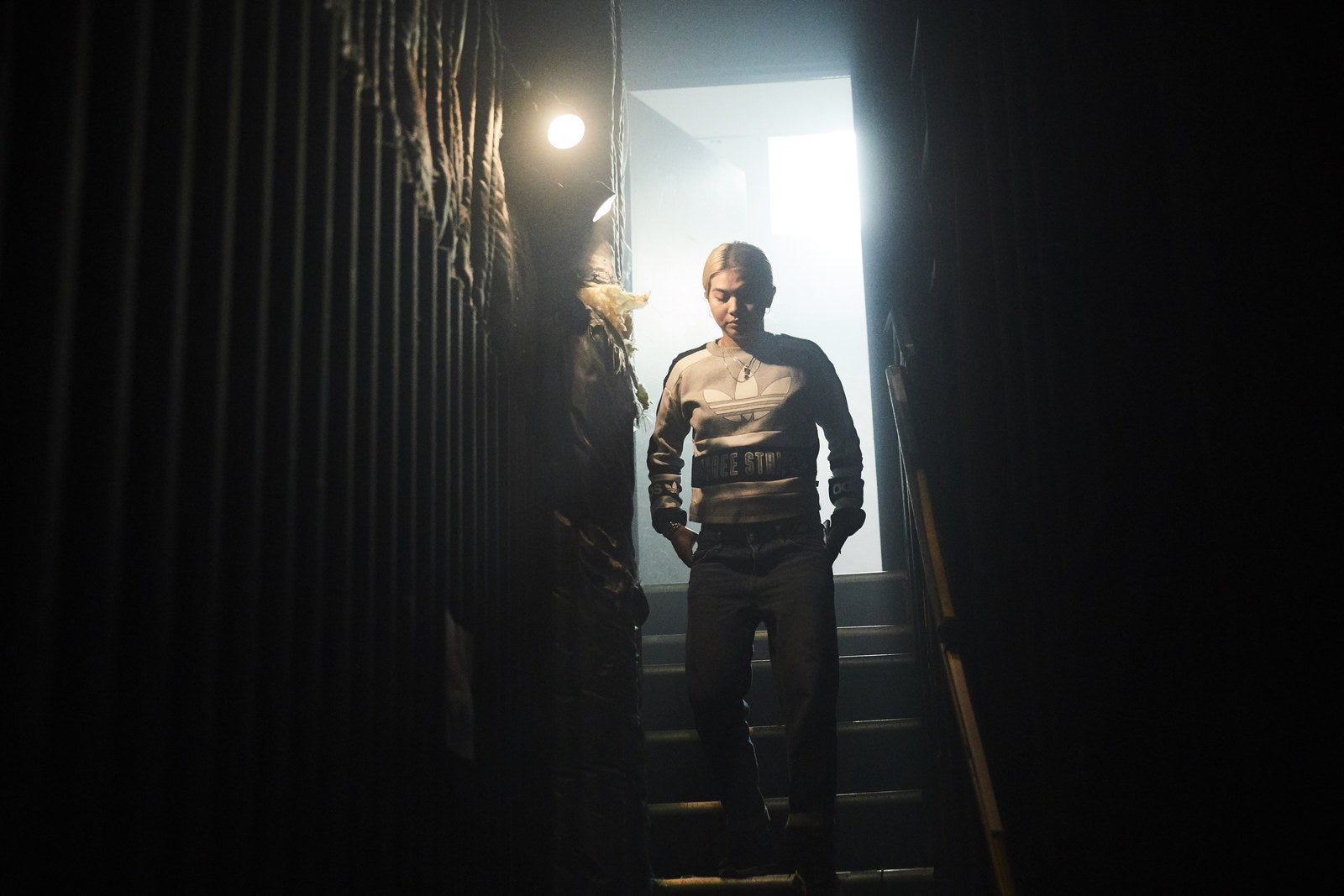 After we finish breakfast, Hayley Kiyoko and I get our auras read at Magic Jewelry, a tiny, popular crystal shop in New York City's Chinatown. While we wait for our Polaroid-style aura photographs to process, Kiyoko peruses the crystals, asking to see any/all citrine spears the store carries.

Citrine is also the name of Kiyoko's third EP, so named for the crystal she came to rely on after a 2016 accident that left her badly concussed. (She hit her head during a Road Rules/Real World–themed birthday party competition.) Of the aftermath, Kiyoko says, "I couldn't think, I couldn't open my eyes, I couldn't drive. I was fucked up. I take like five pills a day for my head, still." Kiyoko was on tour at the time, crying before and after shows because the pain was so severe. She started resting with a piece of citrine on her forehead, and she says it helped her a lot. (So, too, have her regular appointments with the UCLA concussion clinic.) A seven-minute song on Kiyoko's debut album is devoted to her concussion and the resulting struggle to heal.
Kiyoko picks up the citrine stones offered to her, examining them closely using criteria I can't discern. In any case, they run about $300 apiece, and as she puts it, Kiyoko is not yet a "bajillionaire." Aura photographs, on the other hand, cost only $20.
The clerk gives us a brief explainer: On these photographs, we'll see ourselves surrounded by blobs (my word, not his) of color, which indicate energies associated with chakras. Sometimes, he tells us, when friends come in together, they see similar color patterns. Then, with a flourish, he rips the cover sheets off our photographs one after the other, and we ooh and aah at the twin purpley-pink halos around our heads. My aura does look very similar to Hayley's, which I find flattering.
"What does that mean?" Kiyoko asks, half-jokingly panicked.
The clerk explains that our auras' bright magenta means we're in search of balance between the outside world and inside world, and also that we're obsessed with feelings. In spite of myself, my eyes widen — without knowing it, this stranger has just invoked the title of Kiyoko's new single, an ode to the dazzling, thrilling moment when girl meets girl and anything is possible.
There is something radical and refreshing in how plainly Kiyoko claims her sexuality and the language that goes with it. Many of today's up-and-coming queer musicians still tend to avoid gendered lyrics, leaving their songs' subjects open to interpretation in service of universality. (Not so long ago, Sam Smith told Fader he kept his lyrics gender neutral so they could be about anyone, whether "a guy, a female, or a goat.") But ever since she released This Side of Paradise, her second EP, Kiyoko has been explicit: Her music was, is, and always will be about girls. And yet, she says she still encounters people who are surprised when girls are who she wants to write about.
"That's the whole point of my trying to achieve success in mainstream pop — to have straight people sing to my music that has a 'she' pronoun in it."
"I was in a writing session the other day, and a writer was like, 'Oh, you shouldn't use that pronoun because other people can't sing to it,'" she says. "And I was like, 'I'm sorry, I've been singing to straight songs my whole life, and I'm just fine.'"
That Kiyoko is able to perform and sell explicitly queer music is, of course, thanks in part to predecessors like Tegan and Sara, who've made it a point to call out the homophobia and sexism they faced early in their careers. A lot has changed since they released their first album (1999's Under Feet Like Ours), but as far as the wider music industry is concerned, love songs, even in 2017, are only considered universal when sung by a guy to a girl, or vice versa. Adam Lambert, too, has criticized the music industry's refusal to let gay men sing openly about men. As evidence that there is still a cultural resistance to using same-sex pronouns in pop music, consider, for instance, the embarrassingly popular practice by which artists "gender-flip" the pronouns in their cover songs to, I guess, preserve their heterosexuality, the way Ryan Adams did on his album-length 1989 cover.
It is not entirely surprising, then, that Kiyoko still has to fight for those hers and shes and girls. "That's the whole point of my trying to achieve success in mainstream pop — to have straight people sing to my music that has a 'she' pronoun in it," she says. "Who cares? If it's a good song, sing to it." Who should care, indeed? But in a sphere dominated by winky, ambiguously queer pop hits like "Cool for the Summer" and "I Kissed a Girl" — songs with accompanying videos which, notably, don't feature their lyrics' suggested female love interests at all — Hayley Kiyoko stands alone. And while she is content to carry this mantle for queer girls everywhere, Kiyoko won't be happy until she's doing it from the top of the charts.
Toward the end of our session at the crystal shop, the aura reader points to a spot on the picture just above Hayley's head. "Sometimes when the color is a bit cloudy like this, it means our head is spinning," he says. "There is dissatisfaction at the moment. We know what we want, but we're still searching."
Kiyoko laughs. That sounds about right.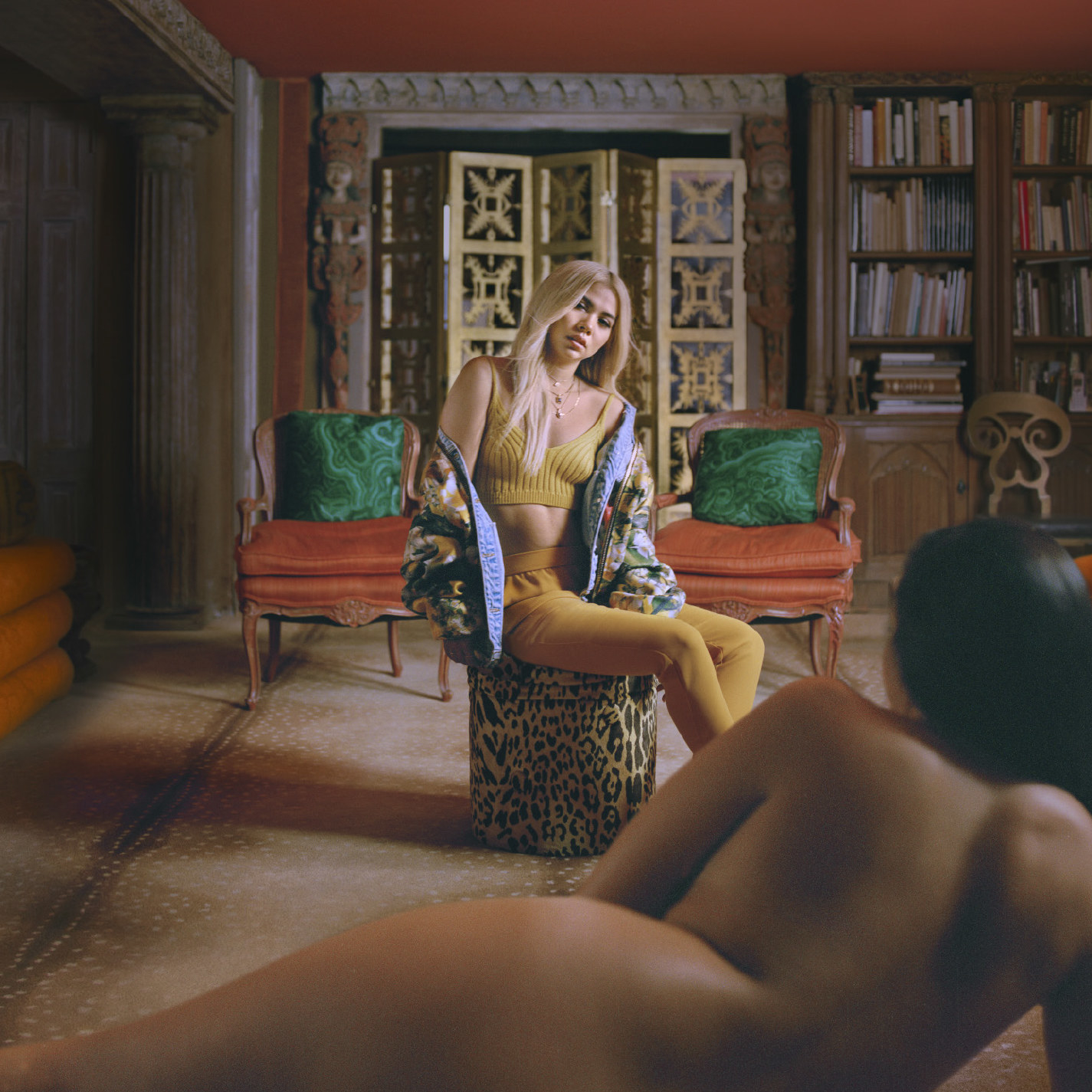 TRL in 2017 is a surreal setting: a gleaming neon pink-white studio plunked in the center of Times Square, where TV screens play "throwback" hits like Soulja Boy's "Crank That," and the backstage walls are painted jet black with caution tape–yellow accents. It all feels very 2003, with the added element of an industrious production assistant who thrusts a phone into every guest's hand, urging them to record something for TRL's Instagram story. While Hayley's team waits for her segment in the greenroom, the VJs chat with a duo called "the Dolan Twins," famous for something I'm too old to understand. One of them (the bad boy, it seems) wears a dangly silver feather earring in one ear, like George Michael.

Later that afternoon, Kiyoko's "Feelings" will be the first music video premiered by the second coming of TRL, and backstage, she announces she's going to vomit. (She doesn't.) A few months later, in January 2018, she'll return to the show to premiere yet another very sexy video (which you can watch below), for a song called "Curious," about a girl with a boyfriend and a lingering thing for Hayley.
But for now, Kiyoko is brought onstage to play a version of Pictionary with two female fans in their early twenties — one of whom, after being given the mic to introduce herself, speedily adds "I've-had-a-crush-on-you-since-I-was-five." When Kiyoko hugs her, she mouths, oh my God.
After the game (which the girl with the crush tragically loses), Hayley's team, the appointed TRL VJ, the camera crew, and I run — literally — out of the studio, down the escalator, and right into Times Square. It's overcast, but the lighting crew fixes it so Hayley and the VJ glow gold. We form a circle around them and wait, and people start to gather the way they do when it's obvious someone famous is nearby. Behind me, a couple of preteens stand on their tiptoes, and when they see who it is, they shriek. "It's the girl from Lemonade Mouth!!" Well, yes — but if all goes according to Hayley's plan (and given her relentless, exacting pursuit of her every vision, that seems likely), that won't be how you know her for long.
The camera crew counts down, and the crowd cheers. Now recording, the dark-haired, cropped sweatshirt–wearing VJ chats briefly with Kiyoko about her video and her forthcoming album. Or so I assume, because I can't hear her — the mics they use are for the television audience's benefit, not ours. Then Kiyoko introduces "Feelings," and the video of her chasing a beautiful, receptive girl down the street is projected onto a large screen outside the TRL studio, in the middle of Times Square. Once again, we can't hear a thing, but Hayley dances along just the same, beaming, watching herself get the girl. ●