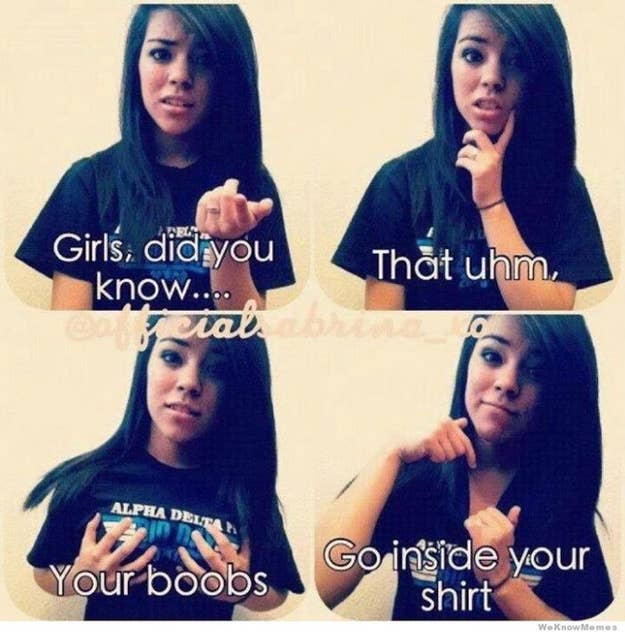 Last summer was big for slut-shaming on Tumblr. (That is, if there can be a time that's especially "big" for something as persistent and widespread as slut-shaming.) The above image, first uploaded to Instagram by the picture's subject — a girl named Sabrina, who otherwise posts largely inoffensive selfies and, occasionally, GIFs of her kissing her boyfriend — was posted to the site on June 18, and though it was quickly deleted by its owner, the image had already started to spread.
A year earlier, in the summer of 2011, an image of model Cole Mohr holding a sign reading "Dear Girls: DON'T BE INSECURE/You don't need make-up & nice clothes/ you're all fucking beautiful." The post attracted attention, but it was only after a parody photo set by Tumblr user "einsteinonacid" was posted that "Dear Girls" became a meme. Einsteinonacid's post had over 150,000 notes in the span of two months. By summer 2012, "Dear Girls" was a thing, roundly criticized by bloggers and fellow Tumblr users alike. But since then, the meme's Tumblr tag has gone relatively quiet. (Though, as Amanda Marcotte noted on Wednesday, where Tumblr users' natural-beauty-concern-trollers might have faltered, The New York Times recently picked up the torch.)
A sexist meme is a sexist meme, but is one that is introduced by a guy somehow easier to quash?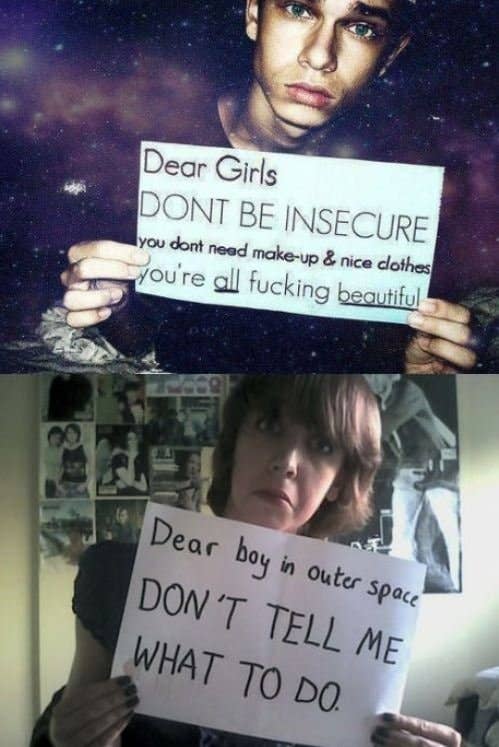 "Hey Girls, Did You Know" is a sexist meme — another image-regulating, slut-shaming meme — that persists. But it's one started and largely perpetrated by girls themselves.
Not unlike "Dear Girls," the original photo set has been widely mocked among Tumblr users both male and female — again, many of whom responded both intelligently and hilariously, and some of whom responded in a way that created entirely new issues of their own.
But not all the posts you'll find searching the "Hey Girls, Did You Know" Tumblr tag aim to contradict the original post's slut-shaming message. Many of them support it — some mimic the original text almost exactly, while others object to obvious makeup use. (And in doing so, circling us back to "Dear Girls," formerly an entirely separate meme. It's the way these things tend to grow, building on each other and metastasizing and getting progressively worse and worse.)
The funniest retorts are from girls. But so are the meanest.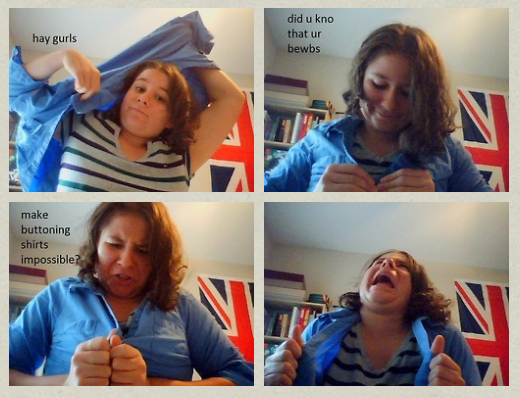 A Facebook page created in "honor" of the original meme, founded last June, has nearly 37,000 likes. While many of the fan-submitted posts are critical (or at least reduce the meme to silliness), the most popular ones, and the ones most frequently reposted by the page's owner, are ones like this one — posts created by girls to shame and tear down other girls.
It seems there's just something very likable — in the internet sense, at least — about a girl using social media to attack other girls. It may well be easier to build a coalition against an "enemy" who is different from you — as in the girls vs. boys nature of the responses to Boy In Outer Space — but it's another when the enemy IS you. "You're not being a girl in the right way" is still a very popular argument to make. So, too, is "I'm not like other girls."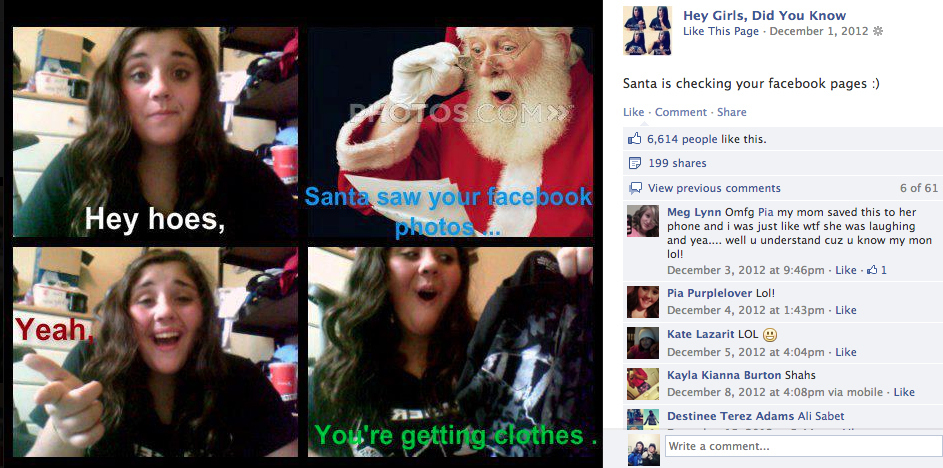 One of the weirdest things about the Facebook page (if you could pick just one) is the juxtaposition of hateful, misogynistic images like these with the many wholesomely simple, teenage pop-culture-y posts, like this picture of SpongeBob, or this cute cartoon about a dinosaur family.
It's only really surprising until, I suppose, you remember your own years in middle school. It's a strange and cruel age range, no question. You are a kid and you are not.
There are dozens of reasons why young girls (and not-young women) might feel the need to hate and publicly criticize other girls and their gendered behavior: personal insecurity, the societally-enforced perception that doing so is what gets you male approval, jealousy, internalized misogyny, etc. Tumblr notes and Facebook likes are only the newest incentives among many.