Can You Just Show Up Wherever You See Your Friends On Foursquare?
Short answer: no. Long answer: no. Plus, how desperate do you look when you instantly respond to emails?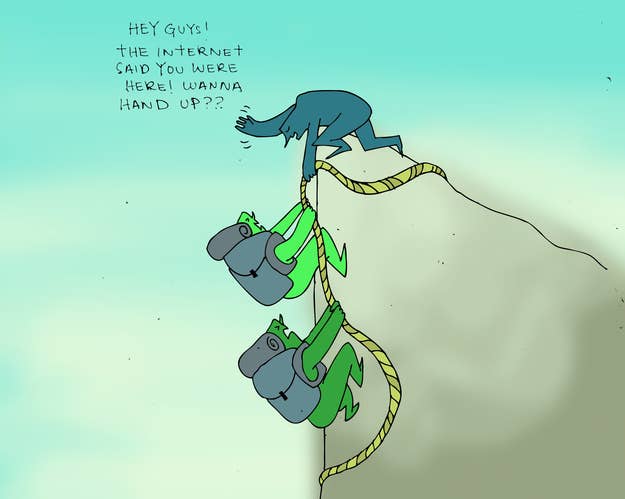 If I see my friend's location from a Foursquare post, what's the protocol for me trying to get myself invited to the hanging out going on? Can I just stop by?
Oh my god, no. No! What are you talking about? WHAT ARE YOU TALKING ABOUT??
You are never EVER allowed to "just stop by" to something you weren't explicitly invited to. At any time, at any place. This doesn't even necessarily have anything to do with the internet, so that part of your question is really beyond the scope of this column, but I just want to make sure you know that. I'm taking off my "tech etiquette" hat and putting on my "general human decency" hat and also, like, twelve protective helmets, because I'm not convinced you are safe to be around. Do you want to sit on my lap or something? No, ahhh, don't, just stay over there. Just back up like three more feet. Perfect.
Foursquare is the DUMBEST, okay? I think we're agreed on that one. The only time you should even acknowledge it is if you (NATURALLY) find yourself in a place where your friends have posted they also are. Then you may text "LOL hello, I see you," or whatever, and go from there. Otherwise, forget about it. You're saying "Why would my stupid friends post their hang-out locales publicly if they weren't okay with drop-ins?" and I'm sort of nodding in this way where my head is increasingly tilting to the right, because even though I see your point in theory, I'm also still a little on edge around you. The fact is that both your friends and you are acting like maniacs. No, there IS no logical reason to post where you're hanging out publicly unless you a) want everyone to think you're cool or b) (theoretically) want everyone to come say hi. Nevertheless, here we are, giving each other economically and politically impotent government titles for simply patronizing a given food establishment.
That said, my friend, there IS no protocol for you to follow here. You can't text or call your friend pretending you don't know what s/he is doing and hoping to get a last-minute invite, because that is creepy and sad. You certainly can't "just stop by." You CAN ask your friend about it later, though. Say this: "How was your 7:43 pm dinner at ________? Did both Nathan Andrews and Mel Peterson enjoy themselves? What about Emily Wexler? Tell me everything each person drank and ate, and PLEASE, for god's sake, do it in the order the entrees were given to the server."
I'm always on Facebook/Twitter/email so when I get something on there I write back RIGHT away simply because I'm always on. Does this make me look more desperate than someone who ISN'T always plugged in to social media?
Ugh, I think so. *Exaggerated, theatrical sigh* Look, I've been trying to find a way around this for approximately twenty-two years. Like, I was even preparing for it before most people even HAD the internet — that's how worried I was about looking pathetic, friendless, and non-important when the internet finally did show up. Most babies around that time were potty training, but I was planning for the pressures of the digital age. (I AM potty trained. Mostly. No, completely.)
The thing that I say to myself that you should also say to yourself is this: people who take a long time to respond to things are ANNOYING. When you write to somebody online, and they respond within five minutes, are you not overjoyed and relieved? If your response to that type of punctuality is to wonder why s/he doesn't have anything better to do, you are PART OF THE PROBLEM. More than likely, though, you are happy. So, also more than likely, the people you respond promptly to will feel the same way. Nobody writes to you hoping to receive a reply only AFTER a minimum of eight hours has passed unless s/he is a total weirdo. No weirdos! No jerks allowed! Write back to everyone instantly. Write back before you even GET their original messages, if you can.
On the flip side to the question about drunk texting the other week…what's the polite thing to do when you're the very sober recipient of a drunk text? I seem to be a magnet for these things. :(
Oh I'm so so SO sorry, everyone thinks of you when they're feeling liquor-based nostalgia and/or lust and/or affection! You're the first person most people think about when their faces are flushed and they're grabbing their phones to make contact with the one human they love best in that moment, and that must be REALLY HARD. Let me guess, you're also irritated because your skin smells naturally of lavender and because your skillet is always making you pancakes independently, as if by magic, every morning.
OK look, I don't know if this is fair or even logical, but it's unquestionably RIGHT so just trust me on this: just as drunk texters are undeserving of sympathy, so too are drunk text recipients. As the recipient, you are the one with the power, and you're going to use it to crush this epidemic. Nobody is allowed to complain about drunk texting on either end, because that won't make it go away. Kim Kardashian is not allowed to complain about being famous, and you aren't allowed to complain about having to witness her be famous. "Let it be said that the quiet, happy peasant ne'er gave breath to the rich and fornicating nor to the inebriated correspondences of the night" – a proverb.
Here's what you do: never respond. Never, not once, not ever. That person needs to learn a lesson, and that lesson is this: there will be no dog treats for this Pavlov's dog. Drool-y dogs are bad enough, but DRUNK drool-y dogs are an embarrassment to the canine race. Why are you giving your dog alcohol again?? Ah, I'm off track. Anyway, put your phone on silent every night, sleep well, and ignore everything that showed up there between 1:00 and 6:00 am. Repeat.