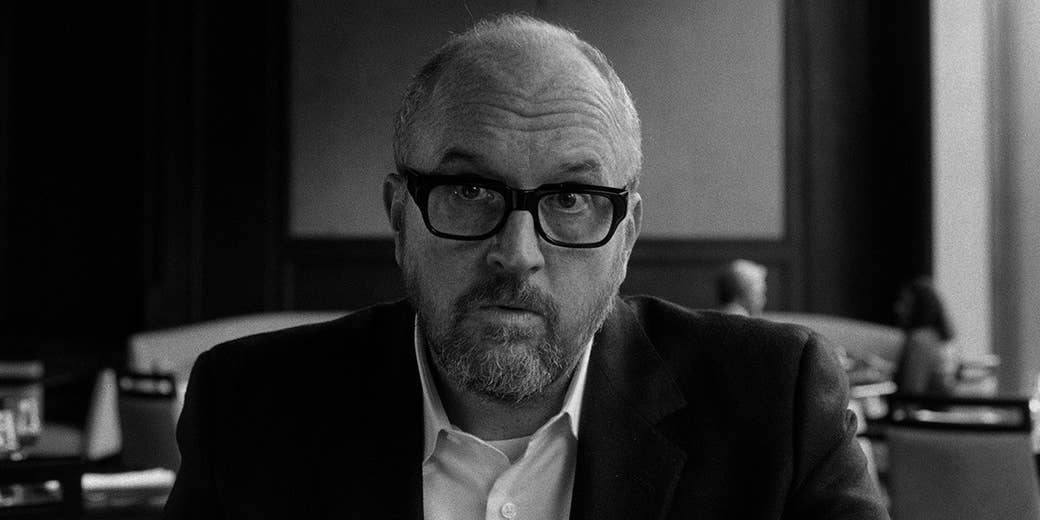 Louis C.K.'s new movie I Love You, Daddy has arrived at a critical point in the comedian's career.

It's a project that started with C.K.'s self-described "fascination" with men whose work you admire but whose actions and those allegations of sexual impropriety alter your perspective. It ultimately and literally asks the question, in C.K.'s own words at the film's premiere at the Toronto International Film Festival this past weekend: "What if one of those guys was fucking your daughter?"
In I Love You, Daddy, which C.K. cowrote with Vernon Chatman, the comedian plays the titular daddy, Glen Topher, a successful television writer whose spoiled teen daughter, China (Chloë Grace Moretz), has recently sashayed into the orbit of iconic film director Leslie Goodwin (John Malkovich). The conflict is that Leslie is rumored to be a pervert and a pedophile, with a predilection and perhaps predatory nature toward girls a quarter of his age. He was even alleged to have molested a child.
Leslie is nakedly a stand-in for Woody Allen with whiffs of Roman Polanski and other Hollywood types whose sexual, moral compasses have been viewed as broken by the public. Glen — much like the protagonists of C.K.'s other projects — is a stand-in for C.K. Particularly since his art tends to delve supremely into the personal, it's C.K.'s parallel to his own character that puts him in the arch of the evergreen quandary of considering art separate from artist.
For the last couple of years, there have been rumors of sexual misconduct surrounding C.K. There have been stories about how he's made women feel uncomfortable; that he's allegedly masturbated in front of some unsolicitedly. No women have publicly attached their name to this narrative, though the comedian's former friend and colleague Tig Notaro very openly told the Daily Beast last month that he should finally "handle" the allegations. (On her show One Mississippi, which C.K. executive produces, a character is accused of sexual misconduct and masturbates in front of a woman in his office.) A publicist for C.K. did not respond to BuzzFeed News' request for a comment.
C.K. told the New York Times this week that the rumors about him (none of which involve underage individuals) are untrue. "If you talk about rumors, you give them life," he said. "If you actually participate in a rumor, you make it bigger and you make it real. … They're rumors, that's all that is." However, C.K. is consciously or unconsciously extending the life of the rumors and giving oxygen to the fire that surrounds him with I Love You, Daddy (which The Orchard bought at TIFF for a reported $5 million).
As an example, there is one scene during which Glen and Zasha, one of his daughter's friends, are having a private conversation on a couch. In talking about China's affection for Leslie, Zasha reveals to Glen that she used to have a crush on him when she was younger. And then she says it again, with a pregnant pause. To Glen, it seems like an opening for him to make a move on her. But when he does, she recoils, horrified.
It seems like C.K. is doing his comedic, self-deprecating best to take viewers to uncomfortable gray zones with him, where one could sympathize with his confusion and see how an in-the-moment misunderstanding could easily spiral out of control. The film asks questions such as: Can an 18-year-old girl consent to sex with a much older man any more than a 17-year-old? What about a 15-year-old? And so what if it happened a lot in the '70s?
Glen's sidekick/buffoon, Ralph (Charlie Day), pretends to vigorously masturbate for a long while as Glen talks on the phone to his actor/love interest — a physically funny beat that isn't illegal but is also kind of fucked up. Even as a title, I Love You, Daddy evokes the earnest naïveté of the '50s with the fraught squickiness of the term "daddy" (from the mouths of babes) today. It's all another extension of how C.K. has long operated with his comedy, going over the line, dancing on it, shifting uncomfortably on top of and back over it (and, with that, redefining it).
During a Q&A after the film's premiere in Toronto on Saturday, talking about why he chose to shoot on black-and-white 35 mm film, C.K. said pre-code movies — films with sound that were released prior to the installment of the Hays Code censorship guidelines in 1934 — were "the best movies, before people were told there had to be morality in films, good and bad."
Despite C.K. also telling The Hollywood Reporter that I Love You, Daddy is "just a fucking movie," he isn't blind to art's effect on an audience and, conversely, an audience's impression of an artist on his work. C.K. wrote, directed, starred in, and funded the movie, luxuriating in issues of sex and privilege in his comedic realm, with his voice, on his turf. He poses purposefully tough questions — in a brazen example from the film, Ralph giddily asks Leslie, point-blank, "Did you really fuck that kid like everyone says you did?" Perhaps that's because C.K. doesn't know the right answers to them, and he doesn't want too many people answering on his behalf. The parallel could apply to his own life as it stands in the media now, his refusal to address the details or otherwise take a stand against the types of sexual harassment that have been alleged against him.
But then again, that would mean stepping out of the gray and actually into the realm of black and white, of defining what's right while feeling truly wronged, and hoping for understanding or forgiveness.
"I'm sorry! Yes, I'm sorry, women. All women," C.K. tells Pamela Adlon's character in I Love You, Daddy broadly and in perfect tragicomic exasperation, after a ball-busting session about his inappropriate and poor parenting. The apology plays as if Glen isn't totally clear about what he's apologizing for. That itself could stand alone as self-reflective prose, but even more telling is what Adlon replies: "We accept your apology."