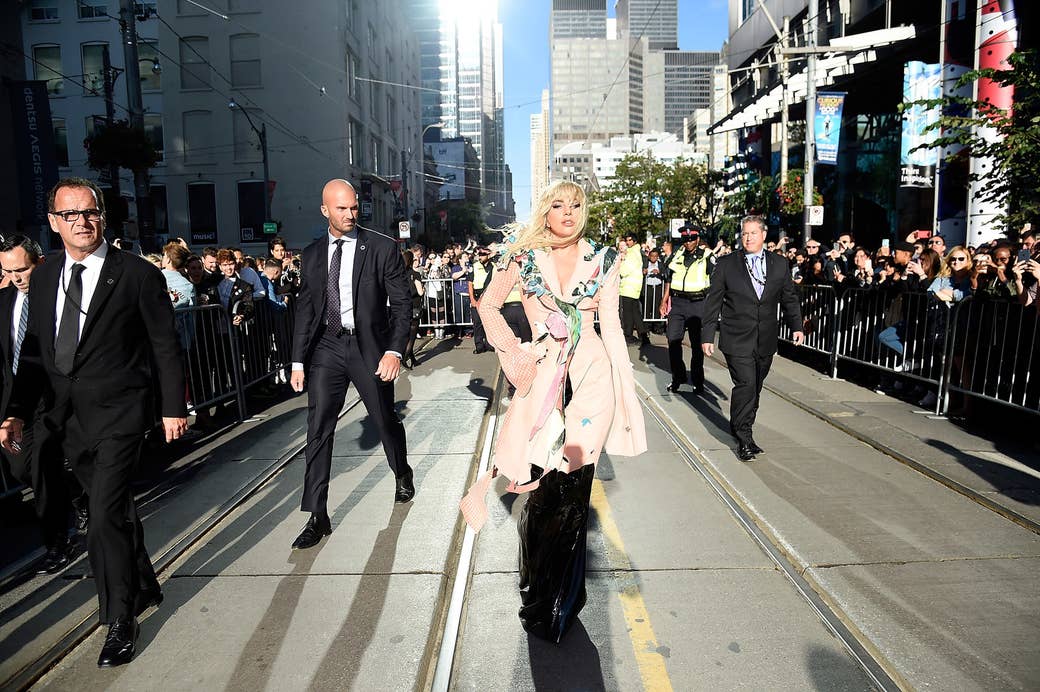 At one point in Lady Gaga's new documentary, Gaga: Five Foot Two, the singer laments that people are "touching me all day, and talking at me all day." But, she adds, eventually those people leave — "and then I'll be alone." The quiet-LOUD-quiet of living famously means silence when all the stylists, makeup artists, bodyguards, producers, handlers, masseuses, physical therapists, family members, musicians, consultants, assistants, fans, and dancers pack up for the day.

Five Foot Two not only reveals Gaga's occasional "Lucky" perspective, but also serves as a wonderful and moving montage of, truly, how stardom like hers — from the arenas to the Super Bowl to the top of the charts — actually takes a village. And that village needs a piece of her at every turn.
Throughout the 100-minute documentary, which is out Sept. 22 on Netflix, director Chris Moukarbel shows how everybody touches Gaga all day but she doesn't have a partner when she lays down at night. There are various modes of touching in Five Foot Two from nurturers and entourage members who help to keep the lights on in the various houses of Gaga (and Haus of Gaga). From the kinetic squeezes with her producer Mark Ronson, to the gentle brushing of fingers as a blunt is passed around in a car, to a side-hug of a reporter, to the aggressive physical therapy when her chronic pain from fibromyalgia freezes her up, she rarely has a solitary waking moment.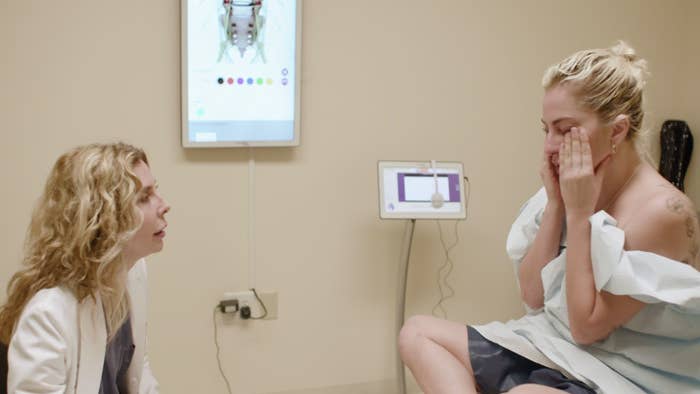 In one scene, as she discusses business with a few style specialists on her sunny patio, Gaga takes her bikini top off mid-thought, as though it's a totally normal thing to do, like brushing one's teeth or cracking one's knuckles. The camera focuses on her long enough to capture the surprising moment, but doesn't linger on her bare breasts, cutting away every now and then so as not to gawk. Later, in a doctor's office, she lightly adjusts a paper-thin hospital gown to cover herself up as she receives needle injections into her shoulders on one side of her body, while makeup artists do their thing on the other. These moments are among the many juxtapositions in the superstar's daily life: There are times when she has total control over who looks at and touches her, how many people and for how long. And sometimes, she has no choice.
In one of the most vulnerable scenes of the film — which made its premiere at the 2017 Toronto International Film Festival earlier this month — Gaga cries out in pain from a spasm while attendants massage her hip and back. "I'm just so embarrassed," she sobs, seeming to allude to the high level of care she requires for one uncontrollable moment. During her public appearances, paparazzi and fans reach out and touch her arms or her head, demanding a photo or a kiss on her cheek before she's shuffled into a waiting car.
Lady Gaga has always been someone who wants you to want her, especially during the promotional cycle for her last album, Joanne, with her luxurious long blonde hair, the exquisite collection of denim shorts, and those eye-catching tattoos that cover her beautiful skin. But Stefani Germanotta has her own ideas of physical intimacy, which she sees also as a powerful tool. "I just want Madonna to push me up against the wall and kiss me and tell me I'm a piece of shit," Gaga says of the artist to whom she's most frequently compared. (In the film, she also talks cautiously about famous women whose personal boundaries broke down: Marilyn Monroe, Anna Nicole Smith, and "you know who," ostensibly her contemporary Amy Winehouse, who died in 2011.)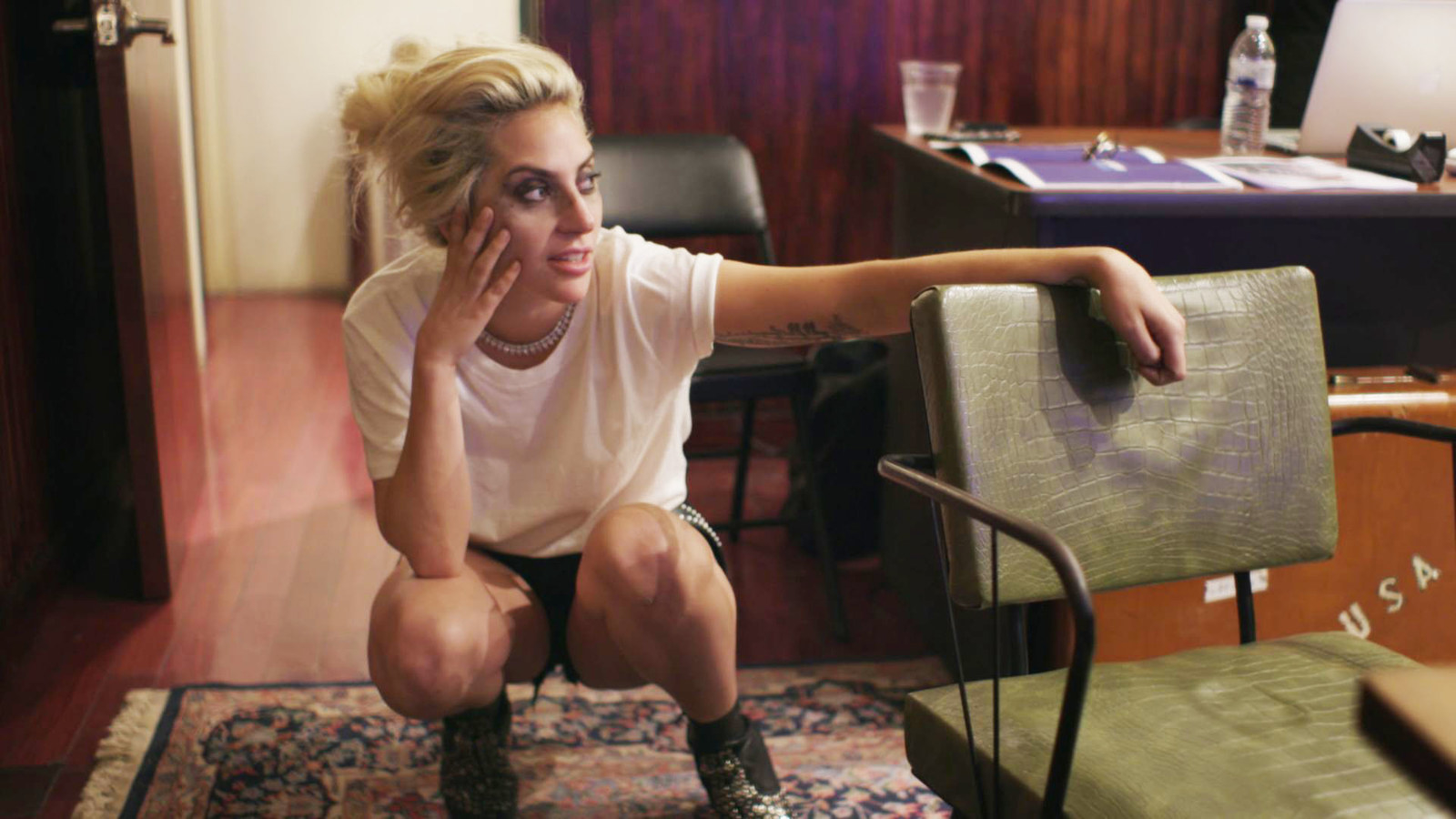 For as much power as Gaga's acquired over the last decade — since "Just Dance" dominated radio in 2008 — she feels like there's an inverse relationship between her popularity and her intimate relationships. "I sold 10 million [records] and lost Matt [Williams]. I sold 30 million and lost Lüc [Carl]. I did a movie and lost Taylor [Kinney]," she mourns, talking of her exes and referring to A Star Is Born, her forthcoming film with Bradley Cooper. As she employs more and more people in the business of Gaga, men she's loved have left.

Her melancholy may be a little hard to appreciate, given her cushy pads and glamorous surroundings in nearly every minute of this film. Right before the Super Bowl halftime show in February, she tries to explain herself, initially referring to it as a "sad day," as she saw the performance as the peak of her accomplishments, with no other pinnacles to traverse, no other ground to break. However, people who surround her in that moment convince her there is still work to be done and she changes her tune. When her feet leave the ground to ascend to the top of the dome on Houston's NRG Stadium, her crew is below her. When she gets to the top, there is a crew up above. And as she makes her leaping descent back down into the stadium, 111.3 million people watched on TV.
It's in moments like this that it's important to remember that our favorite stars — like Taylor Swift, Beyoncé, Britney Spears, and Gaga — can be lonely, but they aren't alone when they (or the team surrounding them) send out those strategic tweets or shift sonic directions or dramatically reveal their music videos. The biggest stars touch millions, and it requires hundreds of people touching them to operate on that level — and even then, it can still be lonely.